Found October 26, 2012 on Optimum Scouting:
PLAYERS:
Doug Martin
,
Calvin Johnson
,
Richard Sherman
,
Tom Brady
,
Charles Tillman
,
Matthew Stafford
,
Sam Bradford
,
Jeff Fisher
,
Chris Givens
,
Roddy White
,
Julio Jones
,
Dominique Rodgers-Cromartie
,
Tony Gonzalez
,
Matt Ryan
,
Brandon Weeden
,
Josh Gordon
,
Coby Fleener
,
Dwayne Allen
,
Andrew Luck
,
Bobby Wagner
,
Greg Jennings
,
Reggie Wayne
,
Andy Reid
,
LeSean McCoy
,
Michael Vick
,
Danny Amendola
TEAMS:
Tampa Bay Buccaneers
,
Seattle Seahawks
,
New England Patriots
,
Chicago Bears
,
Detroit Lions
,
St. Louis Rams
,
Atlanta Falcons
,
Philadelphia Eagles
,
Cleveland Browns
,
San Diego Chargers
,
Indianapolis Colts
,
Green Bay Packers
,
Baylor Bears
Doug Martin and the Tampa Bay Buccaneers put on an outstanding performance to get week eight underway. On paper, this week has some of the best match-ups we'll get the chance to see all season. Will this week live up to those lofty expectations? As we cross the half way mark of the 2012 regular season, what rookies should we keep an eye on for the rest of the year? Top Match-ups to Watch   Detroit WR Calvin Johnson vs. Seattle CB Richard Sherman Richard Sherman set the stage for what could be an epic battle on Sunday when he changed his Twitter handle to Optimus Prime, a nod to Megatron's rival in the Transformer series. Sherman has already shown no fear in standing up to the league's biggest stars this season – he's already successfully gone after Tom Brady – and that attitude could create perhaps the best match-up of the weekend.   Many have said Charles Tillman and the Bears showed the blueprint for shutting down Johnson, but in reality it was less scheming and more just outstanding play by Tillman. It'll take an equally strong effort from Sherman, as well as a good performance from the Seattle pass rush if the Seahawks are hoping to have similar results. The wild card in this match-up? Matt Stafford. Stafford is following up a great 2011 season with an awful one in 2012, and the cynical might say that Stafford was a bigger reason for Johnson's struggles last week than Tillman was. If Stafford stays on the pace he is now, it may not matter how Sherman and the Seattle secondary plays. St. Louis QB Sam Bradford vs. New England's Secondary Sam Bradford has seemingly taken some big steps in his development this season under the guidance of Jeff Fisher. He's making better decisions and at worst, has become a reliable game manager. But that's not what a franchise looks for out of top draft pick, and it's crucial for the team's long term success that Bradford grow into more than that. Bradford will have the opportunity to take the next step in his development when the Rams face off against the Patriots in London. New England's pass defense has been very poor this season, and Bradford needs to be able to exploit those sorts of weaknesses if he's going to be a franchise quarterback. St. Louis has limited options in the passing game, but Chris Givens should be able to find mismatches. Will Bradford be able to take advantage? Atlanta's Passing Offense vs. Philadelphia's Cornerbacks There might not be a more intriguing match up of position groups than when Atlanta's Roddy White and Julio Jones face off against Philadelphia's Nndami Asomugha and Dominique Rodgers-Cromartie. It's not every weekend that we see perhaps the league's best receiving corps face off against the league's best duo of cornerbacks, so there's no question that this will be a key match-up to watch in week eight. On paper there's not much to suggest that one group will have much of an advantage over the other. In fact, the game breaker in this one might be Tony Gonzalez. The veteran tight end will certainly have a better match up than his receivers will, but will Matt Ryan resist the temptation to test the elite duo cornerbacks?------------  Rookie Watch Cleveland QB Brandon Weeden Brandon Weeden might be the most criticized rookie of his class early in his career, but he's certainly working to change his image as a guy who didn't deserve to be a first round selection. He made the throw of his young career while getting crushed by the Colts' Antiono Johnson, a 47 yard beauty down the sideline to Josh Gordon. Gordon dropped what would have been a touchdown, but nonetheless the statement was made: Weeden has the talent to lead this franchise to better days. Weeden's strong performance against Indianapolis was his third good game in a row, and those times of games have earned him a great deal of respect in the locker room. Teammates and coaches have sang his praises all week long, and he was voted to be a team captain in week eight. As he prepares to face a struggling San Diego defense, Weeden should be able to put together his fourth strong game in a row. The Chargers couldn't stop the pass even when they were allegedly using stick em, and there's not much reason to think they'll be turning that around anytime soon. If Gordon and the rest of the Browns receivers can catch the passes that Weeden delivers, they could have a chance to bring home a big win. Indianapolis TEs Coby Fleener and Dwayne Allen Andrew Luck is the rookie that all of Indianapolis is focused on, but this Sunday Coby Fleener and Dwayne Allen could be the guys that are responsible for a Colts' victory. On paper, their match-up with Tennessee is outstanding. The Titans struggled to stop tight ends from racking up yards when their defense was healthy. Now their linebackers in particular have been decimated by injury, and both Fleener and Allen should be licking their chops. Luck hasn't had his best games on the road, but he's not had a match up quite this appealing yet either. Will he be able to exploit the weakness of the Tennessee defense? Will Fleener and Allen take advantage of this opportunity and have break out games? Seattle LB Bobby Wagner As a middle linebacker, Bobby Wagner isn't putting up eye popping numbers or making huge plays on a weekly basis. But the second round selection is providing Seattle with consistent play and has looked like a first round talent. He's been particularly strong against the run, but recently has been promoted to being an every down linebacker. After having a rough outing against San Francisco's stellar offensive line last week, week eight provides Wagner with an opportunity to get back on the right track. Very little has been impressive about the Detroit offense, and all signs point to Wagner being able to have a strong game. ------------ Fantasy Quick Hits Is it possible that Greg Jennings' surgery will be the end of his being a relevant fantasy option? He's burned owners this year with injury problems all season long, and in the mean time Jordy Nelson and Randall Cobb have stepped up as the big play makers in the Green Bay offense. It's hard to see Jennings making much of an impact for the remainder of the season.   Don't be so sure that Andrew Luck can be a consistent fantasy player at this point in his career. His two rushing touchdowns helped salvage what would have been an awful fantasy outing in week seven, and with Reggie Wayne playing inconsistently I'd hesitate to rely too heavily on Luck.   Will Andy Reid finally put LeSean McCoy to use? The Eagles runner won't get a better match-up than this one against the Falcons' shoddy run defense. Will Reid let McCoy take over, or will he continue to try to force the offense to go through Mike Vick?   Cam Newton has been a disappointment this year, and that's not likely to change this week. He faces perhaps the best defense in the league, and many owners will be considering benching him for week eight. Crazy for a guy who was likely selected quite high in most leagues.   It sounds like Danny Amendola has had a near miraculous recovery and could be hitting the field within the next couple of weeks. If you're in a PPR league and he's a free agent, you have to grab him while you can.
Original Story:
http://www.optimumscouting.com/draft/...
THE BACKYARD
BEST OF MAXIM
RELATED ARTICLES
MINNEAPOLIS In order to understand the Metrodome, one has to understand stagnancy. Scraps of trash flutter from the upper deck, directly down, down, down. Paper airplanes fly dead straight, coasting on the absence of breeze. But the building is more complicated than that. In the best and loudest of moments, it is stagnancy exploded. There's no air to carry away the piercing...
The Tampa Bay Buccaneers did more than shake off a nine-game losing streak at Minnesota on Thursday night. They also put to rest questions about trading up into the first round last spring to draft 5-foot-9, 223-pound running back Doug Martin out of Boise State. Martin broke out with a huge game in the Bucs' 36-19 victory against the Vikings, running for 135 yards and a touchdown...
TAMPA, Fla. (AP) -- The Tampa Bay Buccaneers did more than shake off a nine-game losing streak at Minnesota on Thursday night. They also put to rest questions about trading up into the first round last spring to draft 5-foot-9, 223-pound running back Doug Martin out of Boise State. Martin broke out with a huge game in the Bucs' 36-19 victory against the Vikings, running for...
After losing a bunch of close games, the Tampa Bay Buccaneers finally enjoyed a lopsided victory. At Minnesota, no less, where the Vikings watched their home-field advantage come crumbling down during a romp by rookie Doug Martin. Martin racked up 214 total yards - including a career-high 135 rushing - and two touchdowns, and the Buccaneers beat the Vikings 36-17 on Thursday night...
Traveling to Minnesota to play on Thursday night was supposed to be tough for Tampa Bay. Rookie Doug Martin ran around the field as if he didn't want to leave. Martin racked up 214 total yards and two touchdowns, and the Buccaneers romped to a 36-17 victory to hand the Vikings their first home loss this season. Martin took a screen pass 64 yards for a score, one of three Josh...
The Tampa Bay Buccaneers jumped out to a 13-0 lead and never looked back in a 36-17 victory over the Minnesota Vikings on Thursday Night Football.
From the moment the Tampa Bay Buccaneers hired Greg Schiano as their new head coach, the team's offensive identity changed. Schiano wanted to make the Buccaneers a hard nosed defensive unit with an offense which focus on the run. That identity was on display last night as the Buccaneers gashed the Minnesota Vikings 36-17. The Buccaneers moved back into the first tound of the 2012...
The Minnesota Vikings were flying high with a 5-2 record coming in to their game against the Tampa Bay Buccaneers. Undefeated at home, and looking like the real deal so far this year, most people probably had their Vegas bets in favor of a Minnesota win.Well, that's why they play the game. Tampa Bay came in, wreaked havoc on the Vikings, and ran through Minnesota for a 36-17...
The Good, The Bad, and The Ugly Buccaneers 36 @ Vikings 17   10/25/12   By Eric Judd   @ericjuddTSHQ   The Good And away he goes!   Doug Martin. Trent Richardson, please allow me to introduce the best running back, class of 2012. Doug Martin. Go back and watch Boise St. You think their success was because of 4'8" Kellen Moore? That's cute. Doug Martin is Ray Rice, 2...
In a game that many predicted would be dominated by Adrian Peterson and the Vikings, it was the opposing running back that stole the show. Bucs' rookie running back Doug Martin put on an entire first half of highlights that helped the Bucs beat Minnesota convincingly.  The Bucs jumped out to a 10-0 lead in the first quarter after Josh Freeman hit fullback Erik Lorig from one yard...
The Good, The Bad and The Ugly       Saints 35 @ Buccaneers 28   10/21/2012   By Eric Judd   @ericjuddTSHQ     The Good   Football! Go That Way! The Tampa Bay Offense. The Saints won? Oh right, like you had any doubt. You expect the New Orleans offense to fire on all cylinders. Tampa Bay on the other hand, not so much. Free Agent acquisition Vincent Jackson goes for 216...
NFL News

Delivered to your inbox

You'll also receive Yardbarker's daily Top 10, featuring the best sports stories from around the web. Customize your newsletter to get articles on your favorite sports and teams. And the best part? It's free!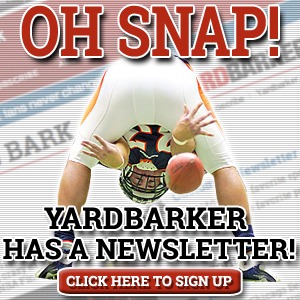 Latest Rumors
Best of Yardbarker

Today's Best Stuff

For Bloggers

Join the Yardbarker Network for more promotion, traffic, and money.

Company Info

Help

What is Yardbarker?

Yardbarker is the largest network of sports blogs and pro athlete blogs on the web. This site is the hub of the Yardbarker Network, where our editors and algorithms curate the best sports content from our network and beyond.