Found July 16, 2013 on Roto Rankings:
PLAYERS:
Tom Brady
,
Marshawn Lynch
,
Ray Rice
,
Tony Romo
,
Reggie Wayne
,
Greg Jennings
,
Miles Austin
,
Anquan Boldin
,
Drew Brees
,
Aaron Rodgers
,
Michael Vick
,
Roddy White
,
Maurice Jones-Drew
,
Owen Daniels
,
Frank Gore
,
Eli Manning
,
Peyton Manning
,
Pierre Thomas
,
Angelo Williams
,
Vincent Jackson
,
Cecil Shorts
,
Reggie Bush
,
Darren Sproles
,
Ahmad Bradshaw
,
Jason Witten
,
Wes Welker
,
Ben Roethlisberger
,
Robert Griffin III
TEAMS:
New England Patriots
,
Seattle Seahawks
,
Baltimore Ravens
,
Dallas Cowboys
,
Indianapolis Colts
,
Minnesota Vikings
,
San Francisco 49ers
,
New Orleans Saints
,
Green Bay Packers
,
Philadelphia Eagles
,
Atlanta Falcons
,
Jacksonville Jaguars
,
Houston Texans
,
New York Giants
,
Tampa Bay Buccaneers
,
Detroit Lions
,
Denver Broncos
,
Pittsburgh Steelers
,
Washington Redskins
  Rank       Player (team/bye) Pos ECR™ ADP Rank        Player (team/bye) Pos ECR™ ADP 1 Adrian Peterson (MIN/5) RB1 1 1 51 Antonio Brown (PIT/5) WR20 61 65 2 Doug Martin (TB/5) RB2 3 3 52 Tom Brady (NE/10) QB6 44 36 3 Jamaal Charles (KC/10) RB3 4 6 53 Eric Decker (DEN/9) WR21 54 57 4 C.J. Spiller (BUF/12) RB4 5 7 54 Danny Amendola (NE/10) WR22 53 52 5 Arian Foster (HOU/8) RB5 2 2 55 Christopher Ivory (NYJ/10) RB23 57 62 6 Marshawn Lynch (SEA/12) RB6 7 4 56 Lamar Miller (MIA/6) RB24 38 42 7 LeSean McCoy (PHI/12) RB7 9 11 57 Russell Wilson (SEA/12) QB7 58 53 8 Trent Richardson (CLE/10) RB8 10 9 58 Matthew Stafford (DET/9) QB8 51 60 9 Ray Rice (BAL/8) RB9 8 8 59 Mike Wallace (MIA/6) WR23 62 51 10 Calvin Johnson (DET/9) WR1 6 5 60 Tony Romo (DAL/11) QB9 69 74 11 Alfred Morris (WAS/5) RB10 11 10 61 Reggie Wayne (IND/8) WR24...
Original Story:
http://www.rotorankings.com/2013/07/2...
THE BACKYARD
BEST OF MAXIM
RELATED ARTICLES
Even though Tom Brady and Tim Tebow are teammates now, it looks like they had words in 2011 about some of Tim Tebow's former Florida Gator teammates. They played each other twice in 2011 when Tebow was Denver's rising star, though Tom Brady showed him who the real star was in both games (a 41-23 beatdown in week 15 and then a 45-10 drubbing in the divisional playoffs). The conversation...
A.B. After the Patriots beat the Broncos 41-23 on Dec. 18 – week 15 of the 2011 NFL season – Tom Brady and Tebow and Brady are shown talking about Aaron Hernandez and Brandon Spikes. Hernandez, who now sits in a tiny jail cell awaiting his murder trial and current Patriots LB, Spikes, were former teammates of Tim Tebow at the University of Florida. Here's how the conversation...
Since it is the offseason, there is a lot more free time to dig up old clips and try and read into what any exchanges between players could have meant.  After the New England Patriots slaughtered the Denver Broncos 41-23 in the 2011 NFL Playoffs, Tom Brady and Tim Tebow met at midfield to exchange some words.  Towards the end of their conversation Brady says, "I'm trying to...
I am amazed that so many MVP conversations focus on players who are surrounded by many other talented players. That seems to go against the most simple definition of the concept. Quite often, the winner is the player who put up the most gaudy numbers, such as Brady in 2007. Take away one of those very, potent weapons and then see what he would have done.Well, that is the point of...
When the New England Patriots and Denver Broncos faced each other toward the end of the 2011 season, reporters couldn't wait to capture the postgame handshake between Tom Brady and Tim Tebow. Brady and Tebow are two of the most popular players in football, and Tebow had been defying the odds at that point by [...]
Jason McIntyre writes, "Tom Brady met Tim Tebow at midfield after the Patriots throttled the Broncos, 41-23 in December 2011." And...seems the Patriots quarterback knew that had his hand full with Aaron Hernandez. Refuting a certain Bob Kraft's take, no? [TBL] **Follow us on Twitter, View Blitz Viral Videos, or Return to BobsBlitz.com.Follow us on Twitter. Subscribe...
So what qualifies as a team in a rebuilding season?Well, The Dolphins have added more firepower, but lost some big names in the process, like Jake Long and Reggie Bush.Over in New England, Tom Brady is still the best, but he has less to work with now that one of his favorite targets, No. 81, won't be finding his way to an NFL field again.In Buffalo, the Bills are trying to decide...
The date was December 30th 2012, the final week of the 2012 NFL regular season. Tom Brady and the New England Patriots were set to take the field in a significant match up with playoff implications against the division rival Miami Dolphins.  As the game went on, Patriots fans saw names such as Gronkowski, Welker, Hernandez, Woodhead, and Brandon Lloyd flash across their television...
Tim Tebow and Tom Brady worried about Aaron Hernandez's behavior as early as 2011, with Hernandez being described as "a lot to handle," a newly surfaced video shows. Brady: "And I'm trying to watch over Aaron and Brandon." Tebow: "I appreciate that, too, man. They're good guys." Brady: "[Yeah] they're a lot to handle." Read more at: http://nesn.com...
NFL News

Delivered to your inbox

You'll also receive Yardbarker's daily Top 10, featuring the best sports stories from around the web. Customize your newsletter to get articles on your favorite sports and teams. And the best part? It's free!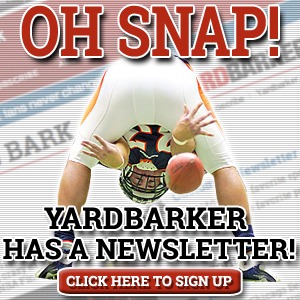 Latest Rumors
Best of Yardbarker

Today's Best Stuff

For Bloggers

Join the Yardbarker Network for more promotion, traffic, and money.

Company Info

Help

What is Yardbarker?

Yardbarker is the largest network of sports blogs and pro athlete blogs on the web. This site is the hub of the Yardbarker Network, where our editors and algorithms curate the best sports content from our network and beyond.