Found July 14, 2013 on Football and Futbol:
  Taking the trophy ain't easy but if you want to take home the trophy, you have to stay ahead of your competition and getting the right core of receivers could lead you to be the last man standing. After years of NFL and fantasy football dominance, Larry Fitzgerald had a truly abysmal 2012 season. He finished as the 42nd-ranked fantasy wide receiver with barely over 100 points. He wasn't even the leading fantasy scorer on his own team as Andre Roberts out produced him by five points. For a player who was drafted as a Top 3 fantasy wide receiver and went in the late second round in many fantasy drafts, that's just dreadful. But 2012 is in the books and Fitzgerald is in prime position to return to fantasy prominence in 2013. He could be a sleeper in many leagues, but I'd grab him early if he's available. Here's the rest of the receivers: 1. Calvin Johnson, DET Megatron is the top receiver again and if you're the lucky one to snag him first, consider yourself a contender in your league. I'm not saying he's going to have another record-setting year, nor am I saying this will be the top receiver in fantasy points by the end of the year; it has been over 10 years since the same receiver led all WRs in back-to-back seasons, but he's pure talent coupled with a QB that throws to him a lot gives him the best chance to be number 1 and put up a lot of points. Johnson has played in all 16 games for three straight years, so he'll be on the field. Bottom line, this should be the first WR off all draft boards. 2. AJ Green, CIN Green has all the necessary skills to continue his success, he's fast, he's strong and is always a threat for a big play. He had 12 catches of 25 or more yards last year and was top 10 in YAC. He was targeted 19 times in the red-zone and as a victim of his success I can personally tell you I regret trading him last year. The only concern I have for him is the average QB, but I can still see Green again being a top 5 receiver at the end of the year. 3. Dez Bryant, DAL Even with Bryant's slow start he still finished third last year in fantasy points. To put it in perspective, he scored in every game from Week 10 on except for one game, can you imagine if he starts the way he should and finishes like he did last year? From Week 10 on, he caught 50 passes for nearly 900 yards and 10 TDs. Some receivers didn't even have that for a year. He was plain unstoppable and I see him having a fast start and continuing to put up, dare I say, Megatron type numbers. 4. Percy Harvin, SEA This is my sleeper for the year. Yes, he's injury prone, yes Seattle runs the ball a lot, but they were able to run the ball so well due to the deep threat and ball control of Russell Wilson. Add in Harvin who is quick, he doesn't drop the ball and in nine games last year, he had 62 catches for a below average QB. He now has a big upgrade at QB with a creative offense. He also has the ability to score on special teams. Harvin is such a threat, how can he not be a top 5 receiver? Yes, his touches are traditional WR touches, but look for him to perform and put up huge fantasy numbers. 5. Brandon Marshall, CHI This duo of Marshall and Cutler is remarkable. Last year, Marshall had seven games of 100 yards or more and Cutler targeted him 188 times (2nd most in the league). Marshall surprised me last year who was on a team with a terrific RB (Matt Forte) and basically Cutler had no other options to throw to, yet he still dominated. The only concern is the Bears' O-Line, which put Cutler on his back almost 40 times. However, I see Marshall repeating his dominate performance in 2013. 6. Randall Cobb, GB With Greg Jennings gone, I see Cobb being Rodgers' new favorite target, especially since Cobb scored in the double-digit figures in 11 games last year. He played 84.4 percent of his snaps out of the slot last year and will start there this season, but look for him to take a "Percy-Harvin" type role for Green Bay. With James Jones and Jordy Nelson covering the outside, I see Cobb dominating the middle of the field. 7. Julio Jones, ATL This is the biggest deep threat in the league but his injuries are a concern. Jones would be higher on my list if he was the only weapon Matt Ryan has but with Roddy White, Tony Gonzalez and now Steven Jackson, it's hard to put him higher on my board. Although he only had four 100-yard games and two games with more than six catches, he is such a threat, how can you pass on him? He is a solid number 1 receiver, but don't look for him to put up more than 10 touchdowns. 8. Demaryius Thomas, DEN This is a man who has all the right tools, with his 4.3 40, 235 pounds, has strong hands and add in the phenomenon known as Peyton Manning, this is someone who could end up in the top 5 in fantasy points at the end of the season. But, Manning spreads the ball very well and with Welker joining the team, I see Thomas' number reducing this year. Thomas had 140 targets and Decker at 120, look for each of their targets to be reduced to below 100. 9. Roddy White, ATL White's value dropped for some of the same reasons as Julio Jones. Even with White having a good year in 2012, Jones is the bigger threat. The one thing that White has going for him is, he is a red-zone monster but so is Tony Gonzalez. There is only so many TDs that Ryan can throw and who he can throw them to. Don't get me wrong White is a great receiver, he's big, strong, fast and had 19 targets that traveled more than 20 yards. He had seven games of 100 or more yards, but also had four games of 50 yards or less. I would like to see more consistency from him but White is a decent number one receiver, if you can't get anyone else. 10. Andre Johnson, HOU Johnson's past injuries have prevented from putting up more stellar numbers but in 2012 he finally played in all 16 games, finishing second in receiving yards and fourth in receptions, but he had only four TDs. Houston relies too much on Arian Foster and Schaub is more of a "game manager" than a top 10 QB so because of that I rank him barely inside the top 10. I still see Johnson again putting up an incredible amount of receptions for a lot yards. 11. Larry Fitzgerald, ARI 12. Wes Welker, DEN 13. Vincent Jackson, TB 14. Victor Cruz, NYG 15. Dwayne Bowe, KC 16. Marques Colston, NO 17. Jordy Nelson, GB 18. Danny Amendola, NE 19. Mike Wallace, MIA 20. Reggie Wayne, IND 21. Torrey Smith, BAL 22. Hakeem Nicks, NYG 23. Steve Smith, CAR 24. Antonio Brown, PIT 25. Tavon Austin, STL 26. Eric Decker, DEN 27. James Jones, GB 28. Miles Austin, DAL 29. TY Hilton, IND 30. Pierre Garcon, WAS Follow me on Twitter @TheJADUKES https://twitter.com/TheJADUKES
Original Story:
http://www.footballandfutbol.com/2013...
THE BACKYARD
BEST OF MAXIM
RELATED ARTICLES
Larry Fitzgerald is one of the greatest players in the NFL today and arguably one of the greatest wide receivers to ever play the game. However, even though he has or soon will have just about every significant wide receiver record in Arizona Cardinals history the team may have to do the unthinkable. They may have to cut or trade him. In 2011 Fitzgerald signed a heck...
NO OFFENSE...
Cardinals defensive end Calais Campbell said he believes Arizona can win the NFC West because they finally have a viable quarterback.
Remember football? Yes? The Cardinals report to camp in just 10 days -- crazy, right? -- and while last year went (ahem) poorly, there's a cliche about how every team is a contender in training camp. True, it's just a cliche, and the Niners and the Seahawks are really good and so on and so forth, but Calais Campbell is telling everybody that yes, seriously, the Cardinals...
USA Today Sports Calais Campbell is a big fan of new Cardinals quarterback Carson Palmer. July 15, 2013 Remember football? Yes? The Cardinals report to camp in just 10 days -- crazy, right? -- and while last year went (ahem) poorly, there's a cliche about how every team is a contender in training camp. True, it's just a cliche, and the Niners and the Seahawks are really...
There's a sense of urgency for the Arizona Cardinals this offseason after coming off a not-so-stellar 2012. With the new addition of head coach Bruce Arians and veteran quarterback Carson Palmer, receiver Larry Fitzgerald looks to forget all about last season. "Look, this is a big year for me, coming off my worst season as a pro," Fitzgerald told USA TODAY Sports...
Remember football? Yes? The Cardinals report to camp in just 10 days -- crazy, right? -- and while last year went (ahem) poorly, there's a cliche about how every team is a contender in training camp. True, it's just a cliche, and the Niners and the Seahawks are really good and so on and so forth, but Calais Campbell is telling everybody that yes, seriously, the Cardinals...
Photo from AZCardinals.com Mike Freeman of CBS Sports had the chance to speak with Cardinals defensive lineman Calais Campbell and asked him if they can win the NFC West this season. "Yeah, we can," he says. It was brought to his attention that the Seahawks and 49ers dominated the division in 2012, while the Cards finished with a 5-11 record. "That was last year," Campbell...
A "given" to be frequently targeted, Darren Urban reports "there is little question" that Arizona Cardinals head coach Bruce Arians is preparing wide receiver Michael Floyd for a "large load" in 2013. Taken out of Notre Dame 13th overall in 2012, the 23-year-old Floyd caught 45 balls for 562 yards and two touchdowns as a rookie. Establishing numerous school records in...
It has not been the kind of off-season that Kerry Rhodes had been hoping for. Rather than just be concerned about getting himself ready for the coming season, he has had to deflect constant rumors that he is gay thanks to his former assistant/boyfriend Russell "Hollywood" Simpson.  As enlightened as many in the NFL claim to be, the fact remains that many guys...
Such an enigma while at LSU, Arizona Cardinals safety Tyrann Mathieu opened up to his fans, holding an impromptu Q&A via Twitter.
We know the guys who have a lot of hype behind them heading into the upcoming season — Russell Wilson, Colin Kaepernick, Percy Harvin and Doug Martin to name a few. But what about those guys we are forgetting about? What about the players we've already cast aside in our minds as non-factors? Here are five players who in my opinion are being unfairly overlooked and have the potential...
Cardinals beat writer Darren Urban has tight end Rob Housler at the top of his list for breakout candidates in Arizona.Fantasy Spin:Urban notes that Carson Palmer is the best QB Housler has played with and new head coach Bruce Arians uses his tight ends a lot (rookies Coby Fleener and Dwayne Allen caught 71 balls for the Colts last season) Housler caught 45 for 417 yards last season...
Cardinals News

Delivered to your inbox

You'll also receive Yardbarker's daily Top 10, featuring the best sports stories from around the web. Customize your newsletter to get articles on your favorite sports and teams. And the best part? It's free!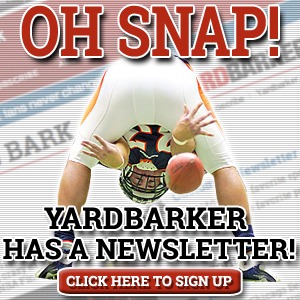 Latest Rumors
The Backyard

Today's Best Stuff

For Bloggers

Join the Yardbarker Network for more promotion, traffic, and money.

Company Info

Help

What is Yardbarker?

Yardbarker is the largest network of sports blogs and pro athlete blogs on the web. This site is the hub of the Yardbarker Network, where our editors and algorithms curate the best sports content from our network and beyond.