Found September 28, 2012 on Optimum Scouting:
The storyline of 2011 meets the storyline of 2012 in this comparison of former Baylor Bear Robert Griffin III and West Virginia quarterback Geno Smith.  Eerily similar to Robert Griffin III in 2011, Geno Smith has gotten off to a red-hot start, completing a remarkable 81.4% of his 118 passes for over 1,000 yards, 12 touchdown passes, and a 191.2 quarterback.

To compare those numbers with the 2011-2012 season Heisman Trophy winner, Robert Griffin III completed two more passes, with 98 completions through 118 attempts, for over 1,300 yards, 18 touchdowns, and a 228.9 quarterback rating. And while I added up Robert Griffin's first 4 games of the 2011 season and his first 6 pass attempts versus Iowa State to equal Geno Smith's pass attempt total through 3 games, what must be understood in comparing these two players, is the difference in offensive principles between Baylor and West Virginia.


Heisman-like Numbers
Much more pro-styled in their passing concepts with a heavy dose of curl, bench, dig, drive, and post routes, West Virginia has given Geno Smith on average 12 more pass attempts per game than Robert Griffin in the same time span -through the first 3 games of the season. With Baylor's offense, the inverted-veer and zone read game set up a much more potent deep passing game, as they averaged 241 yards rushing through the first 3 games of the 2011 season –that stands in direct contrast to West Virginia's inconsistent rushing attack that produced 331 yards in week 1 versus Marshall and a meager 25 yards in week 3 versus Maryland.

So why do I throw those numbers at you? Well, to tell the true story behind Robert Griffin III's 12-yards per pass attempt average and Geno Smith's 9 yards per pass attempt average. While West Virginia has an explosive offense, it must be noted how special Baylor's offense was in 2011. In terms of production through the first 3 games of the year, Robert Griffin III wins with his extraordinarily efficient and explosive early season performance. In sum, Smith is deadly in the short-to-intermediate passing game, while Robert Griffin III torched secondaries in 2011 with deep, down the field throws.


Comparing the two, as NFL Draft Prospects
Now, the biggest difference between Robert Griffin III and Geno Smith, without question is their respective pro-readiness prior to their final seasons as college quarterbacks.

In evaluating Griffin prior to his 2011 season, I had a hard time giving a 4th round grade, due to his lack of pocket presence, awkward throwing mechanics, and inconsistent ball placement. And while he had improved and progressed through each season at Baylor, Griffin still appeared to be more of an athletic thrower than a quarterback with athleticism.

Very much the opposite, Geno Smith impressed me with a number of things, but in particular: his ability to manipulate the pocket and adjust to collapsing pressure, a consistent, snapping throwing motion and ideal throwing mechanics, and outstanding ball placement to all levels of the field. As our #2 rated senior quarterback, Smith earned a top 15-preseason grade.

What separated these two prospects in preseason evaluations inevitably came down to ability to progress through multiple targets with sustained accuracy to all levels of the field. Geno Smith had already shown development with footwork, eye discipline, and coverage reading, whereas Robert Griffin III really struggled when his primary target was covered, and he was forced to reset his feet to secondary targets and react to pressure.

Enter the 2011 season for RG3, and scouts saw a completely reinvented quarterback. Impressing with improvements to his pocket movements, footwork, mechanics, accuracy, and coverage reading, it was clear early in the season that Griffin would declare for the draft, as a high round prospect. Flipping the script of being an exceptional athlete playing the quarterback position, Griffin's elite athletic ability took a back seat to a more pocket passing style of play. Combining his plus arm talent with deep ball accuracy and comfort inside the pocket, RG3 progressed into the Top 5 pick that he was more than capable of becoming.

Shifting towards the 2012 season, Geno Smith's early success should not come as a surprise to those who broke down his 2011 game film. Arm talent, accuracy to all levels of the field, pocket presence, and control of the game are all major pluses for Smith, which is consistent with preseason evaluations and an excellent sign for his future prospects in the NFL.

Hitting his receivers in stride without inhibiting their momentum after the catch, Smith assists his speedy receivers by delivering a catchable, on target, and on time throw. Dialing down his fastball on short drags and crossing patterns, while being able to drive the deep comeback, post, or bench route with zip, Geno Smith showcases elite ball control and natural throwing ability that few college quarterbacks possess.

More impressive than his ball control and accuracy however, is the way Geno Smith maneuvers within the pocket, sliding laterally, climbing or retreating from pressure as necessary. Never rattled with interior pressure, Smith keeps his eye level down the field, while maintaining a firm throwing base, active feet, and instinctive movements to avoid the rush and stay focused on the coverage.

Again, in terms of pure quarterbacking skills, Geno Smith is further developed than Robert Griffin III was in 2011, yet lacks the same upside that Griffin posed. Physically, the two signal callers are nearly identical with their body types, each measuring a shade less than 6'3 and weighing in the 220-pound range. Lean and athletic, both quarterbacks possess the movement skills and athleticism to make plays with their feet. Griffin, being an accomplished track star, obviously is a much more explosive dual threat; however, Geno Smith's running ability should not be undervalued in any way, as he can and will pick up first downs when given space.


The Final Analysis
In differentiating these two prospects, it's clear that Geno Smith is following Robert Griffin III's footsteps in becoming the next hot prospect and potential top 5 overall draft choice. Their production, physical build, arm talent, accuracy, and explosive supporting casts are remarkably similar, but the intriguing aspect of this comparison, is how much further developed Geno Smith appears to be. Not the Olympic hurdler that Griffin was, or possessing the same 4.4 speed, Geno Smith has become the player he is today, through polished throwing mechanics, precise footwork, and feel for the game.

So in a sense, the choice of which quarterback is better than the other ultimately comes down to what you value more –high floor or high ceiling. Robert Griffin III's combination of deep passing ability and elite athletic attributes paint a stark contrast to Geno Smith's calculated approach and highly accurate arm. To me, Geno Smith is every bit, worthy of the top 5 pick that RG3 warranted, especially for teams in need of a franchise quarterback.
Original Story:
http://www.optimumscouting.com/draft/...
THE BACKYARD
BEST OF MAXIM
RELATED ARTICLES
Robert Griffin III was a one-man show as he led his team in rushing with 85 yards and a score on 12 carries while completing 21 of 34 of his passes for 221 yards and a touchdown in Sunday's 38-31 loss to the Cincinnati Bengals at FedEx Field. After a solid 1-1 record, the Washington Redskins (1-2) appeared to have serve notice to the league that they were ready to take the...
Robert Griffin III has taken so many hard hits that he's going to tone down the trickery. The Washington Redskins rookie quarterback said Wednesday that he's going to start making it clear that he doesn't have the ball when he hands it off on an option play. By selling the fake, Griffin has been vulnerable to jarring, legal hits from defenders. Coach Mike Shanahan says...
Photo by Keith Allison On Wednesday, Washington Redskins quarterback Robert Griffin III said that he plans on doing what he can to make it clear to defenders that he's doesn't have the ball on option plays, so he doesn't get hit so much. "On some of the option plays, just make it more clear to the refs that I don't have the ball because then they can't hit me," Griffin...
Robert Griffin III (top 3 fantasy QB right now) has been quite the surprise through the first three weeks of the NFL season, but it wasn't as if we thought he would become a complete bust. The talent is there after giving Baylor their first ever Heisman winner in program history, but the Redskins would have a tough time competing in the Big 12 these days with all of their unknowns...
A former Baylor basketball player pleaded guilty Thursday to trying to extort $1 million from Washington Redskins quarterback Robert Griffin III by threatening to expose damaging information, prosecutors said. Richard Khamir Hurd, 26, pleaded guilty to one count of interstate communication of a threat related to extortion. He faces two to three years in prison when he's sentenced...
A former Baylor basketball player has pleaded guilty to threatening to release damaging information about Washington Redskins quarterback Robert Griffin III unless he was paid $1 million. The U.S. attorney's office says Richard Khamir Hurd pleaded guilty Thursday in federal court in Waco. Prosecutors say Hurd contacted one of Griffin's agents in June with a demand of $1...
The Buccaneers' number one rushing defense in the NFL will try to contain the NFC's number one rush attack of the Washington Redskins. The early success of Robert Griffin III has the Redskins' so far as one of the highest scoring teams in the league. But much like the Bucs struggles against the pass, Washington has them as well.  "RG3 and Out" Yes that phrase was taken...
Robert Griffin III isn't the only NFL quarterback concerned about protecting his sponsor. Tom Brady is in the same position. Boston Globe Patriots reporter Shalise Manza Young tweeted a picture on Wednesday of the New England QB speaking at a press conference, and she noted that Brady had a piece of tape on his left sleeve to cover up the Nike swoosh on his sweatshirt. The reason...
It's Week 4 of the NFL season, which means that just about every team will be through one quarter of its schedule come Monday night. That also means we're starting to get a better idea of what a team or a player actually is. While nothing is certain, we think we know that the Cardinals' defense could make them a playoff team. We think that Robert Griffin III should probably...
Washington Redskins @ Tampa Bay BuccaneersWashington: The Redskins lost a shootout with the Bengals in Week 3, and really the only reason they were in the game in the first place was the stellar play of Robert Griffin III.Through three weeks, RGIII is the leading scorer in most fantasy scoring formats, which is huge considering he very likely wasn't even drafted as a QB1. The...
Geno Smith is putting together an awesome season for West Virginia and has become the early Heisman Trophy favorite. The senior quarterback threw for 656 yards and 8 touchdowns in a 70-63 win over Baylor on Saturday to boost his already absurd stats. Smith is 141/169 on the season, which is an 83% completion rate. Yes, in 169 attempts, he only has 28 incompletions. For some perspective...
Man Pleads Guilty To Extorting Attempt On Redskins' RG3 - A former Baylor basketball player pleaded guilty Thursday to trying to extort $1 million from Washington Redskins QB Robert Griffin III by threatening to expose damaging information, prosecutors said. Richard Khamir Hurd, 26, pleaded guilty to one count of interstate communication of a threat related to extortion. He faces...
Redskins News

Delivered to your inbox

You'll also receive Yardbarker's daily Top 10, featuring the best sports stories from around the web. Customize your newsletter to get articles on your favorite sports and teams. And the best part? It's free!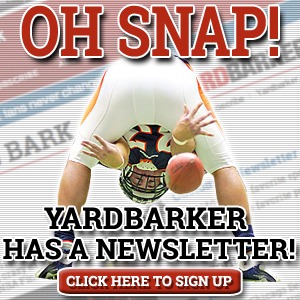 Latest Rumors
The Backyard

Today's Best Stuff

For Bloggers

Join the Yardbarker Network for more promotion, traffic, and money.

Company Info

Help

What is Yardbarker?

Yardbarker is the largest network of sports blogs and pro athlete blogs on the web. This site is the hub of the Yardbarker Network, where our editors and algorithms curate the best sports content from our network and beyond.