Found July 10, 2013 on Football and Futbol:
For the very few real NFL fans that don't know what a sleeper is, it's a team that not many people at all project to do much.  As for the Chiefs in 2013, I know there are some analysts out there that are stating them as their surprise team, also, but they did only win two games in '12.  I can safely assume a lot of NFL experts are willing to give them anywhere from 7 to 9 wins predicted this year.  I'm gonna go ahead and give them 10, so they are definitely my surprise NFL team this year, because I'm also predicting a wildcard.  First off, they have a new coach and QB, and that right there should tell you they will have a completely different look in '13. Both of these guys have proven they can win and make a difference for a football team. Andy Reid, in my opinion, is an unbelievable coach, and got ran out of Philadelphia for some reasons that were maybe out of his control.  This guy only missed the play-offs like 5 times out of the 13 years he was there as the Eagles head coach.  Now Alex Smith can just flat out play, and maybe he's not the kind of player Colin Kapernick is, according to the 49ers and myself, but this guy wants to win.  He just lost his job last year when he didn't deserve it.  I think that has boiled him up and fueled him and I truly believe he's out to prove himself for his new team, and everybody if that. Smith is also at the peak of his career and playing his best football as of late, because honestly, he doesn't make too many mistakes at all.  I think I am predicting he will have about 24 TD's and 6 INT's in '13. Last year Matt Cassel had just 6 Td's and 12 INT's.  When your QB plays that bad, not only does it make your offense terrible, but your defense suffers a great deal as well.  This team has weapons.  Let's start with one of the best RB's in the league, Jamaal Charles, who had 1,509 yards rushing last year, averaging 5.3 yards a pop, and scoring 10 TD's.  They still have a good scat type RB in Dexter McCluster.  I believe Dwayne Bowe is in the top 10 for receivers in the NFL, and with a good QB now could break out.  With the addition of Donny Avery from the Colts, and rookie RB Knile Davis from Arkansas, I think this offense will score.  The defense brings back some very solid guys like CB Brandon Flowers, SS Eric Berry, DE Tyson Jackson, and the explosive OLB Tamba Hali.  I think that CB's Dunta Robinson and Sean Smith will add some additional help.  Rookie T Eric Fisher from Central Michigan and DB Sanders Commings from Georgia should be pretty good, in my opinion.  The Chiefs were just bad last season, but this is a year in, year out kind of league, and they did have some poor coaching and Qb play that was down right pathetic, so they really have patched those two issues up.  Looking at their schedule, I just know this team can win 10.  They go on the road week 1 to play Jaksonville, and I think this one will look easy, because it should be.  Then Dallas at home will be tough, but definitely winnable, because we all know Tony Romo and that bozo coach.  I really do think that going on their first road game in Philly will be a win. This could be a big one, because Philly won't be too good and Andy wants more than anything to stick it to those people.  Wouldn't you?  Then the Giants at home will be challenging, as well as at Tennessee, but once again, are winnable.  Oakland at home, then Houston at home, which should be a loss.  Cleveland at home could be a sure win, and at Buffalo as well. The Chiefs get their bye in week 10, then go to Denver, who should be the division leader, as well as the big cheese of the AFC.  San Diego is next in Arrowhead, then they go to Washington, then to Oakland to play the RAIDERS!  They finish off the season with Indianapolis at home then on the road to play the Chargers.  I definitely see 10-6 happening next season for Kansas City, as well as a wildcard spot in the AFC play-offs.  The professionals in Las Vegas have the Chiefs win total going off at 7.5 and I just think that's sort of low for a team who I believe should have high expectations internally. It's not that unlikely for a 2-14 team to completely turn it around the very next season in the NFL. We have seen it before.
Original Story:
http://www.footballandfutbol.com/2013...
THE BACKYARD
BEST OF MAXIM
RELATED ARTICLES
  For the second time in Alex Smith's career, he will be tasked with reviving a franchise. Smith will join the Kansas City Chiefs and new head coach Andy Reid in attempting to turn around a 2-14 team, which selected first overall in April's NFL Draft. The Chiefs forgetful season was highlighted by the inept play at the quarterback position. Smith takes over for his predecessors...
After a 2-14 season hope springs eternal with a new coach in Andy Reid, a new quarterback in Alex Smith and a new secondary, expectations are high in Kansas City. More specifically  in the defensive backfield, where free agent cornerbacks Sean Smith and Dunta Robinson were added to join safety Eric Berry and the Brandon Flowers. According to Marc Sessler of NFL.com, Flowers...
KANSAS CITY, Mo. -- In a steel-cage match of unknown vs. unknown, better to go with the devil you know as opposed to the devil you don't. Of course, when you don't know either devil for squat, all bets are off. And so with two weeks left until the 2013 Kansas City Chiefs training camp begins, as to the question of Chase Daniel's backup -- Tyler Bray or Ricky Stanzi ...
  Going into training camp and preseason the Chiefs have a lot of options for their tight ends. The Tight End position has seen much attention and improvement in the offseason and it is a better position this year than last. As of now there are four different styled tight ends. At the top of the depth chart we should expect to see Anthony Fasano as of now due to Moeaki's knee...
Chiefs News

Delivered to your inbox

You'll also receive Yardbarker's daily Top 10, featuring the best sports stories from around the web. Customize your newsletter to get articles on your favorite sports and teams. And the best part? It's free!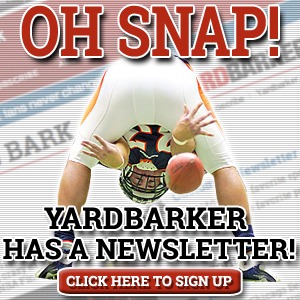 Latest Rumors
The Backyard

Today's Best Stuff

For Bloggers

Join the Yardbarker Network for more promotion, traffic, and money.

Company Info

Help

What is Yardbarker?

Yardbarker is the largest network of sports blogs and pro athlete blogs on the web. This site is the hub of the Yardbarker Network, where our editors and algorithms curate the best sports content from our network and beyond.