Found August 12, 2013 on Fox Sports:
PLAYERS:
Tony Romo
,
Troy Aikman
,
Michael Irvin
,
Aaron Rodgers
,
Drew Brees
,
Jason Garrett
,
Demarcus Ware
,
Michael Strahan
,
Travis Frederick
,
DeMarco Murray
,
Rob Ryan
,
Sean Lee
,
Bruce Carter
,
Brandon Carr
,
Morris Claiborne
TEAMS:
Dallas Cowboys
,
Green Bay Packers
,
New Orleans Saints
The 2013 NFL regular season is right around the corner. With that being said, it's time to launch our team previews. FOXSports.com contributor Taylor Jones will answer important questions for every franchise. DALLAS COWBOYS 2012 Record: 8-8. Missed the playoffs Which player is under the most pressure? Tony Romo, because if nothing else, he needs to get the fans off his back. When you compare the statistics, he unfairly gets criticized for the Cowboys' wins and losses. Before you stop reading, I understand he has played poorly in critical situations, but if not for his performance leading up to those situations, the Cowboys wouldn't even be in a close game to begin with. And this seems like a good time to let you know that Romo actually had more fourth-quarter touchdowns than any other quarterback in the NFL last season. Nonetheless, he continues to be the scapegoat for losing games down the stretch. Stat for stat, he is actually among the best quarterbacks in the league, and his career numbers aren't all that dissimilar to Cowboys legend Troy Aikman. The biggest difference between Aikman and Romo is wins and losses. This season will be Romo's eighth year as the Cowboys' majority starter at quarterback. At this stage in Akiman's career, he had already won three Super Bowl titles and been to the playoffs in six of the eight seasons. But the lopsided comparison in wins and losses isn't exactly fair considering the star-studded cast Aikman had surrounding him. Every time I look up, a player from one of Aikman's Cowboys is being inducted in the Pro Football Hall of Fame. Romo doesn't have the luxury of a Michael Irvin, yet his completion percentage on throws longer than 20 yards down field is third best in the league behind only Aaron Rodgers and Drew Brees. In an NFL game that relies so much on generating big plays, that doesn't sound like a quarterback I want to throw to the wolves and start developing a new one. Romo is a guy this team can win with and should win with, but that doesn't mean the diehard fan will view it that way. Oh, and did I mention the massive contract extension he was given this offseason? What is the position battle to watch? I am most interested to watch how the offensive play-calling responsibilities are handled throughout the season. Jason Garrett gave up the responsibilities this year in favor of Bill Callahan, but it's not like the Cowboys were bad offensively last season. They were the sixth-best offense in terms of yardage and finished in the top half in scoring. Garrett will say all the right things publicly, but when things start to get rocky and the Cowboys have a stretch of poor offensive performances, I want to see just how quickly Garrett may take those responsibilities back. This position battle won't be won or resolved in the preseason but one that will be questioned each week if the Cowboys don't put up big numbers every Sunday. It will surely become the topic of many postgame news conferences, but will it divide the locker room and become a major distraction? At this point, all signs point to it being a smooth transition, but we still have five months to go. What is the team's biggest asset? DeMarcus Ware is easily the Cowboys' best player, and he will only get better under the tutelage of new defensive line coach Rob Marinelli. Monte Kiffin stole the headlines when he was hired to be the new defensive coordinator, but Marinelli will prove to be more valuable to this defense in the long run. Ware is making the transition from outside linebacker to a hand-in-the-dirt defensive end, but his responsibilities will actually remain quite the same. In fact, as a down lineman, he is even more apt to cut loose on the quarterback on any given play. Ware hasn't finished a season with a single-digit sack total since his rookie year, when he totaled eight, and has averaged 13.8 througout the course of his eight-year career. He has reached the 20-sack mark only once in his career, but I am throwing out my early vote for him to win Defensive Player of the Year while breaking Michael Strahan's season sack total of 22.5. Which rookie stands the best chance to succeed? This won't be a popular statement among draftniks, but I actually really liked the Travis Frederick selection by the Cowboys at the end of the first round in April. Some had Frederick graded out as a third-rounder, but because of his versatility to play both guard and center, I liked him as a late first or early second interior lineman, and the Cowboys definitely had the need. Even as I sit here, I have flashbacks of Romo turning around and sprinting after bad snaps that sailed over his head time and time again in 2012. Taking an interior lineman in the first round is never a sexy pick among the fans, but they are becoming more and more valuable as defensive coordinators move their best defender all over the front to create a mismatch. The Cowboys finished second to last in rushing in 2013 and only averaged 61 yards on the ground during the six-game stretch that DeMarco Murray missed with injuries. The Cowboys were desperate to solidify their offensive line, but when it is all said and done, the Frederick pick will not have been a desperation reach; instead, it will look spot on. What is the team's biggest addition/loss from the previous season? When watching a Cowboys postgame news conference last season, it wasn't clear if Garrett were the head coach or Rob Ryan had assumed the duties. By the face time and all the sound bites, you would have guessed it was Ryan. Kiffin will be an entirely different feel for this defensive unit -- both in scheme and approach. Kiffin is comfortable as the guy behind the scenes and doesn't need the limelight. His career speaks for itself. When he decides to hang it up, he will go down as one of the greatest defensive coordinators in the history of this entire game. But that doesn't mean his style works well for everyone. This is a complete shift in both philosophy and scheme and one that is going to take some time before it is running at full steam ahead. Kiffin's base defense is the cover-2 and oftentimes the Tampa-2, which is just a slight variation of the middle linebacker's role in the defense. As for the linebackers, Sean Lee and Bruce Carter are two of the fastest, most athletic players in all of football and should have little issue defending their zones, even the deep middle in Lee's case. The biggest challenge will come from the corners. Both Brandon Carr and Morris Claiborne have been historically better in man schemes and typically man off coverage in which they don't have to be physical at the line of scrimmage. In Kiffin's scheme, they will be playing a lot of press-zone coverage and be asked to protect the short to intermediate zone along the sidelines, somewhat of a waste of superior talent. We will see how that impacts Kiffin's play-calling and if he adapts more of a man coverage approach to fit his scheme to the talent of his roster.
Original Story:
http://msn.foxsports.com/nfl/story/da...
THE BACKYARD
BEST OF MAXIM
RELATED ARTICLES
Former Houston Texans defensive lineman Travis Johnson must not really like Tony Romo, because Johnson ripped into Romo something fierce recently. Johnson was a guest on Comcast Sports Net Houston, when he was asked about Romo not being judged by wins and losses.  Johnson called "Romo a thief, and stated he hasn't earned a dollar he received." "When Tony Romo got to Dallas...
Tony Romo got a mega deal from the Dallas Cowboys in a display of loyalty and belief in his ability. That still can't erase his one playoff win, or constantly coming up short in win and get in type scenarios during the final week of the past two season. Cowboys head coach Jason Garrett doesn't think that Romo is to blame for all the teams failures, and told ESPN that "Romo...
Tony Romo's 1-6 record in win-or-go-home games is on the entire Dallas Cowboys team and not just their quarterback, Jason Garrett says. The Cowboys coach, who sat down with ESPN's Colleen Dominguez for a Sunday interview, talked about attempting to establish a winning culture in Dallas. Part of that process includes building mental toughness, something he says the Cowboys...
BIG SHOCKER
Forbes once again has named the Dallas Cowboys as the NFL's most valuable team on its annual list, the seventh straight year that has been the case.
Two weeks out of every year, the world's best golfers mix with the mere mortals of the sport. The U.S. Open provides an opportunity for anyone even Dallas Cowboys quarterback Tony Romo to attempt to qualify for golf's toughest test, as the PGA Championship features the nation's best club professionals. For those don't make tour golf a living, the experience of...
It's not about what you know, it's about who you know. This statement goes a long way until someone bluntly asks you, "By the way dude, what were your SAT scores?"The Eagles are in recuperation mode. The team that once dominated the NFC East with ease is currently the laughingstock of their division. The squadron of men that traveled to the postseason year after...
Johnny Manziel's life is just better than yours. Faster than a speeding Sooner! More powerful than a Crimson Tide defensive line! Able to leap tall Razorbacks in a single bound! Yes, Texas A&M starting quarterback Johnny Manziel is flying off the cover of Texas Monthly. (What, you were expecting Tony Romo?) A controversy-filled offseason didn't stop the...
Tony Romo is progressing, Dez Bryant is dominating and DeMarcus Ware is gearing up for full-time pass rushing. The stars of the Dallas Cowboys look strong heading into the final week of a long training camp in California. There are plenty of concerns for Dallas, and the biggest won't be settled before the team returns to Texas for the final three weeks of preparation for the...
Taking shots at Tony Romo just comes naturally for most people — even to fellow college alums of the Cowboys quarterback. New Orleans Saints head coach Sean Payton was a guest on Jim Rome's show on Showtime on Wednesday night, and the host asked Payton who the better college quarterback was: Payton or Romo. "Payton — wasn't close," the Saints coach answered. "Just look...
The Dallas Cowboys and the Miami Dolphins officially kicked off the NFL season last Sunday, August 4th with the Pro Football Hall of Fame game. This was the beginning. It's what everyone has been waiting for. Yeah, it's not real football but it did remind us that real football is less than a month away. Although last Sunday was good, this past Friday night was even better. No...
NFL News

Delivered to your inbox

You'll also receive Yardbarker's daily Top 10, featuring the best sports stories from around the web. Customize your newsletter to get articles on your favorite sports and teams. And the best part? It's free!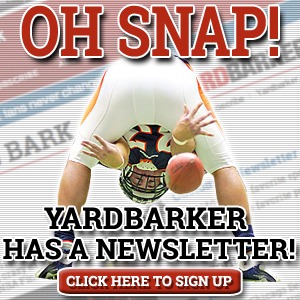 Latest Rumors
The Backyard

Today's Best Stuff

For Bloggers

Join the Yardbarker Network for more promotion, traffic, and money.

Company Info

Help

What is Yardbarker?

Yardbarker is the largest network of sports blogs and pro athlete blogs on the web. This site is the hub of the Yardbarker Network, where our editors and algorithms curate the best sports content from our network and beyond.