Found August 16, 2012 on Cippin on Sports:
HBO's Hard Knocks Training Camp with the Miami Dolphins second episode was about as emotional as any episode in the series' history. There were three specific storylines from the episode that highlighted the feelings among the players and coaches alike that encompassed the struggles of a grueling NFL training camp. 1. Joe Philbin's level head Joe Philbin is unflappable, that's one thing that Hard Knocks has continually shown, even though it's only been two episodes. The episode opened with the news that Philadelphia Andy Reid's son, Garrett had been found dead. Joe Philbin's son, Michael drowned in a Wisconsin river last year not long before he accepted the head coaching position with the Dolphins. Garrett Reid's death gave Philbin a chance to reflect on his own son's passing and while it was emotional, Philbin handled himself professionally as he is seemingly always levelheaded, regardless of the situation. Losing a son cannot be easy, however Joe Philbin seems determined to honor the memory of his son, and move on with his life, as Michael would have wanted. 2. David Garrard's Injury David Garrard was winning the quarterback battle against Matt Moore and Ryan Tannehill and seemed poised to bounce back after a full year off due to a back injury. However, as the episode highlights Garrard injured his knee while at home with his kids and needs surgery. He will likely be out at least three or four weeks and the Dolphins quarterback competition has changed completely. Garrard at 34 years old fears that "father time" may finally be catching up to him as (according to him) this is only his second injury in his career as the other kept him out all last year. One cannot help but feel for Garrard, whom apologizes to head coach Joe Philbin, even though the injury was seemingly a freak occurrence. Matt Moore and Ryan Tannehill will continue to battle for the starting spot. Despite the competition Moore, Tannehill and the now injured Garrard all genuinely seem to care about each other and are invested in trying to make each other and the team as a whole better. 3. Chad Johnson, Free Agent Chad Johnson getting cut by Joe Philbin was easily the most heart wrenching moment in Hard Knocks history. The always confident and oft smiling Johnson was seen solemnly hanging his head as he entered Philbin's office, knowing what awaited him. Johnson was arrested last week for allegedly (key word) head butting his new wife, Evelyn. If the allegations against Johnson are true there is no reason to sympathize with him. However, as Chad mentions, "I've never gotten in trouble" and its tough to see a man lose his job for his first arrest as a professional when so many NFL players get arrested every offseason. Philbin, who as always kept things on an even keel countered explaining, "Its not just what happened last night" and went on to say "I think it's better if we part ways at this point in time. I'm sure it's not good news. It's not good news for us, either." Chad understood and acted extremely professional (contrary to what some may have expected) as he shook Philbin's hand and thanked him for the opportunity, even though it may be his last. This was a landmark moment for Hard Knocks as one of their best personalities on multiple seasons in Chad Johnson will likely never be on the show again.
Original Story:
http://feedproxy.google.com/~r/Cippin...
THE BACKYARD
BEST OF MAXIM
RELATED ARTICLES
AP Photo Ben Volin of the Palm Beach Post believes veteran quarterback David Garrard will end up not making the Miami Dolphins 53-man roster. "At quarterback, you'll notice a glaring omission from the depth chart: David Garrard. That's not a mistake. It's not looking good for Garrard to make the roster now that he's out at least another three weeks following knee surgery...
Former Eagles offensive lineman Tra Thomas retired as a Philadelphia Eagle on Thursday. Words simply weren't enough to express how much the honor meant to Thomas, who expressed deep appreciation for the team and his former coaches Andy Reid and Juan Castillo. There is no point in telling you what Thomas said. You just need to watch. Philadelphia made the right move on this one...
I've watched enough Eagles football in the Reid era to realize that coach's style can be termed, "Inadvertant Trial and Error." Despite having led Philadelphia into the playoffs in nine of his first 13 seasons, Reid's record on opening day is 6-7.   Among those six wins, the Eagles didn't beat a single playoff team (2000 Cowboys, 2004 Giants, 2006 Texans, 2008 Rams...
It ended at Lehigh on Tuesday with Andy Reid circling the perimeter of the field and high-fiving all the fans within reach...Next up is a serious preparation at NovaCare in Philly for the New England Patriots... and the inevitable toll of the bell for the next round of cuts...The plan is to use the Patriots game as the main preseason tuneup for the regulars, who will go at least...
We are concerned about this team...which as our Gatekeeper Brizer has pointed out, is an entirely different issue from "worried"...We have issues. Not entirely happy with the LB or OL picture at this juncture..not sold on the defensive secondary depth, either... and not crazy about the QB mix...But Andy Reid seems to like what he sees...Before breaking camp on Tuesday...
The Philadelphia Eagles started off their 2012 campaign with a win against the Pittsburgh Steelers. Not the prettiest performance ever, but a win nonetheless. It was a game that was vital for both the team and head coach Andy Reid, who had buried his son only one day earlier. Reid was ecstatic at the end, after Alex Henery booted a 51-yarder that essentially ended the game. Coach...
Week Two recap of Hard Knocks: Joe Philbin is dealing with issue after issue. First, it was the death of Andy Reid's son and then it was Chad Johnson allegedly head-butting his wife. For us, the real drama was whether Lauren Tannehill would finally be in a bikini on South Beach. No dice. However, there was a moneyshot of Lauren and Jake Long's wife, Jackie, at the Dolphins first...
For the first time in a long time, the Miami Dolphins were the center of the NFL universe as everyone was excited to tune into this week's Hard Knocks episode. The buildup of HBO informing everywhere that they would be covering Chad Johnson's release had the show set up for one of its largest ratings in the shows history. The show got off to a little bit of a surprising...
NFL News

Delivered to your inbox

You'll also receive Yardbarker's daily Top 10, featuring the best sports stories from around the web. Customize your newsletter to get articles on your favorite sports and teams. And the best part? It's free!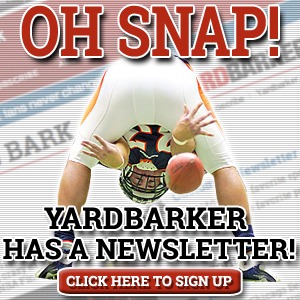 Latest Rumors
Best of Yardbarker

Today's Best Stuff

For Bloggers

Join the Yardbarker Network for more promotion, traffic, and money.

Company Info

Help

What is Yardbarker?

Yardbarker is the largest network of sports blogs and pro athlete blogs on the web. This site is the hub of the Yardbarker Network, where our editors and algorithms curate the best sports content from our network and beyond.