Found August 27, 2012 on Player Perspective:
PLAYERS:
Maurice Jones-Drew
,
Ed Reed
,
Bernard Pollard
,
Lardarius Webb
,
Cary Williams
,
Mario Williams
,
Chris Johnson
,
Troy Polamalu
,
Drew Brees
TEAMS:
Jacksonville Jaguars
,
Baltimore Ravens
,
Buffalo Bills
,
Houston Texans
,
Tennessee Titans
,
Pittsburgh Steelers
,
New Orleans Saints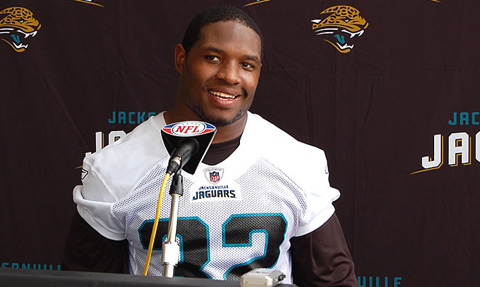 As players like Maurice Jones-Drew learn, unfortunately your contract is not just about you.
Since the Jags and Maurice Jones-Drew entered their standoff I've been reminded of a few things that people don't seem to understand about contract negotiations and I wanted to quickly address them here.
1. Owners don't want to be told how to conduct business
2. It's not just about how  "great" a player is but whether his presence on the team makes "enough" of a difference with all things considered 
3. The value of a player can go up or down with a contract already in place prompting either side to request a restructure. 
When negotiations and hold outs happen too often people are focused on the fact that the player was given a FAIR deal in the beginning and whether or not the player is "worth" more money based on play alone. But these other factors I've mentioned matter just as much and more in many cases.
[To finish reading about why these other factors matter in negotiations click Read More]
A player getting a fair deal when a contract was signed, let's say three years ago, isn't completely relevant today. During that three year period many of other players who play at the same position and are in the same class as the player looking for a new deal have skewed the contract values up or down.
When the value is skewed up, a player will ask for a renegotiation. When the value is skewed down (or when the value of OTHER players on the team is skewed up), the team will either request a player to enter a restructure (sometime at the risk of release) OR release the player and re-sign him at a lower value. Which of these options is on the table depends on the class of player, amount of money already guaranteed, salary cap etc.
The fact that the OTHER players on teams aren't talked about bothers me because it matters a lot. To use Baltimore Ravens FS Ed Reed as an example, three years ago, before newer Ravens defensive players developed into major contributors, Reed probably could have held out and gotten much more money over the remainder of his contract and possibly another year tacked on to it.
But now, the question is not whether Ed Reed can still play at a high level–it's whether the team believes they NEED  Reed to play at that level to make a Superbowl run. Given the capabilities of guys like Bernard Pollard, Lardarius Webb, and Cary Williams the Ravens would probably say the need for Reed doesn't justify a lucrative contract even if he still performs as an elite DB.
To use another example, last year when OLB Mario Williams was injured and missed games for the Texans the Texans were able to make a good run deep into the playoffs. What the team found out is that they don't need an elite OLB at the cost Williams commands in order make a Superbowl run. The Texans choosing to let Williams go was not in anyway a knock on his playing ability. Williams was later signed by Buffalo, a team that needs him to play at the level he's capable of.
MJD is in a different situation than Reed and Williams because the caliber of players around him is worse not better. But it still matters. The Jags are not likely to make the playoffs whether MJD is on the field or on his couch. MJD's leverage lies in how eager the ticket buying public will be to go see a team that looked largely pathetic against milquetoast defenses in the preseason. New owner Shad Kahn probably doesn't believe that MJD's presence will sell enough tickets to justifies a new contract comparable to those of his peers. He could be absolutely wrong cause what fan wants to see their team struggle to move the ball every series…but this is about what the Jags believe not what's necessarily true.
In relation to the dispute between MJD and Kahn there is also the simple fact that owners, like any other employers, don't like to be told who to pay and when. In that sense, as we've seen time and time again, contracts are as much about the owners' egos (remember the lockout?) as the player's skill or the good of the team. Some owners would rather lose games, players, and fan favor than be pressured.
Related Posts:
Original Story:
http://feedproxy.google.com/~r/Player...
THE BACKYARD
BEST OF MAXIM
RELATED ARTICLES
PAY UP
A report says many Jaguars players want Maurice Jones-Drew to be fined for missing several days of training camp. See why.
See how far Maurice Jones-Drew fell in our 2012 Fantasy PPR RB Rankings.   Out of all the positions that we are ranking here at FantasyPPR.com, there is no question that ranking the running backs has been the hardest. No other position has as many question marks early on then at running back thanks to injuries and holdouts (Cough, cough Ryan Matthews and Maurice Jones-Drew...
Getty Jacksonville Jaguars head coach Mike Mularkey indicated that there's a chance Maurice Jones-Drew could play in their season opener. even though he's been holding out for so long. "It depends on him," said Mularkey.  "What kind of shape he's in. How fast he picks up the system. I'm not going to put him in a position where he has any chance to fail because in the...
Getty ESPN's Adam Schefter believes Jaguars running back Maurice Jones-Drew could end up holding out for a couple of regular season games. "It wouldn't surprise me if Jones-Drew missed the first game or two, Xavier," wrote Schefter during his weekly mail bag.  "Usually these holdouts get settled around Labor Day. That's always an important time in lingering contractual...
The SPIN nation has spoken and they do not trust Maurice Jones-Drew enough to invest a first round pick in him. Wise, very wise. 220 people voted and 37% said they would consider MJD in the second round or later. The next largest group, 29% of voters, said they are staying away entirely (kind of like Chargers fans stay away from Qualcomm stadium or Dez Bryant stays away from good...
Getty This is a mess. Maurice Jones-Drew wants a new contract from the Jacksonville Jaguars. Their brand new owner Shad Khan doesn't want to give him a new contract. MJD has stayed away from training camp and the organization until he gets a new deal. I don't want to get in to what is right and wrong. I can see both sides of the argument. I'm more interested in what to do...
An AFC running back has had a lock on the NFL's rushing title in each of the past three years and five of the past six, and Bovada oddsmakers hugely favor that trend to continue in 2012. Jacksonville's Maurice-Jones Drew, Houston's Arian Foster and Tennessee's Chris Johnson have been the past three rushing kings, with MJD winning the title with 1,606 yards a season...
A fantasy football player's dream! No I'm not talking about me chit chatting live, face to face about my friend and former high school teammate Reggie Williams, with the legendary, hall of fame bound, round mound of touchdown, Maurice Jones-Drew. I'm talking about DirecTV's new system that allows you to plug your players into the TV and be able to get live stats on them or...
We all know by now that Indianapolis Colts owner Jim Irsay is a man who will do anything to help his football team move forward. Heck we are talking about the guy who found it in his team's best interest to part ways with a legend in Peyton Manning to start a new regime with QB Andrew Luck.
According to the Florida Times Union, Jaguars coach Mike Mularkey expects running back Rashad Jennings to start Week 1.Fantasy Spin:Mularkey didn't rule out Maurice Jones-Drew as the opening-day starting tailback, but even if Jones-Drew does return from his holdout it's looking more and more like he'll handle a reduced workload in Week 1. If Jones-Drew's holdout extends...
Maurice Jones-Drew has yet to report to the Jaguars and is still holding out. According to ESPN's Adam Schefter, "there are no signs he's coming in anytime soon." Backup Rashad Jennings has impressed, rushing for 175 yards on 36 carries this preseason. New Jaguars Head Coach Mike Mularkey has announced that Rashad Jennings will start week 1 regardless. This is a smart move...
It appears that Rashad Jennings, as was expected by many, will be the Jaguars' starting running back week 1 against the Vikings, even if Maurice Jones-Drew finally makes it into camp in the near future. HC MIke Mularkey said he definitely expects Rashad Jennings to start at RB in regular season opener. #jaguars. — John Oehser (@JohnOehser) August 27, 2012 So far this...
NFL News

Delivered to your inbox

You'll also receive Yardbarker's daily Top 10, featuring the best sports stories from around the web. Customize your newsletter to get articles on your favorite sports and teams. And the best part? It's free!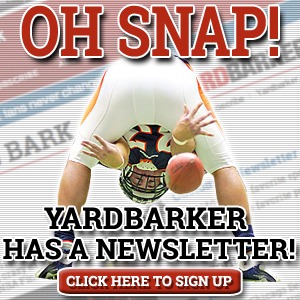 Latest Rumors
Best of Yardbarker

Today's Best Stuff

For Bloggers

Join the Yardbarker Network for more promotion, traffic, and money.

Company Info

Help

What is Yardbarker?

Yardbarker is the largest network of sports blogs and pro athlete blogs on the web. This site is the hub of the Yardbarker Network, where our editors and algorithms curate the best sports content from our network and beyond.