Found November 08, 2013 on Fox Sports Midwest:
ST. LOUIS -- It wasn't that long ago that the St. Louis Rams had won two straight games, were sitting at .500 and quarterback Sam Bradford was on pace for the best season of his four-year career. But in the past three weeks, the Rams have lost Bradford to a season-ending knee injury and then lost at Carolina and at home against Seattle and Tennessee. The season has turned and not for the better. There are positives, like the continued strong play of Robert Quinn and the emergence of Zac Stacy, but St. Louis appears inevitably headed toward its seventh straight losing season. Here are three things to watch as the Rams (3-6) head to Indianapolis (6-2) on Sunday: Rams fans get first look at Luck David J. PhillipAssociated Press Let's have some fun with stats, shall we. Quarterback A has completed 58.3 percent of his passes for 1,845 yards, 13 touchdowns and three interceptions, with a passer rating of 91.5. Quarterback B has completed 60.7 percent of his passes for 1,687 yards, 14 touchdowns and four interceptions, with a passer rating of 90.9. Now, which one is Andrew Luck and which one is Sam Bradford? Luck, the No. 1 overall pick in the 2012 Draft, is universally regarded as one of the bright young stars of the NFL, an undisputed franchise quarterback that many organizations would build around if given the opportunity. Quarterback A is Luck, who ranks 12th in the NFL in passer rating and ranks 25th in completion percentage, which trails the likes of Christian Ponder, Terrelle Pryor, Chad Henne and Mike Glennon. In two seasons Luck is 17-7 as a starter, including 6-2 in 2013, and has completed 55.3 percent of his passes for 6,219 yards, 36 touchdowns and 21 interceptions, with a passer rating of 80.9. Bradford is 18-30-1 as a starter since being picked No. 1 overall back in the 2010 Draft. He's completed 58.6 percent of his passes for 11,065 yards, 59 touchdowns and 38 interceptions, with a passer rating of 79.3. Where is Tavon Austin?!? Michael ConroyAssociated Press Rookie wide receiver Tavon Austin went into last week's game against the Titans as the Rams' leading receiver with 31 catches. But the first-round draft pick from West Virginia did not record a catch for the first time in nine games. The Rams did get him the ball on a sweep in which he ran for six yards, but his one touch on offense matched a season low he set in Houston four weeks earlier. Austin had 18 catches in the first three games but has had just 13 in six games since. His 31 catches are tied for 59th in the NFL but his 207 yards receiving are tied for 127th --with Browns running back and former Rams draft pick Chris Ogbonnaya --and his 6.68 yards per catch rank 140th. Houston rookie wide receiver DeAndre Hopkins, a first-round draft pick out of Clemson, also has 31 catches but he has 470 yards receiving, an average of 15.2 yards per catch. The Rams invested in Austin by trading up in the draft to get him and they've seen flashes of his playmaking ability in the return game. Now they need to get him more involved in the offense to see what the 22-year-old is capable of. Colts coach Chuck Pagano raved about Austin on Wednesday during a conference call with reporters. "You've got a dynamic returner in Tavon Austin that's one of the best and going to be, arguably, maybe one of the best ever to play that position," Pagano said. "He's a game wrecker. He's a game breaker. I know the numbers are a little bit skewed because of penalties and things like that, but he's one of the most dynamic guys. When we watched him coming out, it's obvious why the Rams took him where they took him. The guy literally can wreck a game for you, not only on offense as a receiver, and no matter how he gets the ball and gets it in his hands, he's a threat to score from anywhere." Stacy running wild Jeff Curry-USA TODAY Sports Stacy, the rookie running back, has emerged as the primary weapon on offense for the Rams after back-to-back 100-yard rushing performances. In five starts, Stacy has rushed for 471 yards on 102 carries, an average of 4.6 yards per carry, and scored two touchdowns. The fifth-round pick out of Vanderbilt has accounted for 562 total yards in those five games. He ranks second among rookies behind Green Bay's Eddie Lacy (596 yards) in rushing, ranks 10th in the NFC and 18th in the NFL. "You've got a young back that's emerging as a top flight No. 1 runner in this league," Pagano said. Quarterback Kellen Clemens has shown in his first two starts in place of Bradford that he can move the offense down the field. Stacy's emergence has helped the Rams find some balance offensively. Clemens threw for 210 yards and a touchdown against the Titans. The Colts are 27th in the NFL in rushing yards against, allowing 124.9 per game. The Rams, meanwhile, are 28th and have allowed 125.2 per game. You can follow Nate Latsch on Twitter (@natelatsch) or email him at natelatsch@gmail.com.
Original Story:
http://www.foxsportsmidwest.com/nfl/s...
THE BACKYARD
BEST OF MAXIM
RELATED ARTICLES
Robert Quinn the Ladson, South Carolina native has been very impressive since he entered into the NFL.  The former first round draft pick entered into his NFL rookie year with 5.5 sacks, and has continued to improve year in and  year out. Last season Quinn topped 10 sacks finishing the season with 10.5 sacks.  This […]
ST. LOUIS -- Giving more snaps to rookie receiver Stedman Bailey isn't going to turn around the Rams' season. Heck, Brett Favre in his prime would have been challenged to right the St. Louis ship. But when's it week 10 and you're 3-6, have lost your franchise quarterback for the season and the toughest part of your schedule still is to come, a positive development...
Rams conerback Cortland Finnegan is a bit of a hot head, and hopefully some nice custom kicks will cool him off. Dejesus Customs has posted a few pics of the custom Jordans Finnegan will be wearing on the field, and they are game changers. [BleacherReport] Article found on: Next Impulse Sports
The St. Louis Rams are 0-2 without quarterback Sam Bradford, but have been competitive in both games, and may have found their future running back in rookie Zac Stacy. The Rams are slated to face the Indianapolis Colts tomorrow afternoon, a team that has went 2-0 in the tough NFC West this season. The Rams boast a 3-6 record, and are looking to ride Stacy's hard-churning legs back...
St. Louis Rams cornerback Cortland Finnegan might get fined for the new cleats he's about to unveil, but it shouldn't matter because they are crazy hot. Finnegan reached out to DeJesus Customs, and they blessed him with this custom-made pair of Jordan cleats with a throw back Rams theme as well. He has gold-covered Air Jordan III sneakers, and Air Jordan XII cleats featuring...
St. Louis Rams defensive end William Hayes picked a fight with a mirror after his team's frustrating loss to the Tennessee Titans on Sunday. He lost. According to the St. Louis Post-Dispatch, Hayes smashed a mirror with his forearm and suffered a pretty nasty cut. He received stitches to close the wound and practiced in […]
Before I get started talking IDPs for this week, it's time to put you all at ease. I'm sure many of you spent your entire week tirelessly coming up with nicknames for Robert Quinn and Chris Long, as I suggested last week. But it turns out that they beat us to the punch. Though no announcers ever mention it, the two dominant pass-rushers in St. Louis have nicknamed themselves...
ST. LOUIS -- The St. Louis Rams have postponed quarterback Sam Bradford's knee surgery, which had been scheduled for Tuesday, due to swelling. Coach Jeff Fisher said Wednesday no new date has been set for the procedure to repair a torn left ACL, but anticipated it would be soon. The team previously announced the surgery would be done by Dr. James Andrews, who also operated on...
St. Louis Rams (3-6) at Indianapolis Colts (6-2) On paper, this line might be a little bit too high. The Colts are moving the chains at a 79% rate, as opposed to 75% for their opponents. Meanwhile, the Rams are moving the chains at a 72% rate, as opposed to 74% for their opponents. That suggests this line should be around 7, instead of 9.5. That being said, that doesn't take into...
Thanks to my Football Outsiders connection and a link with the Rams, I was fortunate enough to wind up in the press box of the Edward Jones Dome for last Sunday's game, with a view that greatly resembled the all-22 overhead shot. Because I was there with the FO link, my extended comments on the game, covering both the Titans and the Rams, ended up in Monday's Audibles column...
Richie Incognito's time in St. Louis wasn't exactly quiet. In 2006, a pair of late penalties in a Nov. 12 game in Seattle contributed mightily to a 24-22 last-second loss to the Seahawks. Had the Rams hung on in that game they would've ended up winning the NFC West in Scott Linehan's rookie season as head coach. In 2007, he dubbed himself "The Sheriff" after taking part...
St. Louis Rams (3-6) at Indianapolis Colts (6-2)Spread & Total: (-10.5) & (44)Play: St. Louis Rams (+10.5)If you follow me closely enough and happened to catch the interview I had with Rams Addiction this last week (which I'm sure all of you did) then it wraps up exactly how I feel about my Indianapolis Colts so far this season and my outlook on the game.If you'd...
NFL News

Delivered to your inbox

You'll also receive Yardbarker's daily Top 10, featuring the best sports stories from around the web. Customize your newsletter to get articles on your favorite sports and teams. And the best part? It's free!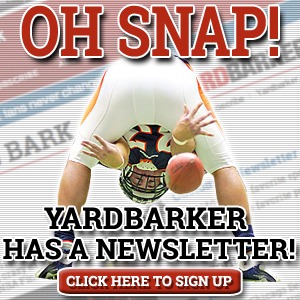 Latest Rumors
The Backyard

Today's Best Stuff

For Bloggers

Join the Yardbarker Network for more promotion, traffic, and money.

Company Info

Help

What is Yardbarker?

Yardbarker is the largest network of sports blogs and pro athlete blogs on the web. This site is the hub of the Yardbarker Network, where our editors and algorithms curate the best sports content from our network and beyond.