Found January 14, 2013 on Fox Sports:
PLAYERS:
Colin Kaepernick
,
Stephen Strasburg
,
Alex Smith
,
Russell Wilson
,
John Elway
,
John Lynch
,
Robert Griffin III
TEAMS:
San Francisco 49ers
,
Chicago Cubs
,
Washington Nationals
,
Seattle Seahawks
,
Colorado Rockies
,
Washington Redskins
,
Louisiana Tech Bulldogs
Colin Kaepernick is, at the moment, one of the most talked about figures in American sports. In the year of the dual-threat quarterback, he is the last of them standing in the NFL playoffs. He completed three passes during the entire 2011 season but has led the San Francisco 49ers to within one victory of their first Super Bowl berth in nearly two decades. And to think: He could have been a Chicago Cub. Yes, it's right there in the fine print of Kaepernick's ever-expanding bio: The Cubs selected him in the 43rd round of the 2009 draft, only 1,309 picks after the other famous right-hander of that year's class -- Stephen Strasburg. The Cubs were taking a flier, and they knew it: Sam Hughes, a national crosschecker in the team's amateur scouting department, had watched Kaepernick play quarterback at the University of Nevada. But he also heard during a family visit to Reno that Kaepernick had hit 90 miles per hour off the mound as a high school pitcher in California. Hughes wasn't worried about the fact that Kaepernick hadn't played baseball at Nevada. He was an outstanding athlete. And it was obvious that he could throw. In baseball, that's the rough description of many 43rd-round draft picks. "I ended up watching him play a couple times in football and really liked his athleticism," Hughes, himself a former quarterback at Louisiana Tech, recalled Sunday in a telephone interview. "But he had a real long arm stroke that's not very Dan Marino-esque. When he was a sophomore in college, I didn't know how his game would translate in the NFL. "Our NFL sources at the time thought he was going to be a later-round or CFL guy." Apparently, those NFL sources were wrong. Kaepernick politely but firmly told Hughes he wasn't interested in pursuing baseball, stayed at Nevada for two more seasons (including an otherworldly senior year) and became the Niners' second-round pick in 2011. A backup to Alex Smith when the 2012 season began, Kaepernick's star exploded in mid-November. Now he's everywhere, after leading San Francisco to Saturday's 45-31 win over Green Bay. During one of his many postgame interviews, Kaepernick wore a Brewers cap. (He was born in Milwaukee.) Hughes couldn't resist sending him a text. "Let's not forget you were drafted by the Cubs," Hughes kidded him. "I want to see you rocking the Cubbie Blue ... And by the way, pretty good game." Kaepernick's reply: LOL. Thank you . Nearly four years after Hughes recommended Kaepernick as a baseball prospect, he remains impressed by his personal qualities. The two never met in person, and yet Kaepernick took a moment to respond to Hughes' text following the greatest triumph of his professional life. The Cubs were prepared to offer Kaepernick a signing bonus near $50,000 for what amounted to a summer job: He would have reported to the team's complex in Mesa, Ariz., and thrown off mounds in the heat in June and July before returning to Nevada for two-a-days in August. (NCAA rules permit athletes to turn pro in one sport while preserving their amateur status in another.) Kaepernick wasn't interested. At all. He told Hughes that he planned to spend the summer in Reno, working with his wide receivers. And the decision was final. "I would have flown all the way to Reno to watch him throw a bullpen," said Hughes, who is based in Atlanta. "All I was waiting on was a thumbs-up from him or his father, Rick. Between the two of them, I probably made seven or eight phone calls in a two-week period. I was persistent. They kept rejecting me. "I was baffled that they had no interest. He could have played us, like, 'Oh, let me find out if they'll give me $50,000 or $100,000. That would be good spending money for the next year in college.' He could have played that angle. But he showed a lot of maturity and focus. He was all about what he was trying to do on the football field. "That says a lot about the guy. I would have loved to see him throw a baseball. But this is fun watching him throw the football around. He's an easy guy to root for." Had the Seattle Seahawks completed their comeback against Atlanta in Sunday's divisional matchup, the NFC championship game would have pitted Kaepernick against another dual-threat quarterback with a baseball past: Seattle's Russell Wilson spent two seasons as a second baseman in the Colorado Rockies farm system, batting .229 for affiliates in Pasco, Wash., and Asheville, N.C., before a standout 2011 season at Wisconsin propelled him to the NFL. (Since you're curious: If Robert Griffin III had a baseball future, Hughes figures it would be on the mound. "Hitting is so hard," Hughes said. "If I was going to take a random shot and draft RG3, I'd do it as a pitcher.") In fact, the Hughes family has a history with scouting eventual football stars. Gary Hughes -- Sam's father and one of the industry's most respected scouts -- selected outfielder John Elway for the Yankees and pitcher John Lynch for the Marlins, both from Stanford. (Gary has quipped that his Hall of Fame draft picks end up in Canton, not Cooperstown.) After watching Kaepernick's heroics over the past two months, Sam Hughes figures that any chance of him coming back to baseball is now gone for good. Except, of course, there's this tradition at Wrigley Field ... during the seventh-inning stretch ... maybe he'd want to visit Chicago on a pristine summer night ... he could stand on the mound for the ceremonial first pitch ... and maybe Hughes would pull out his radar gun ... "You've got to," he said, laughing over the phone. "You never know how many chances you'll get. You've got to bear down and make the judgment immediately."
Original Story:
http://msn.foxsports.com/mlb/story/49...
THE BACKYARD
BEST OF MAXIM
RELATED ARTICLES
Memes in general have been around for long enough now that they practically seem old hat. Nonetheless, that isn't stopping Colin Kaepernick from inspiring some followers. The second-year quarterback's signature touchdown move — which actually isn't all that different from Tebowing, minus the kneel — has already caught on online, prompting a slew of imitating pictures across...
San Francisco 49ers quarterback Colin Kaepernick had quite a Saturday evening. Against the Packers, he ran for 181 yards setting an NFL record for quarterbacks.The highlight was undoubtedly this run in the third quarter which broke a 24-24 tie. The 49ers won the game 45-31 advancing to the NFC Championship round. The 49ers will wait until Sunday's game between the Falcons and...
Quarterback Colin Kaepernick (17-31, 263 yards, 2 TD, INT, 14 carries, 181 yards, 2 rushing TDs) overcame an early interception Saturday night and ran himself into the records books to lead his San Francisco 49ers to victory against the Green Bay Packers. The Packers defense simply could not contain the scrambling Kaepernick as he left the pocket frequently, obliterating the record...
Move over Tebowing and Griffining, San Francisco 49ers quarterback Colin Kaepernick has started a new hip trend for everyone to do. The act of "Kaepernicking" is pretending to kiss your bicep as seen in the below photo of Colin performing the act during last weekend's Packers/49ers NFC divisional playoff game: As you may figure, a website called "Kaepernicking...
Colin Kaepernick repeatedly raced past the Green Bay defense on option runs. Frank Gore barreled over the Packers on more traditional plays. A week after holding 2,000-yard rusher Adrian Peterson in check, the Packers were run over by the San Francisco 49ers and sent home from the playoffs with a 45-31 loss Saturday night. The Packers (12-6) came into the game brimming with confidence...
Green Bay's season ended in crushing fashion, with second-year quarterback Colin Kaepernick piling up a stunning 446 yards and four touchdowns as the 49ers routed the Packers 45-31 in Saturday night's divisional game.
If there is one thing to take away from the 444-yard, four touchdown performance of San Francisco 49ers' quarterback Colin Kaepernick Saturday night in a 45-31 victory over the Green Bay Packers in the NFC Divisional Playoffs, its that Kaepernick is damn good and his value in terms of fantasy football is about to skyrocket. At least it should. 49ers head coach Jim Harbaugh...
The 49ers Colin Kaepernick set the record for playoff rushing yards by a QB and then went on to set the record for running yards by a quarterback in any game with 181. The Big Lead compiled all of... Full story at Bob's Blitz ~ http://www.bobsblitz.com
This evening's divisional playoff game features the Green Bay Packers taking on the San Francisco 49ers. Weather will not play a role in tonight's contest. Afternoon high temperatures of the low 50′s under sunny skies will give way to a clear night with temperatures in the mid-40′s. This playoff game will be one of three in the divisional round which features a rematch of...
Just like that, the Packers' season is over. After a win in the opening week of the playoffs, Green Bay's road to the Super Bowl was potentially lining up just as it did two years ago. This time, however, the Packers were unable to string together any victories on the road, with the team now looking for offseason answers for the second year in a row after a divisional round...
Further proof attending a professional football game can be hazardous to your health. The AP reports that 92 fans were kicked out of the 49ers playoff victory over the Green Bay Packers. Medial staff at the stadium helped 62 people but there was no word on the severity of any of the injuries. There was also an arrest for an attempted car burglary and driving under the influence....
NFL News

Delivered to your inbox

You'll also receive Yardbarker's daily Top 10, featuring the best sports stories from around the web. Customize your newsletter to get articles on your favorite sports and teams. And the best part? It's free!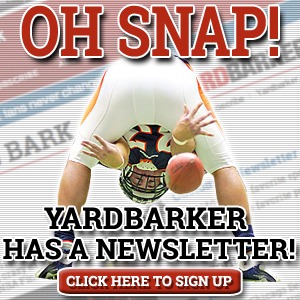 Latest Rumors
The Backyard

Today's Best Stuff

For Bloggers

Join the Yardbarker Network for more promotion, traffic, and money.

Company Info

Help

What is Yardbarker?

Yardbarker is the largest network of sports blogs and pro athlete blogs on the web. This site is the hub of the Yardbarker Network, where our editors and algorithms curate the best sports content from our network and beyond.