Found July 29, 2013 on isportsweb.com:
Here is Part I, a.k.a. the first 3, of my 5 bold predictions for the upcoming Indianapolis Colts season (Part II coming very soon): Derrius Heyward-Bey hauls in a pass during training camp (Photo credit: AP Photo) 1. Derrius Heyward-Bey lives up to his potential When you hear the name of newly acquired Colts wide receiver Derrius Heyward-Bey you may think 'bust', I think 'potential'.  At 6'2" 215 lbs. he ran a 4.25 40 at the combine coming out of college (one of the top 40's ever recorded at the combine)! The possibilities for a man of his athletic prowess are numerous; pair that with a quarterback (Mr. Andrew Luck) who was the most hyped number 1 overall pick since John Elway (and Luck lived up to that hype in his rookie campaign) and Heyward-Bey might just fulfill those possibilities.  To make my argument I present you with some important stats from the 2012 season: Donnie Avery: 60 receptions, 781 yards, 3 touchdowns, 112 targets, 16.67% drop rate T.Y. Hilton: 50 rec, 861 yds, 7 tds, 88 targets, 16.67% drop rate Derrius Heyward-Bey: 41 rec, 606 yds, 5 tds, 80 targets, 12.8% drop rate The drop rates and targets were found at Pro Football Focus and KFFL.com (other stats were taken from ESPN.com); Hilton and Avery were tied at third among the highest drop rates in the NFL.  These were two of the primary guys Luck was throwing to last year, Hilton listed at 5'9" 178 lbs., Avery listed at 5'11" 200 lbs., and they are both known for being speedsters (Avery is now gone).  Enter Heyward-Bey; he had a lower drop rate at 12.8% along with less targets and someone who has had the misfortune of having to catch balls from 7 different quarterbacks in 4 years (such as JeMarcus Russell, an aging Carson Palmer, Kyle Boller, Terrelle Pryor, and others of similar skill).  Though he did have a 35.7% drop rate his rookie year and 21.6% the next, he has improved those rates the following years to 8.6% and 12.8% respectively.  This showcases that he has the willingness to work on his craft.  His work ethic, size and incredible speed combined with the fact that he's playing with one of the next great quarterbacks of the NFL, after spending time with the bottom dwellers of the league, make him primed for an outstanding season (800-1,000 yds, 10 tds, 60-80 receptions). Lawrence Sidbury goes for a sack against the Green Bay Packers (Photo credit: Curtis Compton ajc.com) 2. Lawrence Sidbury provides pass rushing depth Who? A question I hope avid watchers of the Indianapolis Colts won't be saying about Lawrence Sidbury by season's end.  He is a 6'3" 269 lbs. defensive end out of Richmond who ran a 4.64 40 coming out of college in 2009.  He spent his first 4 seasons with the Atlanta Falcons, and he did not really prove himself till 2011.  In that year he played in 16 games and recorded 11 tackles along with 4 sacks, as a backup defensive end.  But in 2012 he only played in 10 games and recorded 1 lone tackle.  However, reading about him all off-season it seems that the Falcons coaching staff simply did not give him the chance to improve on his successful 2011 season in 2012.  So, GM of the Indianapolis Colts, Ryan Grigson, signed him to a cheap deal hoping to hone his potential into something useful for the Colts defense.  I believe Grigson made a very solid decision in doing so.  Sidbury proved that he can be an adequate backup rushing the quarterback in 2011, and he'll get his chance to prove that he can be a good one with the Colts in 2013, most likely backing up Robert Mathis.  Though, since he is learning a new position in playing at outside linebacker in a 3-4 defense instead of defensive end in a 4-3 defense, I expect most of his production to come in the second half of the season.  That being said I anticipate a 5-7 sack season from Sidbury (assuming no injuries occur, which we all know is a grand assumption), and that would be a great year for the backup of our main pass rusher (Mathis). 3. Colts' defensive secondary improves radically Vontae Davis returning the football after a turnover (Photo credit: Jonathan Daniel) Barring an injury (Landry and Toler are known to be injury prone, as was Davis last year) I believe the defensive backfield could be in the top echelon of the NFL.  Darius Butler (arguably our best corner from last year excluding the last few weeks from Vontae Davis) is now our SLOT defensive back.  He is behind Davis and Greg Toler.  Davis had a terrible start to the year in 2012, but by the end looked like a shutdown corner.  In the AFC wild card game against the Baltimore Ravens, wide receiver Anquan Boldin may have demolished our secondary, but how many times did you hear Torrey Smith's name?  Davis was the one covering Smith and he ended up having 2 receptions for 31 yards (footballdb.com).  Toler is a free agent addition from the Arizona Cardinals, an underrated defense last year.  Toler is a physical corner who is suited for a man to man defense, which head coach Chuck Pagano likes to play.  I actually attended the Colts open mini-camp practice and I came out most impressed with Toler's play.  He has deceptively long arms and his instincts look fantastic, I look forward to watching him play this year.  Next up: LaRon Landry, Mr. Meat n' Potatoes himself: LaRon Landry tweeting and confirming he likes 'meat n potatoes' Landry, simply put, is a beast of a man.  He is 6 feet and 225 lbs. of pure muscle.  He is a 'make you scared to catch a ball over the middle' safety.  Landry is a very athletic hard-hitter (Bob Sanders anybody?) who is coming off a pro-bowl season; a major upgrade from Tom Zbikowski at the very least.  Another addition to the defense: Antoine Bethea.  I know he was on the team last year, but because of the lack of help he had in the backfield, he tried doing too much and his play suffered.  I expect us to add pre-2012 Bethea (a 2 time pro-bowler) back onto the roster: I mean just look at the help he has this year in Landry, Toler, Davis and Butler versus having to consistently deal with Cassius Vaughn, Sergio Brown, Tom Zbikowski and Joe Lefeged last season.  Though I do have my concerns of this secondary being exposed if the defense can't collectively stop the run (I am still not sold on the rush defense even with the front 7 upgrades) I still have high hopes.  All this on top of the fact Pagano is back; I consider him to be one of the best secondary coaches in the entire league (defensive play improved significantly when he got back last year), and I think this secondary is primed for a fantastic season, a top 10 finish.
Original Story:
http://feedproxy.google.com/~r/isport...
THE BACKYARD
BEST OF MAXIM
RELATED ARTICLES
Here's my prediction I do every year on who I think will make the Indianapolis Colts' Week 1 roster.Not necessarily in that orderOFFENSE (25 players)QB: Andrew Luck, Matt Hasselbeck, Chandler HarnishRB: Ahmad Bradshaw, Vick Ballard, Kerwynn Williams, Stanley HaviliWR: Reggie Wayne, TY Hilton, Darrius Heyward Bey, Griff Whalen, Nathan Palmer, Lavon Brazill*TE: Dwayne Allen...
According to Mike Chappell of the Indianapolis Star, it looks like Darrius Heyward-Bey is starting alongside Reggie Wayne. Also, in #colts base offense, starting WRs were Reggie Wayne, Darrius Heyward-Bey. TY Hilton might be third guy. Makes sense. — Mike Chappell (@mchappell51) July 28, 2013   Need NFL Tickets? Loading... ZergNet The post Darrius Heyward-Bey...
Andrew Luck and Chuck Pagano went back to work Sunday when the Indianapolis Colts held their first practice of training camp. It's a lot different than the last time they worked out at Anderson University. Back then, Pagano was feeling run-down and Luck was still getting a crash-course in playing quarterback in the NFL. Now, Luck is teaching teammates about the intricacies...
When you have been in the league for as long as Indianapolis Colts wide receiver Reggie Wayne you are allowed to be a little eccentric when it comes to certain things. Nothing too crazy mind you--no showing up to press conferences in nothing but a Speedo or talking to reporters through a ventriloquist dummy he calls Peyton. No, he just wants to make sure everyone knows...
Colts receiver LaVon Brazill admitted Monday that his own "mistakes" led to a failed drug test and an NFL-mandated four-game suspension. It's the first time he has spoken publicly about the discipline since the league's announcement last month. Though league officials did not say what substance was found in Brazill's test, the second-year receiver said he...
Colts receiver LaVon Brazill admitted Monday that his own "mistakes" led to a failed drug test and an NFL-mandated four-game suspension. It's the first time he has spoken publicly about the discipline since the league's announcement last month. Though league officials did not say what substance was found in Brazill's test, the second-year receiver said he...
QB Andrew Luck (Indianapolis) Andrew Luck is an overrated quarterback in real life, but he was great in fantasy football last season and he should be better in both reality and fantasy next season. Pep Hamilton is coming over from Stanford to reunite with Luck as his offensive coordinator and will be installing an offense that fits his skill set better. He'll also be better protected...
          In a series of community relations events, the Indianapolis Colts and the Indiana Department of Child Services (DCS) teamed up with the Indianapolis Indians to host a special evening for 35 foster youth at Victory Field. Through their "Books for Youth" program, presented by Cargo Services, the Colts and the DCS have invited 35 foster youth and their families to...
According to Mike Chappell of the Indianapolis Star, Colts running back Ahmad Bradshaw (foot) expects to miss a couple more weeks.Fantasy Spin:Bradshaw, who has rushed for at least 1,000 yards twice in the last three seasons, said he doesn't really need to play in the preseason. The former Giants running back has dealt with foot and ankle issues for his whole career, but he usually...
Colts News

Delivered to your inbox

You'll also receive Yardbarker's daily Top 10, featuring the best sports stories from around the web. Customize your newsletter to get articles on your favorite sports and teams. And the best part? It's free!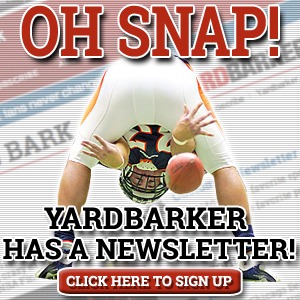 Latest Rumors
Best of Yardbarker

Today's Best Stuff

For Bloggers

Join the Yardbarker Network for more promotion, traffic, and money.

Company Info

Help

What is Yardbarker?

Yardbarker is the largest network of sports blogs and pro athlete blogs on the web. This site is the hub of the Yardbarker Network, where our editors and algorithms curate the best sports content from our network and beyond.