Found January 30, 2012 on Unathletic:
I'm not an Indianapolis Colts fan, but I do respect Peyton Manning. The guy is one of the greatest quarterbacks to ever play the game, and could very well be the best quarterback of my generation. Furthermore, he's a good guy. He's a flat out good guy unlike most of his co-workers in the NFL.
I'm telling you right now my spaz meter is slowly rising on the situation in Indianapolis. I'm do not approve with the treatment Manning is getting from the colts.  The latest, and maybe my favorite is Irsay calling Peyton a "politician". Hate 'em or love 'em this sh$t would never go down with the New York Yankees.
I understand it's a business. Perhaps, Peyton is done in Indianapolis, but the guy deserves to be treated like royalty there. I believe Peyton is at a point where he's earned the right to retire when he wants. He's also earned the right to be treated with respect by the Colts. I'm telling you right now, if they screw him over – I hope one of five things happens..
5.) The Fans Don't Show Up To Games
PROTEST!!! Hit Irsay where it hurts. The fans rebel, the stadium is empty, the Colts lose money. Revenge will be had.
4.) The Mannings Buy the Colts
A few more commercials and Peyton should have the bank roll for this…. I think #5 needs to happen for #4 to come true, but hey this is a hypothetical folks. Peyton should own the Colts today, now that I think about it. That team would be dogsh$t without him.
3.) They Go Continue to Go 2-14
This is a pretty obvious one. This would have been a lot cooler if they were 1-15 or 0-16. 2-14 is kinda dumb. Either way, I hope they never win again.
2.) Andrew Luck Turns Into Ryan Leaf
This is the part that pisses me off the most. Jim Irsay thinks he can act like a d-bag because he's got Andrew Luck coming in. Hey Buddy – nothing's for sure in the NFL. Go ahead and put your hopes in a rookie. I hope it bites you in the ass. Sorry to Andrew Luck for getting thrown into this.
1.) Manning Joins Another Team and They Win It
I was tempted to say Manning joins the Jets and they win it all. Then I remembered I'd probably kill myself if Rex Ryan won a Super Bowl. How about a different team? This would be awesome.
Original Story:
http://www.unathleticmag.com/2012/01/...
THE BACKYARD
BEST OF MAXIM
RELATED ARTICLES
According to Mike Jones of the Washington Post, a person with knowledge of the situation has confirmed that the Redskins would be interested in Colts quarterback Peyton Manning if he becomes available. At this point there are a lot of things to consider before Manning ends up playing in another city besides Indianapolis. "No. 1, is he going to be released? No. 2, is he going...
Peyton Manning in a Cowboys uniform? At first thought, that sounds like a pretty good idea. Who wouldn't want a future Hall of Famer quarterbacking their team? Then reality creeps in. First and foremost, it will never happen because of the salary cap. While trading Tony Romo to make room for Manning would be the optimal move, either trading or outright cutting Romo carries...
COLT HERO
Peyton Manning says he is determined to play in 2012, whether it be in Indy, or with a new franchise.
Colts Authority reader matt_has wrote a piece that offers a different perspective regarding Peyton Manning's future with the Colts. This is another excellent piece we thought readers would enjoy on the front page. Preface: I can see both sides of the Manning/Luck debate, but I expect Manning to be cut. With that expectation in mind, this is primarily a therapeutic release for...
Peyton Manning's increasingly thorny relationship with the Indianapolis Colts -- will owner Jim Irsay pay $28 million to retain his injured four-time NFL MVP quarterback? -- threatened on Monday to strip the spotlight completely from Manning's Super Bowl XLVI-playing brother Eli, who arrived in town with the NFC champion New York Giants. That's because Peyton, his status...
Since the New York Jets collapse in the 2011 regular season, there's been a lot of finger pointing in the organization as to what went wrong. And a lot of that blame game has fallen onto quarterback Mark Sanchez. Now, regardless of the fact that "anonymous teammates" have ripped on Sanchez for being lazy, many people have thought for a while that Sanchez isn't a viable starting...
Peyton Manning called it. Back when the NFL was debating the merits of Eli Manning and whether he had what it took to win a Super Bowl, Big Brother took time out of his morning-after news conference five years ago to say Eli would be on the same stage soon.
This week Zoners, I've got a stacked show for you. Talking NFL, MLB, NHL, NCAA Football and MMA. Plus get ready because next week is the Red Zone Superbowltacular and we should have a few special guests and junk like that for you to sit back and laugh at.So in the meantime, enjoy.
It's Super Bowl week. As the Pats and Giants gear up for their rematch, the questions over Peyton Manning's future continue to hover in Indy. Peter King has it all in this week's MMQB.
NFL News

Delivered to your inbox

You'll also receive Yardbarker's daily Top 10, featuring the best sports stories from around the web. Customize your newsletter to get articles on your favorite sports and teams. And the best part? It's free!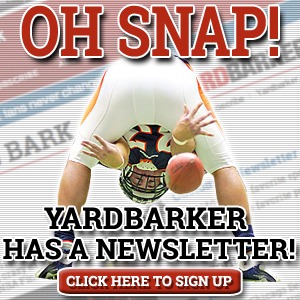 Latest Rumors
The Backyard

Today's Best Stuff

For Bloggers

Join the Yardbarker Network for more promotion, traffic, and money.

Company Info

Help

What is Yardbarker?

Yardbarker is the largest network of sports blogs and pro athlete blogs on the web. This site is the hub of the Yardbarker Network, where our editors and algorithms curate the best sports content from our network and beyond.