Found September 15, 2012 on Denver Sports Chat:
Denver, CO. So what exactly is a "knucklehead QB"? Well, it can mean a lot of different things actually. It could describe a QB who never realizes his full potential because of a lack of work ethic. It could mean a QB who obviously lacks the brains to match his talents. It could also potentially depict a QB who has blown a huge opportunity, mainly because he just didn't show that he wanted to succeed badly enough. Quite honestly, a "knucklehead QB" could also portray a signal caller who is known for doing an idiotic thing or two while on the field. So with these definitions, let's take a look at the 7 biggest knucklehead QB's in the history of the NFL……
1 – Art Schlichter - The then Baltimore Colts selected Schlichter with the 4th overall pick of the 1982 draft out of Ohio State. As a 4 year starter there, he finished in the top 3 in the Heisman Trophy voting three times. The Colts chose him and were hoping he would be their QB for the next decade. Rumors of a gambling addiction during college only got worse after he entered the NFL. Schlichter was suspended in 1983 because of his addiction, and was released by the Colts in 1985. He has career stats of 3 TD's and 11 interceptions. On September 15, 2011, he was sentenced to ten years in prison for involvement in a million-dollar ticket scam.
2 – Gus Frerotte - Frerotte actually had a nice career, especially after bring drafted in the 7th round back in 1994. He played for 7 organizations, and even made the Pro Bowl once. But what he will always be known for is head-butting a padded cement wall after running in for a TD during a nationally televised game against the Giants. He played the next series, but was taken to a hospital at halftime for tests which revealed that he had a sprained neck.
3 – Jeff George - George was chosen with the 1st pick of the 1990 NFL draft, and was given the richest rookie contract in NFL history at the time. His rocket right arm while playing at Illinois made NFL front offices salivate, but he quickly showed that is all he had. In four years in Indianapolis, he struggled mightily and was traded to Atlanta. Things didn't get any better there, as he would end up playing for 7 different organizations until 2004. His game never developed and got better, as rumors of immaturity and a lack of a high NFL I.Q. spread. Jeff George is the epitome of a QB having a million-dollar arm and a ten-cent brain.
4 – Ryan Leaf - What can be said about Leaf that hasn't already been said? He is potentially the biggest bust in NFL history, and it's crazy to think that even up until the day before the 1998 draft, the Colts were debating between Leaf and Peyton Manning as the #1 pick. Leaf had a marvelous career at Washington State, and displayed a great arm along with outstanding size. Almost instantly upon becoming a pro in San Diego, he showed high levels of immaturity and an unwillingness to work hard. He was a Charger for only three years, and was out of the league by 2002. Leaf has NFL career stats of 14 TD's and 36 interceptions. His off the field problems have continued, as on March 30, 2012, he was arrested in Montana on burglary and drug charges.
5 – Todd Marinovich - The fact that Marinovich is on the list is not entirely his fault. As most fans know, he was pushed hard his entire life by his father, and was "forced" to be a QB all throughout his upbringing. Todd had a great college career at USC, and was chosen by the Raiders in the first round of the 1991 draft. Constant marijuana and LSD use, drinking, and not learning the playbook curtailed his NFL career, and an indifferent attitude led to awful play at times. Marinovich was out the league by 1993, with career numbers of 8 TD's and 9 interceptions.
6 – Jay Cutler - Cutler continues to dazzle fans at times, and can make all of the throws. His outstanding right arm is one of the best in the NFL, however several other things land him on this list. Now in his seventh year in the league, Cutler has shown many times that he is immature, arrogant, indifferent, and difficult. He has not developed his game, as rumors of not working hard to master his craft have spread for years. At times, Cutler has looked ready to be an elite NFL QB, only to soon follow it up with a horrifying performance. Jay has career numbers of 120 TD's and 91 interceptions, and 42-38 record as a starter. He has the look of a QB who will just never quite "get it".
7 – Cade McNown - McNown was taken by the Bears in the first round of the 1999 draft out of UCLA. He never had a huge arm or great size, but showed a tough style of play while in college. McNown never seemed to grasp the playbook, and like others on this list, immaturity seemed to be a main culprit. He was only in Chicago for two seasons, and out of the NFL by 2002. McNown was also charged in 1999 with illegal possession of a handicapped parking pass. He has career NFL stats of 16 TD's and 19 interceptions.
Denver Sports by J Simp
The post The 7 biggest knucklehead QB's in NFL history appeared first on Denver Sports Chat.
Original Story:
http://feedproxy.google.com/~r/Denver...
THE BACKYARD
BEST OF MAXIM
RELATED ARTICLES
With just under three minutes left in the second quarter, the San Diego Chargers were on the Saints thirty-six yard line. With his starting kicker out and a back up in Nick Novak in, Head coach Norv Turner decided to try a 55 yard field goal. Novak missed the long field goal and starting quarterback Philip Rivers was not too happy. The video below shows Rivers yelling at the head...
It seems like year after year we start the season off with the same discussions.  Will the New England Patriots win the Super Bowl?  Who will finally go 19-0?  Who will ne the next 0-16 Detroit Lions?  Will this finally be the year of the San Diego Chargers?  Sound familiar? Every year it goes like this:  San Diego comes out the gate winning at least three out of the first...
Chargers head coach Norv Turner indicated that RB Ryan Mathews' weekly workloads will increase back to the full-time variety following Sunday's loss to New Orleans, saying "I expect him to be one of the league's leading rushers." "Ryan was outstanding," Turner said following Mathews' 139-total yard, one-score effort in which he was ultimately underutilized. "Everything...
Chargers Coach Norv Turner To Increase RB Ryan Mathews Workload -Chargers head coach Norv Turner indicated that RB Ryan Mathews' weekly workloads will increase back to the full-time variety following Sunday's loss to New Orleans, saying "I expect him to be one of the league's leading rushers." "Ryan was outstanding," Turner said following Mathews' 139-total yard,...
The Chargers look to get the bad taste of Sunday's loss out of their mouths with a win against their primary threat for the AFC West title, the Broncos. A win would be the Bolts' third victory inside the division and would put them in great position heading into the bye. To set the stage for this pivotal contest, we break down a handful of the game's most pivotal matchups.
The Chargers missed a golden opportunity to pull out a victory in New Orleans. But unlike the team's earlier loss versus an NFC South squad, this game left much to feel good about. We cover the good, the bad and everything between in this Insider's Perspective.
Trent Richardson's 1st quarter touchdown was impressive, he again showed break tackle skill and elusiveness, turning what looked like a reasonably impressive 3 yard gain into a touchdown with just a shift of his hips. I was high on Josh Gordon coming into the season, and we'd seen nothing yet… it didn't take long against … Continue reading »
Chargers News

Delivered to your inbox

You'll also receive Yardbarker's daily Top 10, featuring the best sports stories from around the web. Customize your newsletter to get articles on your favorite sports and teams. And the best part? It's free!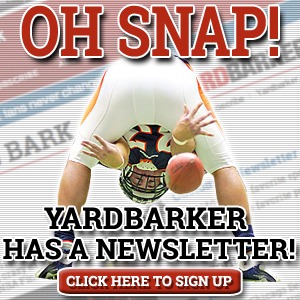 Latest Rumors
Best of Yardbarker

Today's Best Stuff

For Bloggers

Join the Yardbarker Network for more promotion, traffic, and money.

Company Info

Help

What is Yardbarker?

Yardbarker is the largest network of sports blogs and pro athlete blogs on the web. This site is the hub of the Yardbarker Network, where our editors and algorithms curate the best sports content from our network and beyond.