Found September 10, 2012 on Denver Sports Chat:
Baltimore, MD. The Baltimore Ravens were about as close as a team can get to the Super Bowl last year, without actually getting there. After a 12-4 season, they were primed to head into Foxboro and knock off favored New England. Joe Flacco played a marvelous game, the defense was their solid selves, and it literally came down to the final minute as to who would represent the AFC in the Super Bowl two weeks later. In the final minute, in New England territory, Flacco threw one of the best passes of his career. It was a dart down the right sideline, into the waiting arms of Lee Evans in the end zone. Just as it appeared that Joe Flacco had stunned the NFL world, a New England defender swiped the ball away before Evans could pull it in for a go-ahead score. With just seconds left in the game, this for all intents and purposes, would have been the game-winning play and sent the Baltimore Ravens to the Super Bowl. Billy Cundiff then came on to at least tie the game and send it into overtime, but it wasn't meant to be. The short kick sailed wide left, and it was New England who would go on to face the Giants in Indianapolis in early February. Since that game last January, this team has had to stew about it and realize that it was a huge missed opportunity for a veteran-laden squad. Ray Lewis is not getting any younger, and neither is Ed Reed. These two guys are destined for the Hall of Fame one day, and the window to get it done is rapidly closing. So as the Baltimore Ravens open their season tonight vs Cincinnati, they are looking to rebound from that crushing loss in the AFC Championship game. They are still supremely talented, and a berth in this years playoffs should be penciled in. Here are the Top 7 reasons why the Baltimore Ravens will run away with the AFC North in 2012……
1 – Closing Window - As previously mentioned, this team has some aging stars. We all know who they are, as Mr Lewis and Mr Reed have to realize this year may be their last opportunity to get it done in the AFC. Ray already has a ring, but Ed does not. This fact alone should inspire the entire team to do everything it can to make sure Ed Reed retires as a Super Bowl champion. He is one of the greatest safeties of all-time, and a championship would only elevate his amazing legacy. 2012 may be the last season where these guys are healthy enough to make a serious run. 2 – Still A Top Defense - The offseason injury to Terrell Suggs was a crusher, as nobody really knows when he will be back. Suggs will be 30 in a month, so his best chance to win a Super Bowl could very well be while Lewis and Reed are still around. This defense is still one of the best around, and definitely good enough to win in January. Haloti Ngata may be the best interior defensive lineman in the NFL, and a beast for offenses to have to deal with. This unit can still take over games at certain times, and with #52 flying around, is still feared by opposing offenses. 3 – Ray Rice - Rice, simply put, is probably the best all around running back in the NFL. He can do it all….run between the tackles, burst outside, catch a ton of passes, and anything else he is asked to do. He is one major reason this offense is so hard to deal with, as Ray is just so versatile. Another season of around 2,000 total yards should be expected, as he makes the Ravens offense very unpredictable. 4 – The Growth of Joe Flacco - Flacco entered the NFL a few years ago as merely a "game-manager". Baltimore didn't ask him to win games, they just made sure he didn't lose them. Well, now he has developed into a QB who can make big plays with his arm, and deep shots down the field to Anquan Boldin or Torrey Smith keeps defenses honest. He can make all the throws, and has a great grasp of this offense. Flacco is ready to take that next step into possible top-tier QB status, and 2012 could be when it happens. 5 – John Harbaugh - Much like his brother in San Francisco, Harbaugh is a hard-nosed coach who is perfect for this kind of team. He commands respect, and has great energy which his team feeds off of. He is a smart NFL mind, and understands how to use the talent on his roster. A Super Bowl trophy or two down the road for John would not be shocking by any means. 6 – The Overrated AFC North - Baltimore is in a perfect position to win this division with a few games to spare this year. Pittsburgh has the look of a team who will have issues on both offense and defense this season, and may very well have a disappointing 2012. Cincinnati surprised everyone in 2011 with a wildcard berth, but now have expectations to deal with. The Bengals have a solid foundation of young players for the future, but I have a feeling they may take a slight step back because of immaturity this season. Cleveland is Cleveland, need I say more? The Ravens should have this division wrapped up by early to mid December. 7 – Outstanding Offensive Line - This is one of the best lines in the entire NFL, and gives the Baltimore Ravens some of their overall toughness. With McKinnie, Birk, and Oher, they can create some gaping holes for Ray Rice or give Joe Flacco plenty of time to do his thing in the pocket. This unit is quite a bit better than Pittsburgh's, and is a huge reason why Baltimore has a big edge offensively in the AFC North. - The Baltimore Ravens should finish at around 12-4 again, much they did in 2010 and 2011. Even without Defensive Player of the Year Terrell Suggs for who knows how long, this team is still ultra talented and has plenty to dominate the division in 2012. This team should have tons of motivation to win this year and it will help that their AFC North opponents will not be as formidable as in recent years. A possibility of a first round bye in the playoffs could definitely be there in January, and another trip to New England for a ticket to the Super Bowl would be exactly what this team would want. Denver Sports by J Simp
The post 7 reasons why the Baltimore Ravens will easily win the AFC North appeared first on Denver Sports Chat.
Original Story:
http://feedproxy.google.com/~r/Denver...
THE BACKYARD
BEST OF MAXIM
RELATED ARTICLES
Rookie kicker Justin Tucker beat the New England Patriots (1-2) with a last-second field 31-30. The Ravens (2-1) used a very nice drive to go through the Patriots' defense for the victory. The Ravens face the Cleveland Browns Thursday night.
A.B. Video doesn't lie. Kicker Justin Tucker of the Baltimore Ravens missed that field goal plain and simple. From this angle you can tell it isn't even close. No wonder the NFL won't #showusthetape from the video taken from the field goal post.   H/T Barstool
The Ravens have stormed into the lead on the strength of two touchdown passes and a strong running game. Quarterback Joe Flacco found tight end Dennis Pitta for a 20-yard touchdown. Pitta leaped over safety Steve Gregory on his way to the end zone. The Ravens lead the Patriots 14-13 as time ticks down in the second quarter. Update: Tom Brady drove the Patriots down the field quickly...
Justin Tucker kicked a 27-yard field goal as time expired, giving the Baltimore Ravens a 31-30 victory over the New England Patriots on Sunday night in a rematch of the AFC championship game.
BALTIMORE -- Justin Tucker's 27-yard field goal as time expired gave the Baltimore Ravens a 31-30 comeback win over the New England Patriots on Sunday night in front of 71,269 at M&T Bank Stadium. Baltimore trailed by nine with 14 minutes left and was down 30-28 when Joe Flacco got the ball back with just under two minutes remaining in the fourth quarter. He led the Ravens...
Amazingly it came down to a 27-yard FG attempt by the Ravens' Justin Tucker with 0:02 on the game clock...Tucker ended up kicking it twice, as Bill Belichick attempted to freeze him with a called time-out. But the second one counted (just barely as it sailed inches inside the right post)...Funny, I watched the entire game, and never once had the feeling the Ravens were going...
The former Brigham Young Cougars in the NFL had their ups and downs this week, as Dennis Pitta continued his hot start to the season and Dallas Reynolds made his first career start, but Austin Collie once again finds himself injured.Dennis Pitta, Baltimore Ravens, Tight EndIn his third season in the NFL, Pitta is now showing Baltimore fans what made BYU fans love him; Pitta is a...
Justin Tucker barely made a field goal with two seconds remaining in the game to defeat the Patriots 31-30. The ball was high and just crossed over the upright.It was a shaky start for the Patriots offense. In New England's first possession, Tom Brady wasn't ready for the snap, which resulted in a recovered fumble by Wes Welker. The following play, the Ravens defense blitzed...
BALTIMORE -- Nearly eight months to the day after the Baltimore Ravens and New England Patriots squared off in a fiercely competitive game that was decided by a Baltimore field-goal attempt, the same script played out Sunday night at M&T Bank Stadium. The last meeting between these two teams came in the AFC Championship Game, and it saw the Patriots emerge with a 23-20 win...
Julian Edleman dropped this second quarter pass Honestly, when the fourth quarter came around, I don't think either teams fan base wanted to win the football game. They really just wanted to find head referee Bruce Hermanson's car and throw chicken-milk stink bombs at it. In the end, it was the Ravens who came out victors over the New England Patriots, after a little bit more...
The Patriots lost in controversial fashion on Sunday night in Baltimore, watching as Justin Tucker's 27-yard field goal sailed over the top of the goal posts for the win. So as the Ravens celebrated the thrilling victory, Bill Belichick wanted some answers about the kick that was almost too close to call. Belichick sought the ear of an official after the final whistle, but as...
Coming into this game, the Baltimore Ravens could only think about one thing: getting revenge on the New England Patriots for knocking them out of the playoffs last year. These feelings kind of took a backseat as they help comfort wide receiver Torrey Smith after hearing less than 24 hours that his younger brother, Tevin Jones passed away in a motorcycle accident. In return, Smith...
Ravens News

Delivered to your inbox

You'll also receive Yardbarker's daily Top 10, featuring the best sports stories from around the web. Customize your newsletter to get articles on your favorite sports and teams. And the best part? It's free!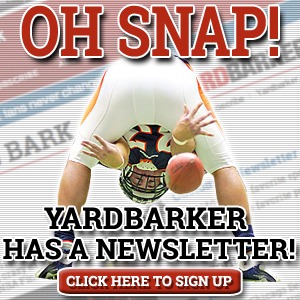 Latest Rumors
Best of Yardbarker

Today's Best Stuff

For Bloggers

Join the Yardbarker Network for more promotion, traffic, and money.

Company Info

Help

What is Yardbarker?

Yardbarker is the largest network of sports blogs and pro athlete blogs on the web. This site is the hub of the Yardbarker Network, where our editors and algorithms curate the best sports content from our network and beyond.