Found August 12, 2008 on Stripe Hype:
After an injury-filled 7-9 season in 2007, the Bengals are looking to return to the postseason for the first time since 2005. The good news for Bengals fans is that the team is healthier than it's been in some time, has rid itself of off-field distractions such as wide receiver Chris Henry and linebacker Odell Thurman, and new defensive coordinator Mike Zimmer has brought an edge and urgency to the beleaguered defense. The bad news is that on defense, the team's front seven lacks playmakers, while the offense needs to prove itself at several spots, most notably center, No. 3 wideout, and running back -- all of which disappointed last year. Here's one man's predictions for '08. Team MVP: QB Carson Palmer. Two seasons after a devastating knee injury, Palmer is poised to round back into championship form. His offensive line is healthy, and with the return of RB Chris Perry and addition of TE Ben Utecht (Colts), he has a couple new toys to play with. The Bengals will look to get rookie WRs Jerome Simpson and Andre Caldwell involved as well, but early money is on ex-Green bay WR Antonio Chatman winning the No. 3 wideout job. More weapons plus better protection should equal a banner year for the Bengals signal-caller. Break-Out Player: CB Johnathan Joseph. Joseph, the team's first-round pick in 2006, raised eyebrows with 20 passes defensed, but no picks, in his rookie season. Last year, he grabbed four balls while defending 15. Not the kind of improvement Bengals fans were hoping for, but Joseph was hampered for the first half of the year by a stress fracture in his foot suffered during spring camps. Now healthy, the third-year corner should push his INT total into double-digits in 2008. Biggest Disappointment: DT Pat Sims. Don't get me wrong: I think Sims will be good -- eventually. But Bengals fans (as well as the Bengals themselves, it seems) are counting on a lot from this year's third-round pick, and if history is any guide, he'll take a couple years to develop. The Bengals haven't had a lot of luck grooming DTs during the Marvin Lewis era, DT Domata Peko (who just signed a fat new extension) being the only success. Sims and fellow 2008 rookie DT Jason Shirley will change that, but not for a year or two. Fantasy Stud: Palmer. This is a tough one this year. Normally, the pick would be WR T.J. Houshmanzadeh, who has racked up more than 200 receptions and 2,200 yards, and 21 touchdowns, in the last two seasons. Chad Johnson has more yards, but fewer receptions (180) and TDs (15). However, if the Bengals do as promised and involve Utecht significantly in the passing game, that plus the return of receiving back Chris Perry could put a dent in T.J.'s catches. RB Rudi Johnson, a steady performer from 2004 through 2006, is coming off a hamstring injury that held him to fewer than 500 yards and 3 TDs last year. It's tempting to pick Chad, since the Bengals have effectively made this a contract year by agreeing to review his deal after the season, making the odds he'll play hard good. But a couple losses early on and Chad could revert to the offseason's Ocho Bozo again. Palmer ought to be a sure thing. The last time he had anything like the offensive firepower assembled this season was in 2005, when he averages 240 yards a game and threw 32 TDs versus just 12 picks. Offensive Outlook: The Bengals offense limped through 2007, with injuries hitting starting RB Rudi Johnson, both bookend tackles, Willie Anderson and Levi Jones, and center Eric Ghiacuic, all of whom missed time or played hurt. No. 2 RB Chris Perry was out all year rehabbing a 2006 leg injury, and No. 3 WR Chris Henry missed 8 games on suspension. I could go on, but you get the picture. With only two reliable receivers in Chad and T.J., no receiving back or TE, and no running game, the Bengals offense sputtered, especially in the red zone. Despite all the difficulties, the O still ranked No. 10 overall in the league, but problems getting into the end zone meant it tended to put up points in bunches. Four times last year the Bengals scored 13 or fewer points, six times 19 or fewer, and nine times 21 or fewer. Only three times, against the Browns (a loss) Jets and woeful Dolphins did they crack 30 points. This year, the injuries have largely dissipated, a receiving TE has been acquired, Henry has been released, a camp battle is ongoing for the No. 3 WR slot, Chris Perry looks to return -- in short, the offense is healthy and its glaring weaknesses have been addressed. Against the threat of further o-line injuries, the Bengals used the franchise tag on G/T Stacy Andrews, so they'll either have him or former Pro Bowl RT Anderson in reserve. In short, there's no reason not to expect the Bengals to return to the offensive powerhouse they were in 2005. Well, almost no reason. The big wild card is Ghiacuic, the center. After taking over for Rich Braham in 2006, Ghiacuic has not matched up well against elite defensive linemen. He has been working the past two years to add strength, and this is widely viewed as a make-or-break year for the fourth-round 2005 draft pick. Defensive Diagnosis: The instructions for this entry say "break down your team's defense." Can I use a club? A sledgehammer? A battleship? "Blow it up" was the common refrain from Bengals fans after last season, when the Bengals' D ranked 27 overall. As with the offense, injuries played a key role. LB David Pollack, whose neck was broken two games into the 2006 season, remained out and would eventually retire. His teammate from Georgia, LB Odell Thurman, was suspended -- again. In fact, the linebacking core was so ravaged by injury that the Bengals had to grab Dhani Jones off the street a couple games into the season and throw him immediately onto the field, and play their best DE, Robert Geathers (10.5 sacks in 2006) at LB for several games. Confusion and defensive breakdowns followed like clockwork. Throw in a rookie first-round corner (Leon Hall), a hurt Joseph and a "bend-but-don't-break" defensive philosophy that all too often led to long, time-consuming scoring drives for the opposition while our O sat on the sidelines, helmets in hand, and you have a full-fledged disaster on your hands. Enter Mike Zimmer, new Bengals defensive coordinator who, along with new linebackers coach Jeff FitzGerald (late of the Baltimore Ravens), are being counted on to breath some life into the Bengals D. Zimmer has promised a more aggressive scheme, with more blitzes and man-to-man coverage, as well as some 3-4 wrinkles (the Bengals play a base 4-3) to try to create pressure, something at which the 2007 Bengals D was an epic failure. At the same time, the Bengals underwent a fairly large shift in personnel. After closing the books on Pollack and Odell, the team allowed long-time DE Justin Smith (2 sacks as the franchise player in 2007) to light out for San Francisco, and let starting free safety Madieu Williams (Vikings) and top backup LB Landon Johnson (Panthers) go as well. Replacements include Dhani Jones, re-upped by the team after performing well last year, DE Antwan Odom (Titans) and first-round pick LB Keith Rivers. Unfortunately, Odom was hurt the first day of camp (but is expected back for the season opener) and Rivers is holding out, putting a crimp in the development of the new-look D. The bottom line is that no one ought to expect a huge defensive improvement from the Bengals this year. Just by staying healthy, they ought to be better, but will still finish the season ranked in the wrong half of the league. "Red Letter" Game: Week 1 against the Ravens. I could probably pick all four September games, because the Bengals simply can't afford a slow start. For one thing, the schedule is too difficult, with both the AFC East and NFC East on their plate. Second, the team's psyche is still too iffy. The Bengals have not been a team that deals well with adversity for a long time, and even under Marvin Lewis their confidence has been too easily cracked. Finally, this is a game they should win. The Ravens are still in search of an offense and their defense, while remaining worth of respect, isn't what it used to be. And there are too many dogfights on the schedule to give away winnable games. Projected Record/Outlook: 10-6 and the AFC North crown, one-and-done in the playoffs. The Bengals don't need a defense to make the postseason -- in 2005, their D ranked 28th -- but they aren't likely to go very far in January without one. Now, maybe one of those Colts-style miracles happens and the D suddenly "arrives" in early '09, but it says here they are one more draft and one more year of experience for the young guys away from a good defense. Parting Smack: Baltimore Ravens: Three names: Kyle Boller, Troy Smith and Joe Flacco. I haven't seen such a collection of top-caliber talent competing for the QB spot since the Bengals had it out between Jon Kitna, Gus Frerotte and Akili Smith back in 2002. The Curse of Trent Dilfer lives on. Baltimore receivers must look around the rest of the division and weep. Cleveland Browns: OK, let me get this straight: the Lions, one of the few NFL franchises with a legitimate claim to be as bad as Cincinnati's, are going to trade a player to Cincinnati, a team whose personnel evaluation skills are derided annually by its fanbase, especially when it comes to the defensive side of the ball. Does this sound like a good time to swoop in to anyone -- or to run real fast in the other direction? Pittsburgh Steelers: I hope Steely McBeam can play on the offensive line because they may need him there this year. And what the heck is up with Casey Hampton? How big a blimp do you have to be to get told you can't play nose tackle in the NFL!?!? That's like being told you're too ripped to be a professional wrestler. - David Wellman
Original Story:
http://stripehype.com
THE BACKYARD
BEST OF MAXIM
NFL News

Delivered to your inbox

You'll also receive Yardbarker's daily Top 10, featuring the best sports stories from around the web. Customize your newsletter to get articles on your favorite sports and teams. And the best part? It's free!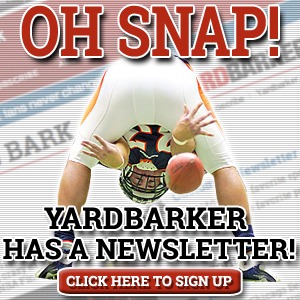 Latest Rumors
The Backyard

Today's Best Stuff

For Bloggers

Join the Yardbarker Network for more promotion, traffic, and money.

Company Info

Help

What is Yardbarker?

Yardbarker is the largest network of sports blogs and pro athlete blogs on the web. This site is the hub of the Yardbarker Network, where our editors and algorithms curate the best sports content from our network and beyond.