Found August 12, 2008 on Landry Hat:
Team MVP: DeMarcus Ware, coming off his first Pro Bowl, is likely to dominate once again. Look for him to beat his career high 14 sacks from 2007 and possibly lead the league. He's a true force that can push through double teams. A strong defense will move the Cowboys farther into the playoffs than an improved offense will. Break-Out Player: Marion Barber gets a lot of flak for not reaching the 1,000-yard mark, but he has never been the full-time starter for the Dallas Cowboys. He is now. Look for Marion Barber to not only possibly lead the league in touchdowns, but to get well over 1,000 yards. I predict he will reach 1,500 yards. His punishing running style energizes the offense. Biggest Disappointment: Although this is supposed to be a prediction, I am not going to predict the Dallas Cowboys won't win a playoff game. However, it certainly will be a crushing disappointment if it happens for a third year in a row. Such a scenario will likely lead to firings on the coaching staff. It is hard to fathom the Cowboys not securing a playoff win this coming season. The biggest hole last year was the secondary and the acquisition of Adam Jones is a huge step in filling that hole. Drafting Mike Jenkins was a smart move, and although he may not be an immediate impact player, he certainly is better than Jacque Reeves. Fantasy Stud: Nothing has changed for Tony Romo, so you can bet that he will throw more than 30 touchdowns and more than 4,000 yards again. He has Terrell Owens and Jason Witten as his primary targets. Like it or not, Patrick Crayton does have good hands and is a decent third-down receiver. They are who he threw to last year. Offensive Outlook: The Dallas Cowboys had one of the most powerful offenses in the NFL last year and not one player has left that team other than Julius Jones. You can expect Tony Romo to continue his improbable NFL story with another strong season. Terrell Owens and Jason Witten return. Patrick Crayton has revenge on his mind. Early predictions are that Sam Hurd is looking great, and will likely start as the third receiver. We also have a rookie named Danny Amendola who has already been compared to Wes Welker. Imagine that. Marion Barber is predicted to have a career year and helping carry some of the load is rookie Felix Jones, who should be, even as a rookie, an improvement over Julius Jones. It will be hard for opposing defenses to stop that many weapons. Defensive Diagnosis: The biggest problem the Cowboys had last year was its inconsistent secondary. So, they bring in Adam Jones. The Cowboys also added depth by acquiring tackling machine Zach Thomas. DeMarcus Ware was a sack and a half from leading the NFL, and Greg Ellis wasn't too far behind him. Terence Newman and Ken Hamlin have long-term deals, and will earn that money on the field. Roy Williams knows his career in silver and blue is on the line if he doesn't improve his game. The entire package of Pro Bowl players returns. Tank Johnson has a full year under his belt in Dallas. Jay Ratliff is probably going to be moved to defensive end, to utilize his speed better. Marcus Spears, who has underperformed to date, will be moved to nose tackle, giving him a chance to use his size to stop the run. This is a greatly improved defense that didn't need a whole lot of tweaking to begin with. The acquisition of Adam Jones could be huge for the Cowboys. If he performs in any way like he did in Tennessee, it could be lights out for any team facing the Cowboys in 2008-09. "Red Letter" Game: I wish the game were later in the season, but I really drool over the first game against the Cleveland Browns. It should be a great game. Projected Record/Outlook: It will be hard to mirror last season''s 13-3 record, but the Cowboys aren't going to get worse. Look for them to win 12 games, and they very well could lose four games inside the NFC East, which has returned to dominance. The Cowboys should be, again, the top seed in the NFC this year. Parting Smack: The Anti-Dallas Cowboys minority get a kick out bringing up how the Cowboys haven't won a playoff game since 1996. I suppose the five Super Bowl wins in eight appearances is worthless. But it does say something. The Cowboys have won a championship in every decade since its existence. They are due, one would think. Washington Redskins: The Washington Redskins are so over-hyped it is ridiculous. Jason Campbell reminds me of Quincy Cater, and don't be surprised if in two years Campbell is on some street corner eating crack rocks. Philadelphia Eagles: The Donovan McNabb Era in Philadelphia is coming to a close. McNabb has a bum shoulder and to make matters worse, he doesn't have a good receiver to whom he can throw. Yeah, they suck. New York Giants: The New York Giants had their shock-and-awe season. Now it is time for a shot of reality. Last year was a fluke, but destiny for the New England Patriots because karma really is a bitch. - Dan T.
Original Story:
http://thelandryhat.com
THE BACKYARD
BEST OF MAXIM
NFL News

Delivered to your inbox

You'll also receive Yardbarker's daily Top 10, featuring the best sports stories from around the web. Customize your newsletter to get articles on your favorite sports and teams. And the best part? It's free!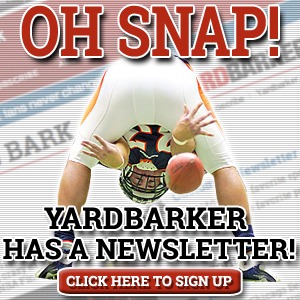 Latest Rumors
The Backyard

Today's Best Stuff

For Bloggers

Join the Yardbarker Network for more promotion, traffic, and money.

Company Info

Help

What is Yardbarker?

Yardbarker is the largest network of sports blogs and pro athlete blogs on the web. This site is the hub of the Yardbarker Network, where our editors and algorithms curate the best sports content from our network and beyond.