Found August 11, 2008 on Titan Sized:
Team MVP: Keith Bulluck Bulluck has been the constant in the Titans defense for the last 8 years, starting every game of the last 6 seasons. Often overlooked by the national media, Bulluck continues to excel every season in every defensive situation. The Titans' D is without a doubt the strongest unit on the team, and much of their success can be directly attributed to this versatility. He has excellent speed in every direction making him effective dropping into coverage, pass rushing, and getting to running backs at the second level. Breakout Player: Cortland Finnegan Virtually no one knew who Cortland Finnegan was when he was drafted out of Samford in the seventh round of the 2006 NFL draft. That's probably changed a little bit coming into this season, but I have the slight suspicion that most NFL fans are a little more familiar with the man whose job Finnegan has taken over than Finnegan himself. Even if Finnegan's done a noticeably better job. Biggest Disappointment: Jevon Kearse Kearse's return to Nashville was very nostalgic for many fans, bringing memories of those dominant defenses of the late 90's/early 2000's with him. That all quickly changed when Kearse was cited for DUI soon after signing with the team that made him their first round choice in 1998. Coupled with the fact that Kearse has spent much training camp nursing a knee injury (go figure) and will be limited to one-a-days for the remainder of training camp, it becomes abundantly clear that the warning signs he exhibited in Philadelphia have followed him to Tennessee. The fact of the matter is that Kearse has been injured for the majority of the time since leaving the Titans, and when he did play over the last couple of years, he was mostly ineffective. The days of "The Freak" wreaking havoc on offensive linemen are long gone, and his inability to stop the run should ultimately limit his playing time to solely a pass-rushing specialist when he is on the field. We sure hope that we are horribly wrong here, but this storybook reunion may turn out to be more of a fairytale than anything. Fantasy Stud: Rob Bironas and the Defense The Titans' player who will probably have the largest fantasy impact this upcoming season is K Rob Bironas. The fourth year player out of Georgia Southern had a great 2008 season: being named first team All Pro, making his first Pro Bowl appearance, and successfully converting eight field-goal attempts in one game (an NFL record, and a pretty damn good fantasy day to boot). Last year Bironas ranked fourth overall in total points (133), converting 35 of 39 field goals, and a perfect 28 of 28 in the extra point department. While the Titans' should have an improved offense this year with the development of Vince Young as well as the addition of what should be some key new elements (Alge Crumpler, Chris Johnson, Justin McCareins), moving the ball better won't always equate to touchdowns. While this might not thrill Titans' fans, don't look for the trend of more FG attempts than extra points to change much in the upcoming season. Even when the offense isn't doing the greatest job of moving the chains, the Tennessee D should give the Titans their fair share of short fields, where a first down or two could create field goal opportunities in the 40 + yard range. Last year Bironas was 13 for 15 in those situations (even more points for you in most fantasy formats), and has the leg to consistently and accurately kick up to the 60-yard stratosphere, which some Colts fans might very well remember. The Titans will be a defense-oriented team relying heavily on field position, time of possession, and special teams play. Teams of that mold also rely heavily on their kickers, and the Titans are fortunate to have a kicker that you'll be able to rely on too. Offensive Outlook: 3rd year quarterback Vince Young will once again run the offense, and his development this year will play a big part in the progress (or lack thereof) that the rest of the offense makes. There are some new faces once again this year that will play a major role in how this unit moves the ball. The Titans brought back former offensive coordinator Mike Heimerdinger to work in the same capacity for the team, and his biggest job will be to oversee the development of VY and his cast of young receivers. Keep in mind that former Titans QB Steve McNair played his best football under Heimerdinger's tutelage, so if nothing else, as Titans fans we've at least got something to hope for. As for the running backs and wide receivers, they too are a work in progress. LenDale White will once again be the number one guy in the backfield, but don't be surprised if rookie running back Chris Johnson plays a pivotal role as well. Word is, that Heimerdinger is highly impressed with the kid, and envisions him as a Brian Westbrook/Reggie Bush type flex back that is lighting fast and can catch the ball and turn up field with ease. He should be an interesting project. As for Chris Henry, he'll probably be blowing people away in workouts somewhere. Once again, the Titans didn't do much to address the glaring hole at wide receiver this off-season, but by all accounts, they feel pretty comfortable with the group that they have now. There is no true number one in this group, but what they lack in the absence of a true no. 1 threat, they may make up for in depth. Justin Gage will be Young's main target again this year while, if healthy, Roydell Williams should be a nice deep threat for VY. Justin McCareins was brought back this off-season to the place where he saw his most productive years. He should be on the field with the first team to open the season. Word out of camp is that the coaches have been very impressed with Brandon Jones as well. He seems to be in great shape, is healthy after knee problems and is more focused than ever. It will also be interesting to see how 2nd year wideout Chris Davis progresses, as well as how they plan on using 4th round draft pick Lavell Hawkins. He could very easily slip into the slot and be a Derrick Mason like receiver for years to come. Finally, the addition of free agent tight end Alge Crumpler may very well be they key to the entire offense. After suffering through an injury-riddled and mostly forgettable season with the Atlanta Falcons, Crumpler has looked really good thus far in training camp. If he can stay on the field, and VY can find him, he could be a big help to a group that finished 21st overall in total offense, 27th in passing and dead last in red zone efficiency. His big target could help turn a lot of those Bironas field goals into touchdowns. Guess we'll just have to wait and see... Defensive Diagnosis: The defensive unit should be strong yet again this year and most likely will determine the overall success of this team. After finishing 5th overall in total defense last year, the team returns most all of its first team this season. The line will be led once again by franchised defensive tackle Albert Haynesworth and defensive end Kyle Vanden Bosch. Those two were nightmares for opposing quarterbacks all season last year, and should continue to be this year. Haynesworth is playing for a big contract so it would serve him well to be on the field for more than the 53% of the snaps that he took last year. It will be Jevon Kearse and rookie James Jones' job to free up some of the double teams that are thrown at Haynesworth and KVB. A tall task to ask of a rookie and a guy on the downside of his career. Pay attention to the development of another rookie, William Hayes, as he too could play a much bigger role than many expect. The linebackers are set with Keith Bulluck and David Thornton on the outside and (presumably, barring suspension for suspected steroid use) Ryan Fowler in the middle. Bulluck is a one-of-a-kind athlete that can cover both sidelines, as well as drop back into pass coverage. Thornton is also solid stopping the run, and can recover quickly if a play breaks in his vicinity. Fowler is the big question mark here, and we wouldn't be surprised at all if this is Stephen Tulloch's job soon. The third year linebacker has been quite impressive this off-season, and what he lacks in height (5'11") he makes up for in field presence, quickness and tenacity. As for the secondary, long gone are the days of Blaine Bishop, Samari Rolle and err... Adam Jones. Instead, this unit is lead by a couple of veterans (Nick Harper and Chris Hope) and a couple of young guys (Cortland Finnegan and Michael Griffin). The secondary was solid last year against the pass (22 INT's) and even more solid against the run. Hope is returning from a serious neck injury that cut his 2007 season short, but he is by all accounts healthy and ready to pick up where he left off. Griffin was as good as we could have asked for last year, and at times played more like a seasoned veteran than a first year player. The key to the secondary may very well be Finnegan, whom both coaches and players alike see as the guy that may have the biggest impact in the secondary. He was stellar at times in coverage last year, and he can lay a hit with the best of them. ""Red Letter" Game: Week 8 vs. the Colts. This was a tough one because the Titans have a much harder schedule this year (Week 1 vs. Jacksonville, Week 4 vs. Minnesota, Week 9 vs. Green Bay, Week 14 vs. Cleveland, and Week 16 vs. Pittsburgh just to name a few - though all home games mind you) but this game could have huge implications on the outcome of the season. For starters, the Titans could be anywhere from 5-1 to 2-3 at this point in the season depending on how you break down the upcoming season. The Colts could be 5-1 at this point if they are the can resemble team from 2006 (i.e. healthy), but could just as easily be 2-4 or 3-3 given the competition that they will face in the first seven games (Jacksonville, Minnesota, Baltimore, Green Bay). Add in that the game is in Nashville and will be the only Monday Night Football appearance for the Titans this season, and you've got yourself the making of a huge AFC South showdown. Should be a fun one. Projected Record/Outlook: 9-7 - This was a hard conclusion to come to, but after breaking down each game, a repeat of 2007 would be fortunate to say the least. We wouldn't be surprised if the team slightly regressed given their schedule, but neither would we if they finished 10-6 again this year. Anything less would be a disappointment for a young team primed to make a run in the playoffs in the near future. Parting Smack: We're not gonna do this because we don't want to jinx it before the season even starts. Oh, who are we kidding, we love to talk jive down here. Indianapolis Colts: We thought our schedule was hard, but the Colts may face an even more brutal schedule. We know that down here in Nashville we may be an afterthought to the Colts and all of their stupid division titles they've racked up in the last five years, but look out fellas cause we're coming after you. You''re getting older and at some point, that's going to catch up with you. Don't worry though, because when it does, we'll be there with open arms to take the reigns (and the trophies) yet again. See you on the way down losers! Jacksonville Jaguars: If there is a team that we hate any more than the Colts, it may very well be the Jags. They are also a young team, and players like Garrard, MJD, and the two rookies Harvey and Groves will be productive for year to come, but your coach is an idiot and needs to go. Hopefully him and that stupid suit will be on the hot seat if this team underperforms this year. That thing looks like it's straight off the Men's Warehouse sale rack. Reebok should be ashamed. He makes Mike Nolan look like Frank Sinatra. Houston Texans: The "Who"ston Texans. They may be better again this year, but let's not kid ourselves; they're still the Texans. We got your team Chuck! - Nick Bishop
Original Story:
http://titansized.com
THE BACKYARD
BEST OF MAXIM
NFL News

Delivered to your inbox

You'll also receive Yardbarker's daily Top 10, featuring the best sports stories from around the web. Customize your newsletter to get articles on your favorite sports and teams. And the best part? It's free!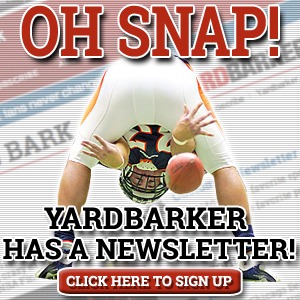 Latest Rumors
The Backyard

Today's Best Stuff

For Bloggers

Join the Yardbarker Network for more promotion, traffic, and money.

Company Info

Help

What is Yardbarker?

Yardbarker is the largest network of sports blogs and pro athlete blogs on the web. This site is the hub of the Yardbarker Network, where our editors and algorithms curate the best sports content from our network and beyond.