Found March 27, 2012 on Read And React:
In an effort to present the viewpoints of passionate fans from around the NFL, ReadAndReact will occasionally elicit special guest commentary from some of the more rabid fans we know. We'll ask them to share their thoughts on the biggest news stories of the day, unfiltered and without limit, for your reading enjoyment.
GUEST COMMENTARY FROM A JETS FAN
Ok, now that I have had time to take it all in … I am still a little confused. I just don't get it.
Mind you, I have been a Jets fan all my life, and have continually been baffled by what the team does both in the off season and on the field. Being a Jets fan is always like living on a roller coaster of emotions. Something will happen to spark hope, a glimmer of greatness if you will (two consecutive AFC championship appearances). But then reality sinks back in and we end up with the same ol' Jets! I thought that all of our off-season moves were going pretty well — signing valuable players and filling needed positions at safety and back up QB and then … BAM. Tebow time.
(Photo: Businessinsider.com)
As a displaced Jets fan living in Denver, this was like the nausea that arrives after you have been swiftly kicked square in the nuts. It sucked. But theres nothing I can do so I am trying to see the value and not try to understand the "why". One thought I just can't shake out of my head is that Woody made the decision to fill seats and sell jerseys. I went to a few home games in New Jersey last year and the stadium was maybe three-quarters full. I know that Tannembaum and Rex are really pushing to "win now", as it's likely that their fates are in line with the success of this season, but picking up Tim Tebow doesn't really seem like the team's golden ticket.
That being said, maybe that was never the Jets intent. Maybe they just saw an opportunity to bring value to the team at little perceived cost. With the media surrounding Tebow and New York being what it is, maybe we are just blowing this whole thing way out of proportion. If the Jets made this move to get back, say, Brad Smith, no one would be making such a huge fuss about it. Brad was a QB in college and took over 10 snaps in wildcat formation in many games for the Jets. The big difference was his fit on special teams and in other positions. If Tebow is really willing to do what ever it takes to help the team like he said in his press conference he could prove to be very valuable for the Jets.
The major thing that is keeping me from jumping on the Tebow band wagon is the 4th and 6th round pick we traded away. Will the looks the Jets get with Tebow, combined with his unknown in special teams, be better than the other positions we could have filled in those spots? How bout some offensive linemen? Some pass-rushers perhaps? I guess the draft and the season are the only ways to tell, and it never does anyone any good to play the what-if game. He's here, he's a Jet, and now we can just wait and see.
The positive side of all of this craziness is it allows the Jets to be very active filling the roster and preparing for the draft without much analyzation outside of Tebowmania. We had a lot of WTF moments at the end last year that people aren't really talking about too much. Other than obvious tensions in the locker room, the team performed poorly from the ground up. While everyone is looking at what Tim Tebow will do, the Jets can and should focus on fixing the major problems that plagued them last year.
Adding another great athlete and competitor to your team should come to any fan as a positive, but for some reason I still don't get that feeling from this move. I am open-minded, and know that there are worse things that could have happened because Tim is not going to have baby momma drama or get locked up for a DUI or call out other players anonymously in the press.
I just want to have the team I support with all my being be good at playing regular football. Not surprise antics and wacky formations, ground and pound and play action for long touchdowns. Is that too much to ask?!?!?
Sincerely,
The Ever-Disgruntled Jets Fan
"I bleed green and white"
Original Story:
http://readandreact.net/2012/03/27/a-...
THE BACKYARD
BEST OF MAXIM
RELATED ARTICLES
Tim Tebow will not be switching jerseys as soon as expected. Nike was granted a temporary restraining order against fellow apparel maker Reebok, which was ordered by a judge to stop producing and selling Tebow jerseys. The lawsuit filed by Nike accused Reebok of illegally marketing Tebow's new jersey with the New York Jets. Reebok's licensing agreement with the NFL Players...
(Eds: APNewsNow. ) By RICHARD ROSENBLATT AP Sports Writer Tebow's a horse, too. Of course. In fact, there are at least six thoroughbreds listed by The Jockey Club carrying the Tebow name. They're all named for Tim Tebow, the New York Jets new backup quarterback who last season led Denver to the playoffs with an incredible string of comeback victories but was traded away...
The New York Jets transformed their indoor field house into a media center for the first time today to accommodate plague of media expected to meet the team's newest "backup" quarterback— Tim Tebow. Tebow's press conference was expected to be his introduction to the rabid New York press corps but, instead of a media crush, it ended up sounding like a group massage...
The New York Jets held a press conference today for their incoming backup quarterback Tim Tebow. If you have been following this story at all, you know that the media swine at ESPN have approximately 3 issues with my opening sentence.   Lets dispel them all:   1. Tim Tebow. The media has darn near exploded in recent weeks bashing the Jets newest acquisition. Why pick up such...
Tim Tebow has officially joined the New York Jets after the trade talks were revived. Mark Sanchez is a capable QB but has not been given the requisite weapons or aerial playcaller to really show off his talent. Stuck with troublesome or aging wideouts for most of his career, his only consistent option has been Dustin Keller. An overrated run game only helped to complicate matters...
Wherever Tim Tebow goes, the buzz will follow. As far as backup quarterbacks are concerned, Tebow is a solid option. From that standpoint, you can't blame the Jets for bringing him in despite the media frenzy that goes along with it. If Mark Sanchez struggles or gets hurt, it will be nice to have a guy who has proven he can win games as an NFL starter waiting to be called upon...
Tim Tebow was "excited" to get to his press conference for the New York Jets. Jay Leno and The Tonight Show show Tebow parting the traffic as if he was Jesus parting the Red Sea.  
There is NO offseason for the NFL. There were so many things that happened just in the past week or so: Peyton Manning finally settled on a team. Tim Tebow was traded to another team, and even had a press conference Monday. Related posts: The Fifteen Most Fantastic Arrests Of The NFL Offseason Crazy Brandon Marshall 51-yard Touchdown – Video Philadelphia Eagles Offseason Turmoil...
What's up RaiderNation? You know, Old Timer always says, laughter is the best medicine. I know most of us were pretty surprised to hear that Manning decided to sign with the Broncos; but did you know the real reason? Well, I was able to find out how it all went down, well, OK, so this [...]
The Jets held their introductory press conference for Tim Tebow on Monday (which may better be known for Tebow letting everybody know just how gosh darned excited he is). It was a bit of a curious spectacle and seemed a bit overzealous, given that Tebow is brought in to be a back-up rather that being given the starting gig right off the bat. That's what Giants owner John Mara...
When it comes to the kitchen, I am a developing Italian quarterback. Mel Kiper Jr's scouting report indicates that a strength in my game is sandwiches. Throughout my college career, I combined the salty goodness of potato chips and the sweet sensation of PB&J with pinpoint accuracy and fluidity. I have united a locker room full of chicken nuggets and mac-and-cheese upon...
Jets News

Delivered to your inbox

You'll also receive Yardbarker's daily Top 10, featuring the best sports stories from around the web. Customize your newsletter to get articles on your favorite sports and teams. And the best part? It's free!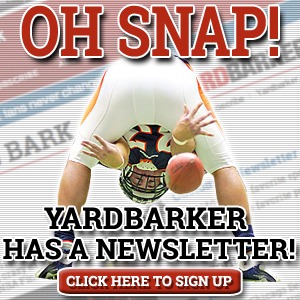 Latest Rumors
The Backyard

Today's Best Stuff

For Bloggers

Join the Yardbarker Network for more promotion, traffic, and money.

Company Info

Help

What is Yardbarker?

Yardbarker is the largest network of sports blogs and pro athlete blogs on the web. This site is the hub of the Yardbarker Network, where our editors and algorithms curate the best sports content from our network and beyond.