Found March 19, 2012 on Phins Phocus:
Terrence Howard once sang "It's hard out here for a pimp " , well it's much harder to be a Dolphins fan with Jeff Ireland calling the shots. Whether it's your friends on face book, Yahoo writers, Peter King, Mike Freeman it seems everyone is taking their best shot at Jeff Ireland and the Dolphins organization. SI's Peter King said "In the history of NFL general managers, Ireland is on the coldest streak ever. " Other forms of the media have taken their shots and it appears for the second off season in a row the Dolphins are the laughing stock of the NFL. There is apparently a movement on twitter going on right now to schedule a protest in front of the Dolphins facility at 1pm tomorrow to voice the frustration of the fan base. To make matters worse, due to the domino of Peyton Manning landing in Denver there are rumors out there that Tim Tebow might be considered by the Dolphins brass. While it is a difficult time to be a dolphins fan with everyone laughing at us at the moment, ...
Original Story:
http://www.phinsphocus.com/2012-artic...
THE BACKYARD
BEST OF MAXIM
RELATED ARTICLES
Dear Jeff Ireland, You took over the Miami Dolphins General Manager position in 2008.  You were brought in by Bill Parcells, the football czar, and your mentor.  Since you have been General Manager, the Dolphins have won 1 division title and appeared in (and lost) one playoff game.  That was in your first season, back [...]
MAD AS HELL
Angry at missing out on Peyton Manning. Angry at losing seasons. Angry at their general manager Jeff Ireland. Angry at David Garrard. Angry at housing prices. Angry at the cost of gas. Angry that they don't have girlfriends. Angry because they work 3rd shift. Anything else we're missing as to what Miami Dolphins fan is angry about? Today it all came to a head outside Dolphins'...
As expected, a number of Dolphins fans gathered to protest on Tuesday outside the team's training facility in Davie, Fla. The brown paper bags were out and — unsurprisingly — general manager Jeff Ireland was the target of most of the criticism from the various signs and chants. As Ben Volin of the Palm Beach Post shared with us on Twitter, some of the signs included "Toot...
The Miami Dolphins are running out of options at the quarterback position this offseason.  However, Brandon Weeden could be the new object of the Dolphins affections.  Early in the offseason, Dolphins fans were promised an upgrade at the QB position (comments Jeff Ireland probably regrets right now).  They missed out on Peyton Manning and didn't [...]
DAVIE, Fla. Miami Dolphins fans took it to the streets Tuesday. About 30 agitated Dolfans stood outside the team headquarters Tuesday afternoon holding signs begging the team to fire general manager Jeff Ireland and urging motorists to honk their horns in support of the movement. There was so much horn blowing youd have thought it was a traffic jam. Ireland sucks! one passing...
The 2012 offseason has not been kind to Dolphins fans. When Peyton Manning was released over a week ago, it was widely believed that Miami was the most likely destination for the four-time MVP. As the days passed and Manning visited the likes of the Broncos, Titans, and 49ers, it became evident that the Dolphins had fallen behind. They then turned their attention to Matt Flynn, who...
According to SI's Peter King, Matt Flynn has just signed with the Seattle Seahawks. Matt Flynn has agreed to a deal with Seattle. — Peter King (@SI_PeterKing) March 18, 2012 Just about as I had thought–3 years, not the huge money yet, but $10m guaranteed. — Peter King (@SI_PeterKing) March 18, 2012
With NFL free agency continuing on, the fallout from quarterback Peyton Manning's pending decision could reportedly land veteran play-caller Matt Hasselbeck in Cleveland as a member of the Orange and Brown. Per Sports Illustrated's Peter King, if Manning opts to return to Tennessee, this time as a professional, an uprooted Hasselbeck could be the next Jake Delhomme. Matt Hasselbeck...
So in one of the more strange, weird, wacky QB free agency shuffling going on right about now, the Seattle Seahawks may have struck first as the NFL waits for Peyton Manning to make up his mind already.  Peter King, among many, is now reporting that Matt Flynn has agreed to a 3-year, $26 million dollar deal with the Seahawks, but only $10 million of it is guaranteed.  And per...
According to Peter King of SI.com, if the San Francisco 49ers end up losing quarterback Alex Smith in free agency, they would end up saving about $8 million dollars in cap room.  In that case they might decide to go after Pittsburgh Steelers restricted free agent wide receiver Mike Wallace. The 49ers would likely have to pay Wallace around $8 million a season and give up the 30th...
Dolphins News

Delivered to your inbox

You'll also receive Yardbarker's daily Top 10, featuring the best sports stories from around the web. Customize your newsletter to get articles on your favorite sports and teams. And the best part? It's free!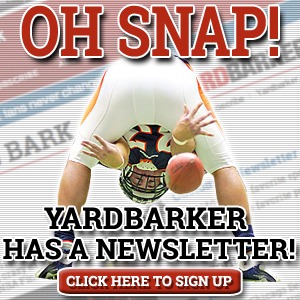 Latest Rumors
Best of Yardbarker

Today's Best Stuff

For Bloggers

Join the Yardbarker Network for more promotion, traffic, and money.

Company Info

Help

What is Yardbarker?

Yardbarker is the largest network of sports blogs and pro athlete blogs on the web. This site is the hub of the Yardbarker Network, where our editors and algorithms curate the best sports content from our network and beyond.