Found August 15, 2012 on Denver Sports Chat:
Denver, CO. It's amazing how one man can shift the tide for an entire division in the NFL. Peyton Manning has that kind of power. Once everyone learned that he had chosen the Denver Broncos as his new home, the aftershocks were felt for weeks throughout the entire league. It seemed to instantly vault the Broncos into contender status, and the AFC West got quite a bit stronger in the process. As the months have passed, and Manning has chipped away at the rust, most critics and experts have penciled in the Denver Broncos to ultimately win their division again in 2012. At 8-8 last year, oddly enough it was good enough to finish first and cause some chaos in the post-season. But now, there is a new QB, and he is probably the greatest free agent signing in the history of the league. Peyton Manning in Denver changes everything. All of the Broncos competition in the AFC West had to cringe when they heard the news this past March, and also had to wonder what they were going to do. Does Denver have any real threats within their division in 2012? The NFL always seems to be a league full of surprises, as time will eventually tell.
What to make of San Diego, Oakland, and Kansas City this year? Well, at first glance, the Chargers strike me as a team who is on the decline and will finish last this season. The team was incredibly inconsistent in 2011, and lost some key players to free agency this spring and summer. They plugged those holes, but with lower caliber talent. San Diego will finally be bad enough to get their GM and head coach fired. Oakland always seems difficult to figure out, and typically gets in their own way. Now that they have solidified their QB situation, can they become more consistent? Potentially yes, but there is so much inexperience at too many key positions to count on them in 2012. A 3rd place finish seems to be their eventual outcome for this year. Then comes Kansas City, who I believe will be the team that will be the biggest threat to the Denver Broncos in the west. The Chiefs had a ton of injuries last year, and to some of their best players. Their talent at the skill positions is above average, and a return to health will be a huge difference maker in general. Adding Peyton Hillis to help out in the backfield and at the goal line will really help this offense. They have some really nice, young players all over the roster. Most fans around the league are not expecting much from Kansas City, so flying under the radar could be ideal for them this season. This should be the team to battle Denver for the division title well into December. As we all know, the NFL season is a true grind. So many different things can happen to change the course of the journey for almost all teams. Injuries, inconsistencies, and underperforming play all dictate where each team will end up. For the Denver Broncos, they are the undisputed favorites to win the AFC West. Not only will they have to fend off the Chargers, Raiders, and Chiefs, but the expectations to finish first may be their toughest opponent of all. Denver Sports by J Simp  
  The post A look at the Denver Broncos competition in the AFC West appeared first on Denver Sports Chat.
Original Story:
http://feedproxy.google.com/~r/Denver...
THE BACKYARD
BEST OF MAXIM
RELATED ARTICLES
Denver Broncos quarterback Peyton Manning was a guest on Jim Rome's show today acknowledging that his arm is not quite the same as it was when he was 22. "I still have strength to recover, still have work to do," Manning said. "I am 36 years old. My arm has a lot of yards and a lot of touchdowns on it, so it's probably not going to be the same as it was when it was 22...
Peyton Manning looked healthy in the Broncos' preseason opener and appears to be taking everything in stride as he prepares for his first game at Sports Authority Field on Saturday night against Seattle. Manning has continually emphasized the need to take advantage of every minute of practice and film time to get ready for the season. The Broncos wrap up training camp Friday...
After a substantial 31-3 win over the Chicago Bears, the Denver Broncos are feeling pretty good about their team at this moment. All of this being said, everyone who has praised the Broncos and the efforts of No. 18 at the helm, are forgetting that the savior that is Peyton Manning only played in one series during the contest. A total of 12 plays versus the Bears is hardly anything...
(AP Photo/Michael Conroy) We got our first look—albeit brief—at Peyton Manning in orange (white) and blue last week when the veteran quarterback played one series in Denver's preseason opener against Chicago.  On Saturday, we'll get a larger sampling size to disect. Coach John Fox noted earlier in the week that the starters will play into the second quarter against the...
BROTHERLY LOVE
Eli Manning says that brother Peyton is the better quarterback. There wasn't a debate in the past, but there may be one now.
Denver, CO. How good, and pleasantly strange, was it to see Peyton Manning taking snaps in live action last Thursday night? For all Denver Broncos fans, it finally had to really sink in that signing Peyton was not a dream. Although he didn't look perfect, he did look very close to his old self, slingin darts like he has so many times in the past. This year has so many expectations...
When I wed my beautiful bride nearly a decade ago, I married into her rabid fanaticism for the Denver Broncos. I have adopted the team as my own. But never in our eight year marriage have both of us been so unexcited about an upcoming season at Mile High Stadium. Peyton Manning is just not our guy. I know he had a stellar career with the Indianapolis Colts, a Super Bowl champion...
A Florida Gator picking off Peyton Manning of the Tennessee Volunteers? Impossible! Peyton Manning never beat the Gators and never will ever since he was drafted. Major Wright of the Florida Gators took Manning's pass and stole it from him. Bonus! MANNING FACE!
It's Peyton F'ing ManningPhoto Credit: Jeffrey Beall In 2011, somewhere between 800 and a 100 billion dollars was gambled on the NFL. I don't know what this tells you, but it tells me that the people in our great nation like having a little action on their football. And guess what? So, does this guy.Last year my wife took half. This left me owning two things. My dog and...
Broncos quarterback Peyton Manning told Jim Rome on Rome "My arm has a lot of yards and a lot of touchdowns on it, so it's probably not going to be the same as it was when it was 22, but I still think it can complete some passes."Fantasy Spin:Manning looked a little rusty, but healthy in the Broncos first preseason game. If he and the receiving corps get on the same...
Denver Broncos News One writer puts together a seething fake letter from John Elway to Denver Broncos fans regarding Tim Tebow.  Much of it rings true, but the fading Tebowmaniac in me would have responded with, "Yeah, but he wins.  He took a team that lost 20+ games in two seasons and went deep into the playoffs."  2011 is a season I'll cherish forever. [New York Times...
NFL News

Delivered to your inbox

You'll also receive Yardbarker's daily Top 10, featuring the best sports stories from around the web. Customize your newsletter to get articles on your favorite sports and teams. And the best part? It's free!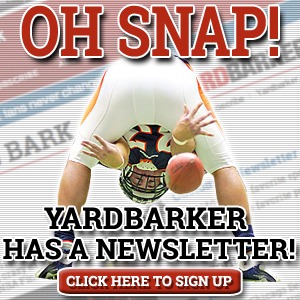 Latest Rumors
Best of Yardbarker

Today's Best Stuff

For Bloggers

Join the Yardbarker Network for more promotion, traffic, and money.

Company Info

Help

What is Yardbarker?

Yardbarker is the largest network of sports blogs and pro athlete blogs on the web. This site is the hub of the Yardbarker Network, where our editors and algorithms curate the best sports content from our network and beyond.