Originally written on
Buddy Nixon
| Last updated 10/24/14
Hey there, it's me, Toph, again. I know it's been a while, but I thought what better time to get back in on the Bills conversation than the blockbuster whirlwind of news we've had over the past 48 hours? Before we get started, a quick note. When we first started this blog, we had the aim of creating a one stop shop for Bills fans for all info, stats, and anything else you could want. Little did we realize how much work, and consequently, time that took. With that is a new found respect for the websites that do that (looking at you, Buffalo Rumblings). And frankly, we didn't want to put in all that work just to regurgitate content that's available elsewhere. So we took a break. However, we all still have unique perspectives on how the team is run, and would like outlet for that. Will Leitch, the founder of Deadspin, once wrote the following: My favorite Gawker Media site of all time—and there are quite a few contenders, from Sicha-era Gawker to Ana Marie Cox-era Wonkette—is Mark Lisanti's Defamer. Oh, man, was Defamer good. It wasn't just good, either: It mattered. Check out this December 2005 Los Angeles magazine piece on Lisanti and Defamer, which basically paints the entire Hollywood industrial complex quivering in the shadow of a guy typing jokes in a tiny apartment in Los Feliz. It was just one guy, filling an HTML window, changing the world, fully aware of the ridiculousness of it all, obsessed but removed. I wanted to be him so badly when Deadspin started. My goal was simply to do a sports version of Defamer. He had it down cold. Hopefully, Buddy Nixon will be a Bills version of that same model. Maybe a little less jokey, a little more analytical, but my goal going forward isn't going to be anything other than write stuff that interests me about the Bills, and whatever feels natural. Alright, enough naval gazing, here it goes…. 1. So we'll start with the big news of the day: Ralph Wilson has ceded all control of the Bills, and bestowed the title of El President upon Russ Brandon. I read this as Russ Brandon getting "final cut" of the Bills; everyone in the organization will now answer to Russ, and he gets Ralph's checkbook. Some people have called Russ the new "owner", but that label feels funny to me, considering Russ likely doesn't have any equity in the franchise. But Russ will yield most of the power that an owner generally would. So, is that a good thing? We won't really know for a few years, but my instincts tell me "yes." I think Ralph often gets sold short by the fans here; they just don't realize how instrumental Mr. Wilson was in not only bringing a team here, but helping to build the modern NFL that we all know and love. That said, I think the team has been held back in recent years by the fact that Ralph's been president. Obviously age has limited him (if not mentally) and his ability to render quick decisions over the past decade or so, and it seems everyone had do their jobs under the specter of a guy who wasn't around that often. So, how will Russ Brandon running things be different? During the press conference this afternoon, Russ sounded more aggressive and energetic, and much less guarded about how he planned to run the team. The question of how successful Brandon's actually been has come up, and I think to answer that you have to decide whether or not he's responsible for the football product. If you do, the answer would be not very. Obviously. On the other hand, if you're like me, you tend to think that he's been more responsible for the business and marketing functions of the team. In that light, I think he's done a phenomenal job. Brandon has done an excellent job of drumming up excitement year after year for  a team that has been largely unsuccessful, through regionalization effots, how they spin free agent signings and draft picks, etc. As for football, Russ said explicitly he will empower people to do their jobs, starting with Nix and Whaley. This is very similar to the ways that Mark Cuban's Mavericks and the Tampa Bay Rays have found organizational success recently, and to me it is clearly what Brandon is after. 2. The second chunk of news is that Nix will keep his job, with the intent of Doug Whaley eventually replacing him. I was happy to hear that Buddy would keep his job, if only for the ceaselessly entertaining press conferences he has been known to turn out. Another point Brandon made was that the roster is hands down better since Nix has been here, and I would agree. Not everything has worked out, but Nix has collected a group of solid players (Spiller, Williams, Glenn, Gilmore, and Dareus, among others) that make a more talented roster than we had in 2009. Whaley also gets credit as the personnel guy for finding valuable waiver players during that time frame. However, this doesn't erase the one huge mistake Buddy Nix has made in the past 3 years: Failure to address the QB position. This was magnified by the extension that Ryan Fitzpatrick got last offseason, and almost lead to his dismissal. Buddy has said that it was his plan all along to get a roster ready for a new QB to grow with, but A I don't know if I believe that and B Buddy almost didn't have that opportunity, and now he will. If the franchise is to improve, he cannot make this mistake again. 3. And finally, there is Chan's dismissal and the coaching search. A quick note on Chan, while there were a few aspects of his style I found infuriating (failure to show any energy or emotion on the sideline, game management, Spiller's lack of touches), I think he was good at a few things that he doesn't get enough credit for. The Bills running game was incredibly complex, and ran some of the more innovative plays I've seen in the NFL. I admired Chan's willingness to try new things and adapt to the personnel he had, along with his overall professionalism he handled everything. So I wish him well, without lamenting his dismissal. Right or wrong, you can't have the record he had and survive in the NFL. As far the coaching search goes, I wish to say before that I think it's less important than most other Bills fans do. I have preferences which I'll get to in a moment, but I think a huge portion of how successful that coach will be is determined by there ability to get the right quarterback. If you look at the coaches that are considered the best in the NFL currently (Belichick, Tomlin, Coughlin, Payton), they are usually accompanied by a QB who is playing really well. There are exceptions (Jim Harbaugh) but to me the correlation is too strong to ignore. That is not to say that it doesn't matter who you bring in as coach, as it is very important in turning this franchise around. The guys who have there names mentioned in connection with the job (Wisenhunt, Kelly, McCoy, Horton, and Smith, among others) to me show the team is looking at just about everything. Especially w/r/t Chip Kelly, I think it shows that the team is trying to hire a coach who will be forward looking and willing to innovate. Just skip Russ Grimm. Pretty please. 5. Finally, Brandon spoke briefly on the creation of a football analytics department, which was absolutely great news. Even though no one has really figured out advanced metrics for football yet, I think there will a big advantage for whatever teams can get ahead of the curve on it, and to me was a small step toward proving that Brandon was serious about innovation and being aggressive with moving this team forward. (Another debt to Leitch: I'm blatantly stealing the format he writes his movie reviews. You'll adjust). That's all I have for now, but overall, I think this was a great day for the team. Go Bills.
Original Story:
http://www.buddynixon.com/analysis/a-...
MORE FROM YARDBARKER
NFL News

Delivered to your inbox

You'll also receive Yardbarker's daily Top 10, featuring the best sports stories from around the web. Customize your newsletter to get articles on your favorite sports and teams. And the best part? It's free!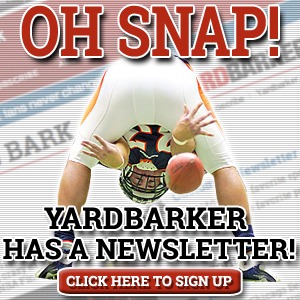 Latest Rumors
Best of Yardbarker

Today's Best Stuff

For Bloggers

Join the Yardbarker Network for more promotion, traffic, and money.

Company Info

Help

What is Yardbarker?

Yardbarker is the largest network of sports blogs and pro athlete blogs on the web. This site is the hub of the Yardbarker Network, where our editors and algorithms curate the best sports content from our network and beyond.