Found September 12, 2012 on Down and Distance:
Another day, another complaint about the replacement referees. It seems like everywhere you turn, there's someone complaining about the referees that were brought in to replace the referees that are currently on strike. This time, it's reigning NFL MVP Aaron Rodgers, who saw his team fall to an impressive 49′ers team. Rodgers had some choice words for the replacement refs in light of the loss. During his weekly radio show with WAUK-AM in Milwaukee, Rodgers said that the replacement referees were "frustrating" Did the replacement refs cost the Packers their season opener? "It's just frustrating when you're positive that there's either a missed call, or that the rule was not interpreted the way that it's supposed to be interpreted," Rodgers said. "There were multiple instances of that, and when you watch the film back, it's frustrating. That being said, there were just some bizarre calls on both sides." He followed up his comment by saying: "There's still disbelief. I can't say it's comical, but I don't feel bad because we had some bad ones our way as well. But I'm just surprised that you missed that one." Surprisingly, the most blatant missed call in the 49′ers/Packers game actually went in Green Bay's favor, making Rodgers' comments even more bizzare. Punt Returner Randall Cobb picked up a 75-yard punt return due to an obvious block in the back by his teammate, linebacker Terrell Manning. The trash talk from players to the replacement refs isn't a new thing. It's starting to become a "go-to" excuse. Bills DE Mario Williams was even more vocal about his struggles against Jets RT Austin Howard. Frankly, the complaints are getting old. Yes, we realize that these replacement referees might miss a call now and then. But here's the thing… no referee goes his/her entire career without missing a call or two. The replacement referees are being used as scapegoats, plain and simple. Players that don't have a win go their way now have an easy target to complain about. It can be frustrating sometimes when a referee misses a call. It can be even more frustrating when it seems like they don't know what they're doing. But why don't you try to take a walk in their shoes? You got a call at the last second and were told that you have to referee a sporting event in front of thousands of fans in the stadium and millions more at home. You know that if you make even the simplest mistake, you're going to be crucified. Terrifying, huh? Here's what I'm proposing. Lay off the replacement refs. I realize that it's frustrating. But complaining about them isn't going to do any good. This is my call-out to Aaron Rodgers, Mario Williams, and any other player/coach/owner that is complaining. Get over it and do your job. If your team plays a perfect game, you won't have to worry about close calls. Until then, stop whining and play. Follow us on Twitter @DownandDistance Down and Distance Columnist - Tad Johnson @TJ_DownDistance The post Aaron Rodgers: Replacement Refs are "frustrating" appeared first on DOWN & DISTANCE.
Original Story:
http://sports-kings.com/downanddistan...
THE BACKYARD
BEST OF MAXIM
RELATED ARTICLES
Another day, another player unhappy with the replacement officials for the way they called a game over the weekend. While I'm sure many of you have already grown tired of hearing the whining, Aaron Rodgers at least kept it unique with his complaints during an interview Jason Wilde on ESPN Radio in Wisconsin. Unlike some players who have blamed the officials for their lack of production...
By all indications, Green Bay Packers quarterback Aaron Rodgers appears to be an affable fellow with a pretty good sense of humor. In fact, I imagine much like Mitt Romey, Rodgers lives for laughter, but that's another story altogether. During his Tuesday appearance with Jason Wilde on ESPN Radio Milwaukee, Rodgers discussed a multitude of topics, including Green [...]
GREEN BAY, Wis. -- If Packers quarterback Aaron Rodgers did lose a bet with the members of Boyz II Men, the NFL's Most Valuable Player isn't ready to make it public or pay up quite yet. According to a report by TMZ, Rodgers was able to convince the legendary R&B group to sing the National Anthem before Green Bay's season-opening game against the San Francisco 49ers...
Packers In Search Of First Win As Bears Visit By SBRForum.com The Green Bay Packers explosive offense was muzzled in their season-opener and that's exactly what the Chicago Bears want to hear. The two division rivals will meet up on Thursday night at Lambeau Field. People making their NFL picks were surprised to see the Packers score just 22 points their Week 1 loss to San Francisco...
GREEN BAY, Wis. -- Aaron Rodgers met with the media Tuesday, moving up his weekly appearance by one day as the Packers adjust to a very shortened time frame in between games.For only the second time in the past year, Rodgers is coming off a regular-season loss and answered more questions about areas of improvement than the NFL's Most Valuable Player is used to.With the Chicago...
It's one of the best rivalries in the NFL, and it will take center stage on Thursday night in Green Bay. That's where the defending NFC North champion Green Bay Packers will welcome the hated Chicago Bears to Lambeau. While it is only Week 2, this one is important for both teams. It's important for the Packers given their Week 1 loss to the 49ers. Meanwhile, the Bears...
In a game that featured Aaron Rodgers and Jay Cutler at quarterback, it was Tim Masthay who threw the first touchdown pass in Thursday night's Packers-Bears game. It was by technicality, of course, as it was Masthay who "connected" with Tom Crabtree for a 27-yard touchdown "pass" near the end of the first half. The Packers used the old fake field goal on fourth...
Where to Put 'em is the Fantasy Football Nerd's look at the best and worst matchups for Week 2 of the NFL season. Decisions are based upon the FFN rankings and matchup analysis. Given the known conditions, these matchups are the ones to watch and/or avoid. This list does not generally include the elite players that you are going to start regardless of matchup. You don...
It's Thursday Night Football in the NFL where the Chicago Bears traveled to Lambeau Field where Aaron Rodgers and Jay Cutler had a contest to see who could be the worst quarterback on the field. Cutler was visibly frustrated with his offensive lineman after a play and followed him to yell at him and give him a little shove. We all know Cutler keeps calm under pressure… Also,...
Chicago Bears (1-0) at Green Bay Packers (0-1) This is the game of the week right here. I've been high on the Bears all offseason, naming them as one of my underrated teams. In fact, I thought they were the 2nd best team in the NFC, but couldn't have them winning the division because the Packers were just so good. Well, the Packers aren't looking so good anymore. Aaron Rodgers...
It was not a pretty night for quarterbacks in the football universe, unless your name happens to be Aaron Rodgers of course. While the Green Bay Packers were humiliating Jay Cutler and the Chicago Bears up in Lambeau Field, there was college football to soak in. Rutgers 23, South Florida 13 (AP recap) - It was far from pretty, but Rutgers improved to 3-0 with a strong second...
NFL News

Delivered to your inbox

You'll also receive Yardbarker's daily Top 10, featuring the best sports stories from around the web. Customize your newsletter to get articles on your favorite sports and teams. And the best part? It's free!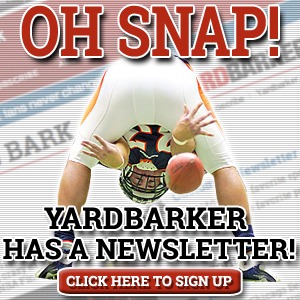 Latest Rumors
Best of Yardbarker

Today's Best Stuff

For Bloggers

Join the Yardbarker Network for more promotion, traffic, and money.

Company Info

Help

What is Yardbarker?

Yardbarker is the largest network of sports blogs and pro athlete blogs on the web. This site is the hub of the Yardbarker Network, where our editors and algorithms curate the best sports content from our network and beyond.