Found January 18, 2013 on Fox Sports South:
FLOWERY BRANCH, Ga. -- During the Atlanta Falcons' three days of practice this week, defensive end John Abraham, the teams leader in sacks, increased his workload each day after re-injuring his ankle in the divisional round. Nonetheless, the club announced his status as "questionable" for Sundays NFC title game against the 49ers. Players who are listed as questionable are supposed to have a 50 percent chance of playing. However, an analysis published by Deadspin on Thursday, in conjunction with Pro Football Talk, indicated that when the Falcons listed a player as questionable this season, he had roughly a 75 percent chance of playing that week. Abraham was not present during the team's open locker room session on Friday. However, he provided the following statement through a team spokesman: "I feel good -- my workload was ramped up every day as the week progressed. Everyone is hurt at this time of year, but this is the NFC Championship Game, so we all have to go." Abraham played only 15 snaps (or 22 percent of defensive snaps) in last week's 30-28 victory over Seattle in the divisional playoff round, before re-injuring the ankle he originally hurt in the fourth quarter of the regular season finale -- leaving head coach Mike Smith open to criticism for keeping his starters in a game that did not affect Atlanta's playoff seed (No. 1). After Abraham left Sunday's game, the Falcons had trouble pressuring Seahawks quarterback Russell Wilson, enabling Seattle to take a 28-27 lead in the final minute, after trailing by 27-7 entering the fourth quarter. On Friday, Smith hinted that Abraham might have been shelved for the second half last week, if the Falcons had built up an insurmountable advantage (predating the Seahawks' fourth-quarter flurry). In the postgame, Smith said the Falcons were "very precautionary (with Abraham); we felt like we could get through without having him out there, but it ended up being way too close for everyone in that stadium." On Friday, he echoed a similar sentiment. "I think he can be very effective," Smith said. "John re-tweaked his ankle, and with the way the score was at that point in time, we felt it was in our best interest not to put him back out there. Hes done a nice job this week. Hes participated all week, so were anticipating hell be ready to go." Asked if the Falcons would be careful with Abrahams snap count against San Francisco, Smith signaled that might not be the case. "At this time of the year, we have a snap count that we like to keep our guys at and as the season gets closer to the end, you definitely move that snap count up," he said. "Weve got a plan for John, and hell be back in our rotation. Last week against Seattle, Abrahams presence might have been more critical to the game plan, as Wilson, a mobile quarterback, used his feet to bide time for downfield throws. Regarding San Franciscos Colin Kaepernick, who only has eight career starts under his belt -- including last week's 444 total yards and four touchdowns -- the Falcons have characterized the 49ers quarterback as one who looks to run after making his first passing read. In that sense, putting pressure on the quarterback this week might not be a critical component to handling the 49ers. Seattle's Wilson ran for 60 yards, while throwing for 385. Conversely, Kaepernick threw for 263, while rushing for an NFL single-game, all-time QB record of 181 yards, in San Francisco's 45-31 playoff win over Green Bay. "Last week, we understood that the guy, he wanted to throw the ball," Falcons cornerback Dunta Robinson said. Hed run around to buy time to throw the football. This guys more of ... he believes in his feet. He has a good arm, but he likes to run. Were looking forward to that. Were not sure what were going to get until we step out there on Sunday." Abraham has also been a vital component for the Falcons, in terms of generating turnovers. He forced six fumbles during the regular season, ranking No. 3 amongst NFL defenders. The Falcons are confident Abraham can be that game-changing force on Sunday, regardless of his ankle. "Oh, man, any time he can go out there and just 'be John,' hes a difference-maker in the game," Falcons wide receiver Roddy White said. "Thats the biggest thing about John: He's made so many plays in this league and so many plays for us. If he can get out there and get after the quarterback and pass rush and slow this guy down from getting outside and things like that -- just make him run loops instead of getting straight down field where he can take off -- its going to make a big difference in our defense."
Original Story:
http://www.foxsportssouth.com/01/18/1...
THE BACKYARD
BEST OF MAXIM
RELATED ARTICLES
Atlanta Falcons defensive lineman John Abraham had to sit out the second half of the team's NFC Divisional round win over the Seattle Seahawks last weekend due to an ankle injury. Still, coach Mike Smith told reporters yesterday that he expects Abraham to play this weekend in the NFC Championship game against the San Francisco 49ers, according to NFL.com. While this is what...
YOU'VE BEEN WARNED
Atlanta wide receiver Roddy White said the Falcons are looking to take advantage of how aggressive the 49ers play on defense.
FLOWERY BRANCH, Georgia Falcons tight end Tony Gonzalez makes it almost impossible not to root for him. The guy is infinitely likable. In this post Manti Te'o fake girlfriend world, look for disclaimers to become the new normal. I do not know Gonzalez personally. All I know is what he presents, which is an insanely talented tight end and genuinely good guy who has had staying...
ESPN Analyst and former quarterback Trent Dilfer offered up his assessment of Sunday 49ers-Falcons showdown, and he thinks the numbers favor San Francisco. "From the quantifiable (perspective), it's very understandable why people don't believe in the Falcons," he said via the Atlanta Journal Constitution.
When Todd McClure was drafted by the Atlanta Falcons, the team had just made it to the Super Bowl for the first time. He figured it would be easy to get back again. Well, he's still waiting. Fourteen years later. McClure is the longest-serving member of the Falcons, a center who's always right in the middle of things but rarely gets noticed. He was a big help early on...
  This one of the more odd stories you will ever read, but I kid you not it is true. Atlanta Falcons kicker Matt Bryant is a fan of the National Geographic channel. In fact, Bryant tunes in so much that he picked up a rather odd skill that he elaborated on to reporters recently. Per USA Today: "I was watching the National Geographic Channel one day, and heard them mimicking the...
Atlanta Falcons coach Mike Smith provided some good news for his team when he announced on Wednesday that he expects his team's best pass-rusher, John Abraham, to be in the starting lineup for Sunday's NFC championship game against the San Francisco 49ers. However, Abraham did not practice on Wednesday, and the Falcons are making contingency plans in case Abraham cannot...
When the Atlanta Falcons take the field against the San Francisco 49ers in the NFC Championship they will be playing for a chance to play in only their second Super Bowl in team history.The last time the Falcons were in the Super Bowl following the 1998 season; they won a NFC championship 30-27 in overtime against the Minnesota Vikings in the Metrodome that they were not even figured...
FLOWERY BRANCH, Ga. (AP) -- It's too early for the Atlanta Falcons to know how much defensive end John Abraham will play in Sunday's NFC title game. Abraham, the NFL's active sacks leader, made it through just 15 snaps in last week's divisional playoff victory over Seattle before aggravating a left ankle injury that forced him to leave in the second quarter. &quot...
For me the playoffs have come down to rooting against the Atlanta Falcons and being satisfied with whatever other possible combination of results happen. In fact, I've been given the opportunity to attend the Super Bowl thanks to a close friend and I told him that I could only accept going if the Atlanta Falcons aren't in it. True story. If I had never been to one before...
Most of the focus of the NFC Championship game is on Colin Kaepernick and everyone questioning how the Falcons can stop him. That's an important storyline for the game but another involves a much less "sexy" position on the football field. The Tight End. Yes, the TE has become more of a focus in today's game with great players like Antonio Gates, Rob Gronkowski...
This past weekend Rant Sports traveled to Atlanta for the Seahawks vs Falcons divisional playoff game. Before the game they let loyal supporters of the Falcons and Seahawks explain why their team has better fans in an epic Fan Rant. Atlanta had an obvious home field advantage and they certainly let Seattle have it. Falcons fans decided to hone-in on Seattle's love of coffee, rainy...
NFL News

Delivered to your inbox

You'll also receive Yardbarker's daily Top 10, featuring the best sports stories from around the web. Customize your newsletter to get articles on your favorite sports and teams. And the best part? It's free!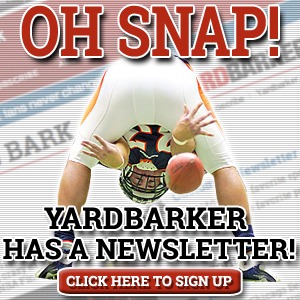 Latest Rumors
The Backyard

Today's Best Stuff

For Bloggers

Join the Yardbarker Network for more promotion, traffic, and money.

Company Info

Help

What is Yardbarker?

Yardbarker is the largest network of sports blogs and pro athlete blogs on the web. This site is the hub of the Yardbarker Network, where our editors and algorithms curate the best sports content from our network and beyond.