Found July 27, 2013 on Down and Distance:
After having one of the most inspiring comebacks in NFL history, AP is talking HGH and asserting he is "all natural" (Credit: AP Photo) Adrian Peterson was able to come back from a devastating ACL injury and the very next season chase the single-season rushing record held by Eric Dickerson. AP fell nine yards short of the record with 2,109 yards, but did lead the Minnesota Vikings to a 10-6 season and a playoff berth after the team had only managed a 3-13 season the year before. AP also secured the NFL Most Valuable Player and Offensive Player of the Year awards over Denver Broncos quarterback Peyton Manning (maybe you've heard of him). When an athlete makes a recovery like this and performs at such a high level in so short a time period, there are always questions about whether the recovery was augmented by artificial means. AP made some interesting statements regarding Human Growth Hormones (HGH) according to the National Football Post. "You've got HGH, something that doesn't show up on a test, and you've got guys out there trying to provide for their families….They're going to try to get that edge, get that advantage, especially if they're not worried about trying to get caught. Yeah, it's being used" While Peterson did not assert that he has seen or heard directly from players that they use HGH, he seems to be quite confident that players are taking advantage of "that edge" while they still can. The NFL is trying to implement a testing program to cut down on the incentive for players to use HGH and while there have been indications that such a program could begin as early as this season, that remains to be seen. AP is certainly ready for the NFL to start testing players for the supplement: "[Testing] will bring a lot of people to light," Peterson said. "It'll clear a lot of people, on the outside, their curiosity when it comes to different players. So I'm all-in for it. I don't worry about those types of supplements, using those, because I'm all natural" AP is not the only NFL star to come out in favor of HGH testing. Cam Newton, Dwight Freeney, and Larry Fitzgerald are also among those players that want HGH testing. Although HGH does provide athletes with an unfair advantage, it has also been linked to diabetes, cardiac dysfunction, and arthritis. Hopefully by testing for HGH, the NFL will not only create a more level playing field, but also provide for the long-term health of players using or looking to use the substance, perhaps without knowing the possible side-effects. The post Adrian Peterson says he's "all natural," but not all players are appeared first on DOWN & DISTANCE - Presented by Sports-Kings.
Original Story:
http://sports-kings.com/downanddistan...
THE BACKYARD
BEST OF MAXIM
RELATED ARTICLES
Look at that man. Amazing! Frightening! A total stud, with or without his shirt off! And there are very few people who you can actually say that about. I mean, his nickname is Purple Jesus for Dad's sake. HE'S NICKNAMED AFTER JESUS, or is actually Jesus reincarnate, we haven't really separated the two ideas yet, even after #28's amazing NFL career thus far. So...
MANKATO, Minn. -- Adrian Peterson heard the skepticism from people last year, even opposing players, as he returned from reconstructive knee surgery to challenge the NFL's single-season rushing mark and win the MVP. He heard the whispers that his recovery was owed to more than just genetics and hard work. He knew there were rumblings that maybe he wasn't "clean.&quot...
If you ever wanted to know what the best running back in the NFL sees as running out the backfield, you now have the opportunity to see with the new helmet cam's being used around the NFL. In the video courtesy of Next Impulse Sports, Vikings All Pro running back Adrian Peterson wore a helmet cam for the Vikings website last week during the start of training camp. The footage is...
Adrian Peterson has been one of the best running backs in the NFL since the Minnesota Vikings drafted him in 2007. When all is said and done, he could go down as one of the greatest of all time. Chris Johnson has also been one of the better rushers in the league, but he has [...]
AP Rides a Ten Speed to Practice Adrian Peterson Working Drills At Vikings Camp (Video)
Minnesota Vikings superstar Adrian Peterson sported a helmet cam to training camp. Enjoy this video of a first-person look at what an NFL practice is like through his eyes.
Adrian Peterson is the creme de la creme of NFL running backs right now, and it has some other top notch backs feeling some type of way. Peterson is fresh off an 2,000 yard season, NFL MVP award, and basically carrying the Minnesota Vikings on his back for most of last season. Titans running back Chris Johnson has had enough of hearing about everything Peterson has accomplished,...
Adrian Peterson Working Drills At Vikings Camp (Video) Nike Releases Adrian Peterson Free Trainer
MINNEAPOLIS -- Dave Winfield knows a thing or two about the obstacle course laid out in front of Adrian Peterson this time two years ago. More than a decade before the reigning NFL MVP and his seemingly superhuman knee ligaments had the entire sports world gawking, Winfield faced a dire scenario of his own. The Hall of Famer from St. Paul missed the New York Yankees' entire 1989...
This is how I roll Juan… Adrian Peterson Working Drills At Vikings Camp (Video) Nike Releases Adrian Peterson Free Trainer
"YEAH, IT'S BEING USED"
Vikings running back Adrian Peterson has no doubts that HGH is used by some NFL players, saying, "They're going to try to get that edge, get that advantage."
Minnesota doesn't seem to be getting as much love as they should be heading into the 2013 season. This team has made some changes for the good in the offseason and have a handful of youngsters that are on the verge of breaking out. Oh, and they have a certain reigning MVP in the backfield. 5 Reasons the Vikings Are Improved in 2013 1. Return of the Offensive Line. Minnesota brings...
NFL News

Delivered to your inbox

You'll also receive Yardbarker's daily Top 10, featuring the best sports stories from around the web. Customize your newsletter to get articles on your favorite sports and teams. And the best part? It's free!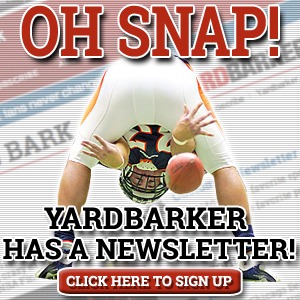 Latest Rumors
The Backyard

Today's Best Stuff

For Bloggers

Join the Yardbarker Network for more promotion, traffic, and money.

Company Info

Help

What is Yardbarker?

Yardbarker is the largest network of sports blogs and pro athlete blogs on the web. This site is the hub of the Yardbarker Network, where our editors and algorithms curate the best sports content from our network and beyond.