Found January 09, 2013 on SteelBlitz Steelers Blog:
The Pittsburgh Steelers finished the season 8-8 which marked the first non-winning season under Head Coach Mike Tomlin. 2012 was a season full of disappointment, but a lot of the blame, from fans, analysts and now the Steelers President Art Rooney II, is falling on one person: outside linebacker LaMarr Woodley. During the 2011 off-season the Steelers signed Woodley to a six year deal worth $61.5 million in hopes that he would be a disrupting force on their defense for years to come. He received his large contract based on his performances during the 2009 and 2010 seasons. Here is a comparison of before and after his large contract via pro-football-reference stat page: 2009 and 2010 (before signing his long-term deal): All 32 games played: 86 tackles, 23.5 sacks, 2 interceptions, 4 forced fumbles, 3 fumble recoveries, and two defensive touchdowns (one fumble return and one interception return) 2011 and 2012 (after signing his long-term contract): 23 games played (nine missed due to injury): 55 tackles, 13 sacks, 2 interceptions 1 forced fumble, 2 fumble recoveries and zero defensive touchdowns.   Now many fans are willing to give Woodley a pass due to his injury issues during the 2011 and 2012 seasons. During both years Woodley missed time due to hamstring injuries. However, hamstring injuries are often considered preventable with proper strengthening of the area, stretching, and conditioning. Therefore, when Woodley shows up to training camp out of shape and pulls a hamstring during the season and misses time (which has happened in 2011 and 2012) it makes many question his work ethic and his heart. However, for those of us who follow Woodley on Twitter and FaceBook we know how much Woodley wants to be on the field (when he can't play) and how important winning is too him. Even so Woodley's social media presence has gotten him attacked by plenty of people who wonder if he is more concerned with being liked then being a stand-out football player. Dejan Kovacevic also called out Woodley after the season ended with his article: LaMarr's lament? Who knows?. In the article Kovacevic says: No one, not any player or coach or executive, let down these 2012 Steelers more than one LaMarr Dewayne Woodley. And it might not be close. (Read more) Woodley's game is pressuring the quarterback and getting sacks, but he only recorded 4 sacks during the 2012 season. Woodley started 13 games, but had to leave early or miss snaps during some of those games with injuries which adds to the reason why he finished so low in sack total. Jason Woirlds only started 3 games during the 2012 regular season and played in place of Woodley  multiple times during the season and finished second on the team in sacks with 5. When Worilds, who is considered by many to be a bust, out-sacks a player on a $61.5 million contract it should be alarming to anyone. Steelers President Art Rooney II had a press conference today and according to Alan Robinson of the Pittsburgh Tribune-Review said that Woodley needs to be a difference maker, but wasn't in 2012. One good thing about this is that the Steelers are taking notice of Woodley's shortcomings and perhaps they will work him harder in 2013 in hopes that he can become the player he was on pace to become in 2010. One of the most disheartening things about Woodley's past two seasons is knowing how good of a player he could be. JJ Watt has become a household name with the Houston Texans at defensive end and if Woodley worked harder and got into the best shape of his life he could be battling Watt and Aldon Smith for Defensive Player of the Year honors. Hopefully the taste of two bad seasons in his mouth will be enough for Woodley to put it all together in 2013. If he doesn't the Steelers could be in a lot of trouble on defense; especially if James Harrison leaves during the off-season. No Harrison and an ineffective Woodley would kill a once promising pass rush in Pittsburgh. On the other hand however, if Woodley becomes the player Pittsburgh expects him to be in 2012 and Worilds continues to improve things could become very exciting. Worilds played very well at left outside linebacker in 2012 and the Steelers could slot him there and slide Woodley to the right side to replace James Harrison. With a bull rusher like Woodley on the right and speed rusher in Worilds on the left the Steelers could have a young duo of quarterback killers. As of now though that is just a dream.   The post After Pittsburgh Steelers Poor 2012 Season Most Blame is Being Aimed at One Player appeared first on SteelBlitz.
Original Story:
http://steelblitz.com/after-steelers-...
THE BACKYARD
BEST OF MAXIM
RELATED ARTICLES
The Pittsburgh Steelers offseason is well underway as is our look at the free agents. We will continue to knock out all of these over the course of the next few weeks as we move closer towards the start of free agency. Our analysis and breakdown of unrestricted free agents started with quarterback Charlie Batch and we will now move forward today and look at veteran nose tackle Casey...
Matt Watt of the Miami Herald is reporting Thursday via Twitter that Pittsburgh Steelers running back Chris Rainey was arrested this morning on a simple battery charge according to the Gainesville Police Department. Rainey, the Steelers fifth round draft pick from last April out of Florida, was arrested in September of 2010 and charged with aggravated stalking, a third-degree...
According to the Steelers website the team has signed another player to a reserve/future contract today. Brian Rolle who played for the Philadelphia Eagles in 2011 and 2012 was signed and will be given a shot to make the team in 2013. Rolle played college football at Ohio State. He was a two-year starter in college and led the Buckeyes in tackles his senior season. Rolle was draft...
Todd Haley was the Arizona Cardinals offensive coordinator in 2007 and 2008. He called the plays for the Cardinals offense that led them to Super Bowl 43; the only Super Bowl in franchise history. During his time with the Cardinals Haley formed a strong relationship with the Cardinals' ownership. After the 2008 season Haley left the Cardinals to become the Kansas City Chiefs head...
According to the Florida Gators official sports twitter account former Gators running back, and current Pittsburgh Steelers, Chris Rainey is in the Alachua County jail in Florida on a domestic battery charge. Supposedly Rainey was seen pulling his girlfriend out of the car and then slapped her in the face. Rainey was the Steelers fifth round pick in 2012 and played running back for...
Even though the Pittsburgh Steelers are handcuffed by the salary cap, they have to find a way to re-sign Keenan Lewis, who had a breakout season as a starting cornerback in 2012. Or do they? Second-year cornerback Cortez Allen showed in the final two weeks of 2012 that he could push for a starting job in 2013. Allen intercepted two passes and forced three fumbles. So in two games...
Pittsburgh Steeler rookie running back Chris Rainey has been arrested in Florida, accused of slapping his girlfriend. Gainesville police officers charged Rainey Thursday morning with a single count of misdemeanor simple battery. He was taken to jail for booking. Police say in a news release that Rainey was arguing with his girlfriend over his cellphone. His girlfriend got into...
It was reported earlier today that running back Chris Rainey was arrested down in Florida for simple battery. Hours later the Pittsburgh Steelers announced that Rainey has been waived. Rainey did a nice job of contributing as a rookie this season, but he's an expendable player that has a troubled history.  Smart move by the Steelers.     Need NFL Tickets? var _CI = _CI |...
Former Pittsburgh Steelers head coach and current CBS NFL Today analyst Bill Cowher said in an interview with Newsday on Tuesday that he'll likely return to coaching sometime in the future. Despite that desire to return to coaching, Cowher hasn't been mentioned in any of this winter's coaching vacancies, and no teams have reached out to him about their openings. ...
Steelers rookie running back Chris Rainey was waived Thursday after he was arrested early Thursday morning in Gainesville, Fla. and charged with simple battery after allegedly slapping his girlfriend in the face. SOURCE: Pittsburgh Post-GazetteFantasy Spin:Rainey has been in trouble with the law several times over the last few years. He was accused of a felony stalking charge in...
Pittsburgh Steelers running back Chris Rainey has been arrested and charged with one count of simple battery (dating violence).
Current CBS analyst and former Pittsburgh Steelers head coach Bill Cowher wants to return to coaching in the NFL. The Super Bowl winning head coach has been linked to several coaching vacancies in recent years, but he chose to remain in broadcasting. Now, after six years away from the game, Cowher believes he'd like to return to the coaching ranks. Speaking to Newsday, Cowher said...
Steelers News

Delivered to your inbox

You'll also receive Yardbarker's daily Top 10, featuring the best sports stories from around the web. Customize your newsletter to get articles on your favorite sports and teams. And the best part? It's free!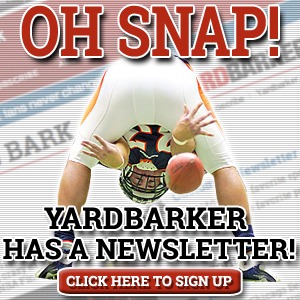 Latest Rumors
The Backyard

Today's Best Stuff

For Bloggers

Join the Yardbarker Network for more promotion, traffic, and money.

Company Info

Help

What is Yardbarker?

Yardbarker is the largest network of sports blogs and pro athlete blogs on the web. This site is the hub of the Yardbarker Network, where our editors and algorithms curate the best sports content from our network and beyond.