Found October 05, 2012 on isportsweb.com:
My NFL predictions for week 5 include rivalry games and upsets. The week began Thursday night with the St. Louis Rams for knocking the Arizona Cardinals out of the ranks of the undefeated. Now is the time when we will begin to really see which teams are contenders…and which are pretenders. The tone has been set…these teams are who we thought they were…to quote former Arizona Cardinals coach Dennis Green…Now onto week five predictions.
Is this Rivalry Week in the League? Well, not quite. But we have a battle of Southwest Conference quarterbacks (Andy Dalton vs. Ryan Tannehill), an interstate match-up (Philadelphia at Pittsburgh) and a rivalry going into its 13th game (Tom Brady vs. Peyton Manning), although with one new team (Denver) playing New England this time.
Here's how I see these games, using the average point spread:
PITTSBURGH -3 over Philadelphia: I think Pitt comes out and crushes the Iggles, even though Big Ben takes a few shots. His O-line needs to help him, but Philadelphia has Jason Babin and Trent Cole, both of whom will get to Ben. Philly has not beaten the Stillers in 8 years. It continues Sunday.
INDIANAPOLIS +7 over Green Bay: Packers WR Greg Jennings is not playing…that can't be good for the Pack. And, this is your one chance to see Andrew Luck vs. Aaron Rodgers for years, barring a Super Bowl appearance. And the Colts will be playing very hard for Chuck Pagano, missing due to treatment for leukemia…Advantage COLTS.
One of the NFL's best: Washington Redskins QB Robert Griffin III
ATLANTA -2-1/2 over Washington: Hate to pick against RG3, but he has not seen a defense like Atlanta's this year…or ever. I have been watching him for years, and knew he'd be good…but he has been brilliant (one interception, 69.4 completion rate, 103.2 rating), and this would be a great spot to add to his record. Matt Ryan is playing his best football ever…plays well under pressure…and will make more plays Sunday for the Falcons to cover.
CINCINNATI -3 over Miami: Ryan Tannehill has been quietly improving each week. No doubt, this kid can play. He makes good, smart throws…his receivers, on the other hand, fail to help him in many situations. Andy Dalton for the Bengals will show Tannehill how it's done in the NFL.
Baltimore Ravens linebacker Ray Lewis' pre-game dance is in its 17th year!
BALTIMORE -6 over KC: Orioles Magic switches over to their stadium neighbors, the Ravens. This team has championship written all over it…or at least a deep run in the playoffs.
CLEVELAND +10 over the NY Football Giants: Shocking, I know, but have you seen Brandon Weeden? If he gets time, and the line keeps opening holes for Trent Richardson, the team in Orange helmets will keep it closer than the Giants fans want it to be…Not saying they will win, but I'll take the 10 points this time out.
SEATTLE +3 over Carolina (Not really sure on this one…the Panthers had a nice game in Atlanta last weekend, but just came up short (Matty Ice destroyed their defenders on that last 90-yard drive)…Will be watching the players list to see who will NOT play for Carolina…And, this is Russell Wilson's homecoming game…
CHICAGO -4-1/2 over Jacksonville: Trap game for the Bears? A let-down is inevitable coming off their emotional destruction of the Cowgirls in Dallas. Jay Cutler will have plenty of time to throw…Jax has only had a league-low 2 sacks.
New England quarterback Tom Brady is 8-4 against Peyton Manning
Denver's new quarterback, Peyton Manning, is enjoying a great relationship with club president John Elway
DENVER +7-1/2 over New England: Upset special…Peyton Manning vs. Tom Brady. Brady is 8-4 against Manning…just don't think Peyton is not thinking about that.  I think it can be a close game…maybe 3-6 points, which is why I like Denver…but I wouldn't bet the house on it (unless you are upside-down…).
SAN FRANCISCO -9-1/2 over Buffalo: The Bills have a great defensive line – on paper – but they are allowing 4.8 yards per carry…and they give up 286 yards passing. The Niners are good…really good. Buffalo, as you saw against New England, can be bad…really bad. That being said, I really don't like giving 10 points…but in this case I feel it's a good bet.
MINNESOTA -5-1/2 over Tennessee: Yes, I am a believer in Minnesota now. The Titans give up too much on defense…and I don't think AP will be stopped. If he is, the Vikes' passing game will not be.
NEW ORLEANS -3-1/2 over San Diego: I just think the presence of all the banned coaches FINALLY being in the same building as Drew Brees will have some kind of karma-like effect on the Saints. They can't go 0-5, can they? At home? NO!
EARLY MONDAY PICK:
Houston Texans quarterback Matt Schaub is in charge of a high-powered offense
HOUSTON -8 over the New York Jets: Yep, Houston is the cream of the crop, along with the Ravens, and the Jets, well, they're the Jets. Unless Tebow plays more, this team has no offense…no line…they're a mess. It's like Rex Ryan hates offense so much, he just won't play any. HEADLINE: Rex – it's 2012…the forward pass is in play and no one uses fullbacks anymore. Use the rules the NFL has put in place to your advantage. Personally, this is my Lock of the Week.
And, as Willie Nelson and Dandy Don Meredith said, "Turn out the lights…the party's over!" Yes, that song just came up on my iTunes playlist…Karma – gotta love it!
Original Story:
http://feedproxy.google.com/~r/isport...
THE BACKYARD
BEST OF MAXIM
RELATED ARTICLES
Peyton Manning is reportedly set to join the ownership group of the NBA's Memphis Grizzlies. Please Click Here To Read This Story
Bruschi's Breakdown: New England Patriots must match wits with Peyton Manning - ESPN Boston: You...
"We're close," Denver Broncos cornerback Champ Bailey said. "But it's going to take more than that."How long are we going to hear the Denver Broncos are not a complete team?Even John Gruden and Steve Young stated the Broncos still need to gel and that probably won't happen until the midway point when Peyton Manning finally feels comfortable.Evidenced by Peyton Manning's...
The Memphis Grizzlies are in the process of being sold and the new ownership group has added a new minority partner: All-Pro QB Peyton Manning. It ooks like Peyton Manning is finally putting all that commercial money to good use. Technically Manning's wife, Ashley, is the one serving as the part owner but it's fair to say that Peyton is the one putting up the cash...
NFL quarterback Peyton Manning is supporting wife Ashley's move to join the group of minority owners being assembled by prospective owner Robert J. Pera, and a person familiar with the deal says former NBA player Penny Hardaway also will be part of the group. Manning and Hardaway join a minority group that includes singer and actor Justin Timberlake and a couple of Memphis businessmen...
Follow @Dan Vasta http://espn.go.com/sportsnation/post/_/id/4640319/brady-manning When talking about the greatest quarterback in the history of the NFL names such as Joe Montana, Johnny Unitas, Dan Marino and perhaps Brett Favre come up. Peyton Manning and Tom Brady will be meeting up for the 13th time in their illustrious careers and they have never disappointed us in terms of...
When Denver travels to New England this Sunday, will it be a match up between the Broncos and Patriots or a battle of Brady and Manning?  Well it's both in a big early season game for both teams.  They both sit at 2 - 2 and believe me, neither quarterback wants to fall under .500 and fall back in their respective divisions.  But let's get real!  The intrigue of this game...
With Broncos – Patriots this week, we have a special guest, Dana Draper with 60 Max Power O. Since his return to football, Peyton Manning has played four games, but on Sunday afternoon, he'll renew his rivalry with the New England Patriots, and is there anyone more qualified than Bill Belichick to game plan against him? This will be the 13th meeting between the two, and if...
It's time to begin a new chapter in the Tom Brady vs. Peyton Manning annals, and personally...
After staring at a possible 1-3 record early in the second half against the Buffalo Bills last week, the New England Patriots put up 45 points in the 2nd half to improve their record to 2-2. The team is starting to get healthy by the day, especially with the news that tight end Aaron Hernandez returned to practice this week. This week's game will be trickier than last week...
Denver Broncos News The Denver Broncos head back to Gillette Stadium to face the New England Patriots and I just can't help to feel that we may just have a team that can compete with Tom Brady. [DenverBroncos.com] The tale of the tape is all about bowing down to the alter of Brady and the Patriots.  Barely worth the watch, but one must always remain objective. [NFL.com] Judging...
The Patriots and Jets may be technically tied atop the AFC East with identical 2-2 records, but that's about where the similarities end. While the Patriots are coming off of a convincing come-from-behind win in Buffalo last week, the Jets are coming off of a beatdown at the hands of the 49ers. Both teams face big games again this week with New England hosting Peyton Manning and...
Broncos News

Delivered to your inbox

You'll also receive Yardbarker's daily Top 10, featuring the best sports stories from around the web. Customize your newsletter to get articles on your favorite sports and teams. And the best part? It's free!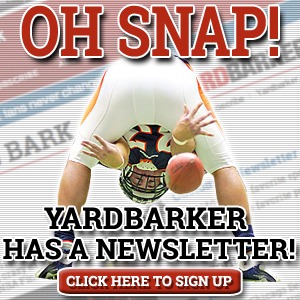 Latest Rumors
The Backyard

Today's Best Stuff

For Bloggers

Join the Yardbarker Network for more promotion, traffic, and money.

Company Info

Help

What is Yardbarker?

Yardbarker is the largest network of sports blogs and pro athlete blogs on the web. This site is the hub of the Yardbarker Network, where our editors and algorithms curate the best sports content from our network and beyond.