Found February 15, 2012 on NFL.com:
The Steelers desperately need to create salary-cap space, and the agents for Ben Roethlisberger and James Harrison said their clients are open to restructuring their deals to help Pittsburgh out.
Original Story:
http://www.nfl.com/goto?id=09000d5d82...
THE BACKYARD
BEST OF MAXIM
RELATED ARTICLES
The Pittsburgh Tribune Review is reporting that Ben Roethlisberger and James Harrison are willing to restructure their contracts to help the team out.  Roethlisberger and Harrison are two of the highest paid players on the team.  It would help the Steelers if these two guys restructured but their are some things to think about while doing it. With Ben Roethlisberger it is no big...
The Steelers had the number 1 defense in the NFL last season.  They gave up the least amount of total yards and points in the NFL last season.  They used their bend but do not break style to help them get victories and it got them a 12-4 record and a trip to the playoffs as the number 5 seed.  The Steelers defense was not dominant like it has been in years past though.  The team...
Pittsburgh Steelers quarterback Ben Roethlisberger was interviewed by Mike Prisuta of DVE radio on Tuesday and the interview was broadcasted this morning. Prisuta asked Roethlisberger a whole range of questions that included his thoughts on his style of play, his meeting with Art Rooney II and also about the reputation that precedes new offensive coordinator Todd Haley. Roethlisberger...
STEELY RESOLVE
Pittsburgh Steelers QB Ben Roethlisberger has an apparent influx of additional motivation heading into next season now that the New York Giants QB has tied him in Super Bowl victories with two.
By Jeremy Hritz Pittsburgh Steelers fans across the world are grateful for the last eight seasons of football that Ben Roethlisberger has made possible. From his unprecedented winning streak during his rookie season, to three Super Bowl starts, Big Ben is one of the primary reasons that the Steelers are always in the running for a Lombardi come playoff time. There is no denying...
The agents for quarterback Ben Roethlisberger and outside linebacker James Harrison said their clients are agreeable to restructuring their contracts before the start of the NFL's new year.
Pittsburgh Steelers QB Ben Roethlisberger has already started working out for the 2012 regular season. Fresh off a season which he sustained numerous injuries and an overtime loss in the wildcard card round of the playoffs, Roethlisberger has decided that he won't sit around this offseason, hitting the workout room with Steelers strength coach, Garrett Giemont. Speaking...
The Pittsburgh Steelers introduced Todd Haley has their new offensive coordinator last Thursday and according to an interview Tuesday evening with quarterback Ben Roethlisberger, the two still haven't sat down to talk to each other yet. Is it a huge deal? Likely not in the grand scheme of things perhaps, but it is an important deal nonetheless. This post is not designed to choose...
I've read several recent reports that question whether or not Steelers franchise quarterback Ben Roethlisberger has a right as just a player to question front office decisions and have a voice about the coaching staff. As a fan, I certainly think he does. Why? Oh I don't know, he's in charge of running the offense? He's the team leader? He has led the Steelers to monumental...
Ben Roethlisberger is already working out at the Steelers facility.  This is something new for Big Ben.  He never gets to work this early.  Roethlisberger is about to turn 30 though on March 2nd and says "That's why I'm working out already."  Roethlisberger is worried about how many years he may have left if he does not stay in shape.  He is working with the Steelers...
SCI.net's Mike Prisuta came through with the most in-depth interview of Steelers quarterback Ben Roethlisberger this offseason. Here, Roethlisberger talks about his meeting with Art Rooney II and much more.
Hines Ward: Am no bereave team is contemprate make leerease numbell one smaltest leceiverr in NFR histolee. Hines and Steererrrs berong together, rike clack and back. Am Steererrr foll rife. What am Hines to do? WHO WIRR HERP ME NOW Ben Roethlisberger: HI HINES Hines: You must herp, Rongrastname! You only one! Must do something. Team am want to leerease you favolite leceiverrr....
Steelers News

Delivered to your inbox

You'll also receive Yardbarker's daily Top 10, featuring the best sports stories from around the web. Customize your newsletter to get articles on your favorite sports and teams. And the best part? It's free!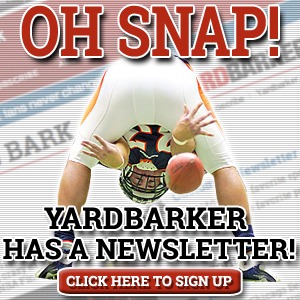 Latest Rumors
The Backyard

Today's Best Stuff

For Bloggers

Join the Yardbarker Network for more promotion, traffic, and money.

Company Info

Help

What is Yardbarker?

Yardbarker is the largest network of sports blogs and pro athlete blogs on the web. This site is the hub of the Yardbarker Network, where our editors and algorithms curate the best sports content from our network and beyond.