Found March 13, 2013 on Fox Sports Kansas City:
KANSAS CITY, Mo. To many outside observers, it appeared Alex Smith was somewhat OK with his benching last fall in San Francisco. In fact, teammates lauded Smith for his unselfishness and his team-first attitude after he was replaced by Colin Kaepernick. Well, the truth is, Smith may have been unselfish and a great teammate at the time, but he was anything but OK with the benching. At least that is what Smith indicated Wednesday as he was introduced as the new Chiefs' starting quarterback at the team's training facility. "When the season was over," Smith said, "I just let the 49ers know that I didn't consider myself a backup in this league. And I wasn't going to sit on the bench. They let me know they weren't going to release me. "So that led to what happened (the trade to the Chiefs). I couldn't be happier now." Smith did acknowledge that he tried to be the best teammate he could during that awkward time of getting benched. "You really only have a couple of choices," Smith said. "You can be pissed and then pout, or you can just wait patiently until your next opportunity comes up. That's what I did I waited for the next opportunity." The circumstances bringing Smith to Kansas City certainly tested Smith's patience as well. News of the trade broke over two weeks ago, but the transaction could not officially be announced until the league's calendar year started, which was on Tuesday. So, Smith finally flew into Kansas City late Tuesday night, spent Wednesday undergoing a physical exam and signing papers, and then met with the Kansas City media. In some ways, Smith, 29, now feels like he's getting a fresh start. "I feel like because of what I've gone through, you grow as a player, grow as a person," Smith said. "But now I'm ready for this. I can't say how excited I am for it. It's a great opportunity with a team that has a lot of talent." Asked why he thought Kansas City would be a good fit for him, Smith said, "These two guys right here (general manager John Dorsey and coach Andy Reid). The opportunity to work with coach Reid, from all the quarterbacks I've talked to that have played for him, they've only had good things to say. "You look at this team. You look at the pieces in place. You can see the potential. It's just a matter of getting things going, getting that chemistry and that culture right." As badly as Smith needed the Chiefs, it is apparent that Dorsey and Reid needed Smith badly as well. Both Dorsey and Reid said upon their hirings that they would take their time to evaluate the Chiefs' quarterback situation. That evaluation was over rather quickly, and Dorsey and Reid obviously concluded that the Chiefs needed a complete overhaul at the position. Last year's starters, Matt Cassel and Brady Quinn, almost surely will be gone. Cassel's contract calls for him to make 7.5 million in 2013. Quinn is an unrestricted free-agent. Dorsey would not indicate exactly when Cassel would be released. "Right now, Matt is on our roster," Dorsey said. "As the days go along, we'll see what happens there. But right now he's on our roster." Reid said Cassel had been at the training facility in recent weeks working out, but has not been around in the past few days. "We've communicated with him and he understood the situation that was taking place today," Reid said. "It wasn't a secret to him or his representative." The Chiefs also on Wednesday officially announced the signing of former Mizzou quarterback Chase Daniel, a free-agent from New Orleans. In addition, the Chiefs have Ricky Stanzi and Alex Tanney on the roster, and it is at least questionable now whether the Chiefs will draft a quarterback this year. "You have to be flexible and keep your options available as you go into that (draft) process," Dorsey said. "We'll let the draft board come down to us and you can never say never." The presence of Daniel, likely to be a fan favorite at Arrowhead Stadium, isn't about to cause another quarterback controversy for Smith, according to Reid. "I'm going to speak with a little bit of a forked tongue here," Reid said. "I'm gonna tell you, at every position we try to present competition, because we think that brings out the greatness in the player. I just think that makes you a better football team. "But I'll tell you, Alex is, he is the starting quarterback for the Kansas City Chiefs." Interestingly, at Reid's introductory press conference in January, he indicated his first duty with the team would be to "find the next Len Dawson." Has Reid found that guy in Alex Smith? "Len Dawson's sitting right (over there)," Reid said, smiling. "Len Dawson's in the Hall of Fame. We're going to work on getting Alex into the Hall of Fame."
Original Story:
http://www.foxsportskansascity.com/nf...
THE BACKYARD
BEST OF MAXIM
RELATED ARTICLES
Kansas City Chiefs starting quarterback Alex Smith could not be happier with his new home. The biggest reason is certainly that we now have to type the word starting before the word quarterback when discussing him.   Please click here to read this story The post Alex Smith on Kansas City Chiefs:"This is where I wanted to be." appeared first on Players View.
Alex Smith wanted to be with the Kansas City Chiefs. He ultimately got his wish. The former San Francisco 49ers quarterback was introduced at a news conference at the Chiefs' training facility on Wednesday, capping a whirlwind day of physicals and meetings. Smith was traded to Kansas City for a pair of draft picks in a deal that was reached two weeks ago, but could not become...
The San Francisco 49ers made their trade of quarterback Alex Smith to the Kansas City Chiefs official on Tuesday, nearly two weeks after the two sides agreed to it. The 49ers will receive the Chiefs' second-round pick, 34th overall, and a conditional choice in next year's draft, a person familiar with the terms told The Associated Press. The person spoke on condition of...
Now that quarterback Alex Smith has been officially traded to the Kansas City Chiefs, head coach Andy Reid didn't waste any time in naming him their starter heading into the 2013 season. "Alex Smith is the starting quarterback for the Kansas City Chiefs," Reid told the media today, per Matt Maiocco of the Sacramento Bee. With all the draft picks the Chiefs gave up for Smith...
KANSAS CITY, Mo. (AP) -- The Kansas City Chiefs already have made plenty of bold moves this offseason. They made another one on Thursday. The Chiefs agreed to terms with cornerback Sean Smith on a three-year deal, helping to shore up their secondary opposite cornerback Brandon Flowers. The move also gave the Chiefs the type of lockdown defender they needed to deal with a bevy of...
The Kansas City Chiefs have agreed to terms with cornerback Sean Smith on a three-year deal to help shore up the secondary. Smith has spent the past four seasons with the Miami Dolphins, starting every game each of the past two years. He has 177 tackles and five interceptions in his career. The Chiefs have been bold players in free agency under new general manager John Dorsey and...
KANSAS CITY, Mo. (AP) -- The Kansas City Chiefs have agreed to terms with cornerback Sean Smith on a three-year deal to help shore up the secondary. Smith has spent the past four seasons with the Miami Dolphins, starting every game each of the past two years. He has 177 tackles and five interceptions in his career. The Chiefs have been bold players in free agency under new general...
Active is not the word to describe the Kansas City Chiefs at the start of the NFL free agency. Extremely busy would be more appropriate.And 2005 first round pick, Alex Smith, was the only playoff game winning, free agent quarterback available. Smith is just one year removed from leading the San Francisco 49ers to the NFC Championship game against the New York Giants.Niners head coach...
The Kansas City Chiefs continue to overhaul their entire roster with the addition of cornerback Sean Smith. Smith, 25, has reportedly agreed to terms on a three-year contract with the Chiefs, per ESPN's Adam Shefter. The deal is reportedly worth $18 million with $11 million guaranteed, according to Pro Football Talk. In 63 games (56 starts), the 6-3, 218-pound corner has registered...
Once the Chiefs made it official in regards to the acquisition of Quarterback Alex Smith from the 49ers, it didn't take long for Kansas City to dive into the free agent pool and add some veterans to balance out their 2013 roster. So how do the moves grade out?
WR Mike Wallace- UFA former team- Pittsburgh Steelers new team- Miami Dolphins deal- 5 years, $65 million   QB Alex Smith- Trade Former team- San Francisco 49ers new team- Kansas City Chiefs deal- Smith to chiefs, 49ers receive two currently undisclosed draft picks   OG Andy Levitre- UFA Former team- Buffalo Bills New Team- Tennessee Titans Deal- 5 years, $39 Million   TE Delanie...
In the realm of not-so-breaking news the Kansas City Chiefs have released quarterback Matt Cassel. The acquisition of Alex Smith from the San Francisco 49ers had already made Cassel's departure a foregone conclusion. It was just a matter of when. The answer appears to now be the day after the team introduced Smith to the KC media. There were high hopes for Cassel...
NFL News

Delivered to your inbox

You'll also receive Yardbarker's daily Top 10, featuring the best sports stories from around the web. Customize your newsletter to get articles on your favorite sports and teams. And the best part? It's free!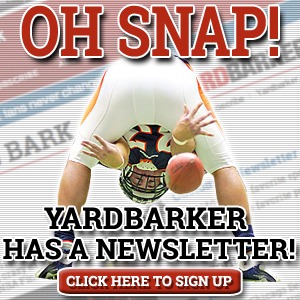 Latest Rumors
The Backyard

Today's Best Stuff

For Bloggers

Join the Yardbarker Network for more promotion, traffic, and money.

Company Info

Help

What is Yardbarker?

Yardbarker is the largest network of sports blogs and pro athlete blogs on the web. This site is the hub of the Yardbarker Network, where our editors and algorithms curate the best sports content from our network and beyond.