Found August 16, 2012 on Fox Sports North:
MANKATO, Minn. Look around training camp in Mankato or a Sunday home game at the Metrodome and there are still reminders of the hard-charging, fun-loving attitude Jared Allen brought to the Minnesota Vikings in 2008. Allen's fans wear shirts with the four-time Pro Bowl selection's No. 69 printed on them. But unlike with other players' apparel, Allen's nameplate on the back is often replaced by "Sax Machine" or "Mullet Militia." The shirts, created by Allen's own clothing company, reflect the larger-than-life persona of the onetime mullet-wearing pass rusher. Allen still gets a laugh from the shirts. "First of all, Sax Machine was just hilarious," Allen said recently during his fifth training camp with the Vikings. "That thing was funny. A play on Kenny G, everybody knows that." Allen still likes to have fun. But the mullet -- which Allen had referred to as a "lifestyle" -- is gone, replaced by a trim cut and a receding hairline the defensive end isn't too happy about. He's 30, married and has a daughter. Allen has changed, matured as he's gotten older and gone through life's trials. Oh, and he's as dangerous as ever on the football field. Perhaps his changes off the field have made Allen even more effective on it. The mullet was gone in 2010 as he prepared for his wedding, and a baby girl in 2011 continued his growth. Focused as ever, Allen followed through with his best season in 2011 -- he racked up 22 sacks, just a half-sack shy of the NFL single-season record. An all-around season that included a career-high 86 tackles, 25 tackles for loss, four fumbles caused, four fumble recoveries and an interception helped Allen finish second in Defensive Player of the Year voting. That type of season would normally feed into the persona Allen had brought with him from Kansas City. However, Allen isn't worried about his persona. "For me, I'm just constantly trying to grow as a man, grow as a father, grow as a husband, grow in my faith," Allen said. "I don't think you ever stop growing, personally. I'd be 100 years old, hopefully, and still trying to learn new things. For me, there's no persona, there's no nothing. It's just me having fun. It's just what it is." Allen came to Minnesota in a trade days before the 2008 draft with the Vikings giving up four draft picks, including a first-rounder and two third-rounders. Allen's lifestyle might be one of the reasons he was available. He was an elite pass rusher, coming off a 15.5-sack season for the Chiefs in which he was named an All-Pro. But he was also arrested twice within five months in 2006 on DUI charges. He was suspended four games during the 2007 season and also feuded, sometimes publicly, with then Kansas City general manager Carl Peterson. Allen became a Vikings fan favorite immediately, and his fun-loving attitude and mullet were part of the attraction. He has had at least 11 sacks in each of his four seasons with Minnesota and has been a first-team All-Pro in three of those seasons. There also haven't been any legal issues for Allen since the trade. Employing a lesson he learned from former Chiefs coach Herm Edwards, Allen no longer puts style before substance. "I understand who I am," he said. "Coach Herm Edwards was an instrumental part of my life and my career. Herm used to say, 'I'll take good men. I'd rather have a team full of good men because they'll be good football players.' It's true. That's what I try to tell the young guys, 'When you have your personal life in order off the field, it just makes your on-the-field life so much easier because you can concentrate on work.'" The growth in Allen is evident in his words. He has committed off the field to his family. He's active with the Wounded Warriors and juvenile diabetes charities. In 2009, Allen was part of a USO tour in Iraq. And when it comes to football, he is driven to be the best defensive player in the NFL. He trains tirelessly in the offseason in Arizona, using mixed martial arts to increase his stamina, strength and speed. Allen doesn't participate in Minnesota's voluntary offseason workouts but instead stays in Arizona, sharpening a regimen that has served him well. "It's been a blessing," Allen said of mixed martial arts, which he's used for six years. "It's totally different the way the worlds cross. Fight training pushes you on a personal level past your mental blocks. That's what's cool about it." Allen has the individual accolades. He says his focus now is helping the Vikings reach the ultimate team goal of the Super Bowl. A Super Bowl run -- however far off that seems following a 3-13 season -- would certainly have more Vikings fans joining the "Mullet Militia," or maybe the "Skullet Militia." "I mean, mullets are awesome," Allen said. "Let's be honest, if I could grow one again without my hair falling out ... I'm balding rapidly fast. So when I'm bald, I'm going to have a skullet. That will be pretty funny. Like the cul-de-sac look, that will be cool. You've just got to have fun." A more mature Allen? Sure, but he'll always be having fun. Follow Brian Hall on Twitter.
Original Story:
http://www.foxsportsnorth.com/08/16/1...
THE BACKYARD
BEST OF MAXIM
RELATED ARTICLES
ROLL TIDE
How big of an Alabama fan is Zack Smartt? He was willing to endure 10.5 hours of a tattoo needle creating what could be considered one of the greatest Alabama Crimson Tide tats in Roll Tide history. This isn't your normal fan. "Roll Tide isn't a slogan, motto, or war cry… it's a way of life! ROLL TIDE FOR LIFE!!," Zack tell us. The tattoo, inked by Mike McMahon with...
Rookie safety Harrison Smith was one of two first round selections made by the Minnesota Vikings in the 2012 NFL draft.  He was a four year starter at Notre Dame and is looking to make an immediate impact in a very weak Vikings' secondary. Smith is a big safety as he is six foot two inches and 213 lbs.  However, he is a smart and athletic safety as well and will be vying...
MINNEAPOLIS On Friday night, Audie Cole sprinted 50 yards.Audie Cole never sprints 50 yards. Never in one game. Never that fast. Audie Cole is a linebacker. That is not his job.Cole's job is to stop. It's to reverse. It's to push and to hold. In the span of a game, Cole makes hundreds of tiny movements that barely register in the fluid progression of each play. He makes...
Defenders normally have a tough time getting a hand on Adrian Peterson, but at Minnesota Vikings training camp this season it's damn near impossible. Peterson, who has returned to practice less than eight months after suffering a season-ending ACL tear in his left knee, is viewed as the Vikings franchise player and apparently has been kept "off limits" thus far during...
Just in case you somehow have forgotten that Adrian Peterson is the most important player on the Minnesota Vikings' roster, Dan Wiederer of the Star Tribune has a reminder for you. As you know, Peterson is recovering from ACL and MCL surgery so it makes perfect sense that the Vikings would want to bring him along slowly. And it seems that the Vikings are taking extreme measures...
The Minnesota Vikings have decided to take advantage of a new NFL policy that makes it easier to keep home games on local television. The Vikings announced Thursday they'll reduce their target number by about 6,000 seats to 90 percent of Mall of America Field's capacity. The stadium fits in roughly 64,000 fans, and the same number of tickets will still be available for sale...
(Eds: APNewsNow. Will be updated. With AP Photos.) By DAVE CAMPBELL AP Sports Writer Christian Ponder is impatient. He only has 10 starts at quarterback for the Minnesota Vikings, and he's in charge this year of a young, rebuilding squad in a difficult division. Ponder says he wants to win now. He insists the Vikings don't have wait their turn, that they lost enough close...
Those who inhabit the Metrodome in the fall, packing the stadium in support of their hometown Vikings, have always been known as a passionate and rowdy bunch. After Friday night, that seems like an understatement. During the Vikings' preseason game against the Bills, several beat writers -- using everyone's favorite medium, Twitter -- led us on a first-hand account...
MANKATO, Minn. Jamaican sprinter Usain Bolt electrified the world last week when he became the first Olympian to win both the 100- and 200-meter dashes in consecutive Olympics. Now some are wondering whether Bolt could electrify NFL fans. At least one NFL special teams coach isn't going to doubt the fastest man in the world. Minnesota Vikings special teams coordinator Mike...
EA Sports released a video via their You Tube channel today promoting their Madden NFL 13 Pigskin Pro-Am powered by GameStop of course. The event will be televised on NBC on Sunday, August 26th at 7pm EST. It takes place at Grant Park in Chicago with the two captains being Donovan McNabb and Brett Favre. McNabb will be leading the Gamers while Favre leads the Famers.
You guys, it's another football game already! Can you believe it?Tonight, the Buffalo Bills travel south to warmer climates, and visit your Minnesota Vikings in Minneapolis, Minnesota, where the Vikings will play their first home game of the season, kind of technically, at the Metrodome. How will the crowd behave for the first home game of the year? Will there be hot dogs thrown...
Vikings News

Delivered to your inbox

You'll also receive Yardbarker's daily Top 10, featuring the best sports stories from around the web. Customize your newsletter to get articles on your favorite sports and teams. And the best part? It's free!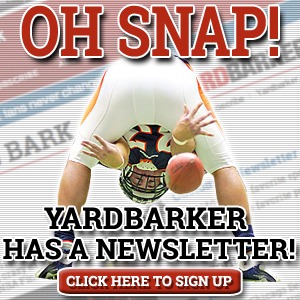 Latest Rumors
The Backyard

Today's Best Stuff

For Bloggers

Join the Yardbarker Network for more promotion, traffic, and money.

Company Info

Help

What is Yardbarker?

Yardbarker is the largest network of sports blogs and pro athlete blogs on the web. This site is the hub of the Yardbarker Network, where our editors and algorithms curate the best sports content from our network and beyond.