Found September 18, 2012 on The Bay Cave:
The hot topic around the NFL has been the final five seconds of the Tampa Bay Buccaneers and New York Giants' game this past Sunday. Everyone has debated and sounded off. Here are some of the analysts that have weighed in on the debate from several outlets across the nation. Source linked in parenthesis. NFL Network (here) Deion Sanders: "That's ignorant. That doesn't work." Marshall Faulk: "It's a mindset he (Schiano) is trying to instill in his players… If that's how you're going to play, you have to go to the other coach and say 'we're gonna play through the whistle'." NBC Sports (here) Mike Florio: "Spare me the unwritten rule. This is football. Be ready to block, be ready to talk." Rodney Harrison: "At the end of the day, I wouldn't do it. I agree with Tom Coughlin." ESPN Mike & Mike Radio Show (here) Mike Golic: "You can see the defense and what their intentions are. These guys were in four point stances. I don't know how as an offensive lineman say 'guys get ready'." Ron Jaworski: "There is no doubt Tom Coughlin owes Greg Schiano an apology for the way he reacted after the game… You play to the end of the game. There is no doubt they were coming off the ball." Mike Ditka: "I like Greg Schiano a lot, I really do… Hey, if you have pads, and a helmet and the game is not over, play." Chris Carter: "I understand both sides of the argument. I understand Greg Schiano. I believe it's good coaching. I don't believe it's dirty." Tim Hasselbeck: "Who cares man you're not at Rutgers anymore. That's not how you play." Antonio Pierce: "Five or six seconds left in the game, odds are you will win, but you never know. I have no problems with it." The NFL also chimed in by releasing a statement regarding the incident via NJ.com through their spokesman Greg Aiello: "There were no violations on the play or afterwards that would require follow up from our office." The afterwards portion of the above statement may not have been reviewed thoroughly. As it was published yesterday on TheBayCave.com, a video showed New York Giants' players unloading on the Bucs' defensive line players. At this point, both teams have their next opponents to focus on. However, this is a topic that will carry on for a while and as displayed above, have everyone in NFL circles commenting on it. (AP Photo) The post Analysts have weighed in on the Giants and Bucs debate appeared first on The Bay Cave.
Original Story:
http://www.thebaycave.com/2012/09/18/...
THE BACKYARD
BEST OF MAXIM
RELATED ARTICLES
Greg Schiano's Buccaneers wanted to play for 60 minutes on Sunday. Tom Coughlin's Giants were content with 59 minutes and 55 seconds, and thus we've got ourselves the first big coaching feud of 2012. Coughlin has two Super Bowl rings to his credit, while Schiano has two NFL games under his belt. In most instances, it's the elder statesman who deserves the benefit...
In every human, there is an almost unnatural need to prove yourself when you go back to the place you came from. Once you have left where you were and gone out to become something different, there is a craving in you to let people know about it.  This is likely the way Tampa Bay Buccaneers head coach Greg Schiano felt as he came back to face the New York Giants last Sunday. The...
Last week, the Tampa Bay Buccaneers had to insert Demar Dotson into the starting lineup at right tackle in place of the Jeremy Trueblood, who was nursing an ankle injury. Either Dotson played extremely well in the eyes of his coaches or Trueblood is still too injuried to play, because the Bucs announced to today on their new blog that the change at right tackle appears to be permanent...
New York Giants Hakeem Nicks was selected the NFC player of the week after his dominating performance against the Buccaneers with 10 catches for a career-high 199 yards and one touchdown.Nicks' 199 receiving yards were the highest for the Giants since Plaxico Burress had 204 yards against the Rams on Oct. 2, 2005. Nicks' total was the sixth-highest in franchise history. All the...
Jordan Shipley Gets Second Chance With Tampa Bay - Wide receiver Jordan Shipley is getting another chance with the Tampa Bay Buccaneers. Shipley, who played in two preseason games for the Bucs after he was waived by the Cincinnati Bengals in August but failed to make the 53-man roster, signed with Tampa Bay today. The 26-year old was a third-round draft pick of the Bengals in 2010...
According to Mike Garafolo of USA Today, New York Giants head coach Tom Coughlin confirmed that they believe right tackle David Diehl suffered an injury to his MCL. Coughlin confirms no ACL injury believed for Diehl. MCL thought to be the issue. If so, that's good news. — Mike Garafolo (@MikeGarafolo) September 17, 2012 The Giants are still waiting for results of Diehl's MRI...
What can Brown do for you? Well, when it comes to running back Andre Brown filling in for an injured Ahmad Bradshaw, he can tally 90 total yards and a game winning touchdown on 15 touches for the New York Giants. Going into Sunday's game against the Tampa Bay Buccaneers, Brown has amassed a grand total of -1 yards rushing on two carries in his NFL career. Not expecting much...
Lots of information and thoughts have been gathered for this one. Here are a few points to this edition of TheBayCave.com podcast. The Tampa Bay Lightning players are using their own money to workout at team facilities. With the regular season winding down, the Rays find themselves in a tough spot to get into the playoffs. The hot topic from the Bucs and Giants game was not...
The Giants and others in the media are complaining about the Buccaneers' behavior on the last play of Sunday's game, and I'm not really sure why. The Bucs were down 41-34 and had just given the ball to the Giants after an interception by Josh Freeman. Sure they were upset about blowing a 27-13 lead and then turning the ball over in the final minute, but the game wasn't...
We escaped Monday Night with a win thanks to our Monday Night teaser special with the Broncos (+10) & Over 44. My initial gut feeling was to be all over the Falcons (-3), but there was lots of chatter of a Peyton Manning outright win, so I figured, there's no way Peyton will lose by double digits on Monday Night, right? Well, he almost did, but we got the cover with our teaser...
NFL News

Delivered to your inbox

You'll also receive Yardbarker's daily Top 10, featuring the best sports stories from around the web. Customize your newsletter to get articles on your favorite sports and teams. And the best part? It's free!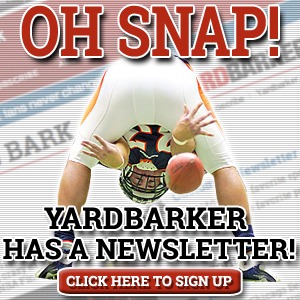 Latest Rumors
Best of Yardbarker

Today's Best Stuff

For Bloggers

Join the Yardbarker Network for more promotion, traffic, and money.

Company Info

Help

What is Yardbarker?

Yardbarker is the largest network of sports blogs and pro athlete blogs on the web. This site is the hub of the Yardbarker Network, where our editors and algorithms curate the best sports content from our network and beyond.