Found September 11, 2012 on Fox Sports Southwest:
PLAYERS:
Jason Witten
,
Colin Cochart
,
Lance Dunbar
,
David Arkin
,
Ryan Cook
,
Jason Garrett
,
Danny McCray
,
Phillip Tanner
,
Mana Silva
,
Alex Albright
,
Brian Vickers
,
James Hanna
,
Dwayne Harris
,
Barry Church
,
Victor Butler
,
Tyrone Crawford
,
Kyle Orton
,
Derrick Dockery
,
Cole Beasley
,
Leon Washington
TEAMS:
Dallas Cowboys
,
Seattle Seahawks
With an extra few days to work with, let's spend one morning pondering the building of the roster from a game-day perspective. Not only must a team decide how it is going to work its way down to the 53 players that they exclusively own, but they must also then sort through the injuries, match-ups, and game plan to determine which 46 they bring to the sideline on Sunday. Sometimes, this works itself out, as injuries help determine your limited choices. Such was the case on Wednesday night, as Dallas had the following inactives: Week1234567 Wk 1 @ NYGRatliffJohnsonMcCrayJenkinsWilberArkinCochartHTML TablesThe first five players were inactive due to injuries. They pretty much determined the situation for team by their inability to practice. Jason Witten was the wildcard, and because of his recovery skills, Colin Cochart was deactivated. There was talk that he might be released for Lance Dunbar at the last second, but Dallas opted out of that option around noon of gameday we are to understand. That left David Arkin or Ryan Cook as the final player active, and by now we know that Arkin was deactivated for the 17th time in 17 games, whereas Cook, just in Dallas for four days, was a hero of sorts and may now hold the starting center position for the team. It is helpful to print up a copy of the most recent Cowboys' depth chart each week so that you can cross off the names of the inactives and then glance at what remains. The coaching staff must then have an idea of what their plan will be if someone gets hurt and how they will spread the 46 players ever so thinly. Since you only need 11 at a time, it seems easy enough, but for coaches, it never is. About a month ago, we spent a full column on examining the way a roster works on game day and how it all fits together. I would invite you to read that if for a better understanding of what all of this means as we look at what Jason Garrett and Joe DeCamillis deal with when they are trying to build their special teams in a way that they insure that they have it covered and it is good enough to hold up against a good return man all game long. The injury that certainly wasn't discussed much in the press, but was a major issue on special teams was Danny McCray. He is a special teams guy at the top of the list, and trust me, they are happy he is available for Seattle this week. But, without McCray, I wanted to get a good look at the special teams for Week 1. And show you how the units all deployed for their first appearance of the season: PUNT COVER TEAM - Click on any photo to enlarge Looking at these units in picture and then on the roster, take note of the "type" of player that NFL teams use in each scenario. They need players who are fast, but also difficult to block. You don't want fast and frail. You want fast and stout. Tight Ends, Linebackers, Safeties, and Running Backs are ideal. Little WRs or CBs are not as ideal on special teams in most cases. OL and DL are not fast enough. You are trying to strike a balance between speed and strength that matches up well with your opponent. Punt Cover Team6C Jones15Holmes34P Tanner36M Silva42B Church47B Vickers52D Conner54B Carter55A Albright89J Phillips91LP LadocuerHTML Tables PUNT RETURN TEAM Return team personnel is slightly different, in that you want speedy return men. But, otherwise, it is back to TE, LB, RB, S as blockers in most cases. Punt Return Team15Holmes17D Harris31M Butler32O Scandrick34P Tanner36M Silva52D Conner55A Albright70T Crawford84J Hanna88D BryantHTML Tables KICKOFF COVER TEAM Kick Cover Team5D Bailey15Holmes34P Tanner36M Silva42B Church43G Sensabaugh47B Vickers52D Conner55A Albright57V Butler84J HannaHTML Tables KICKOFF RETURN TEAM Kick Return Team15Holmes17D Harris28F Jones34P Tanner36M Silva47B Vickers52D Conner55A Albright57V Butler70T Crawford84J HannaHTML TablesNow that you have examined the 4 different special teams (we don't spend much time on FG units, as those are generally the jumbo personnel package, plus a kicker, holder, and long snapper), you can then look up and down the roster to see what is left. Look at the most valuable special teams players: Andre Holmes played on all 4 units along with Phillip Tanner, Mana Silva, Dan Conner, and Alex Albright. Players who played on 3 units included Brian Vickers and James Hanna. These 7 players are what you would call the spine of the special teams, and they appear to be automatic jerseys on game-day for just this reason. You want a chemistry on your return and cover teams, and you will never get all 11 to stay together. But, if you can build a unit of 7, then the other 4 can interchange without giving everyone indigestion. Dwayne Harris, Barry Church, Victor Butler, and Tyrone Crawford were all on 2 units, although I would assume that Church is only there because McCray was not. The Cowboys like to use their safeties on the cover teams, but it seems Silva and McCray may allow them the luxury of telling Church to focus on defense. Kyle Orton, Derrick Dockery, and Cole Beasley appear to be the players used the least. Orton, of course, only plays if Romo is hurt. Beyond that, if we see Ratliff and McCray returning, it is reasonable to assume that Beasley and a DL (Spears or Crawford) will not be active in Seattle. Crawford played just 3 snaps, but was on a few special teams units. Beasley played 4 snaps but was not on any special teams. With Ogletree doing what he did as the 3rd WR, it would seem Cole might be the odd man out when players get healthy, unless they want him to return kicks or punts. Dockery is going to be interesting, because teams always try to dress 7-8 offensive lineman. So, you have 5 starters, a swing tackle, and a swing interior man. But, in the Cowboys case, assuming Costa is not ready, they will dress Parnell and maybe two more on the inside. Arkin could be your backup center if Cook gets hurt, and Dockery your backup guard. Or, you could have Dockery backup the 3 inside spots, knowing that if Cook gets hurt, you might ask Bernadeau to be your emergency center, and have Dockery take his spot on the inside. Either way, the Cowboys don't want anymore center issues. But, regardless of this situation, the only thing that impacts special teams is whether they dress 7 or 8. If they dress 8, than DeCamiillis gets one fewer special teams player on the 46, because OL do almost nothing on kick or cover teams (as you can see above). Again, these decisions are greatly impacted by injuries, and it is too early in the week to have a good feel for what to expect on Sunday in Seattle. But, as you read this, you can bet DeCamillis is in a film room watching Leon Washington return kicks and punts against Arizona from Week 1, while reaching for Pepto Bismol.
Original Story:
http://www.foxsportssouthwest.com/09/...
THE BACKYARD
BEST OF MAXIM
RELATED ARTICLES
Written by Fantasy Furnace   It was great having football back last weekend! Drafts are over and the craziness that was week #1 is now in the books. Now comes the hard part. Deciding which of the several breakout stars of week 1 to grab or just leave alone. However, the pickups made before week 2 are usually the most important for grabbing potential studs. Study carefully...
You have probably already made your mind up about Dallas Cowboys starting QB, Tony Romo. He is usually one of three things to NFL fans: He is a very good quarterback who probably won't win the Big One (remember when people said this about a certain pair of Manning brothers?), or that he is an [...]
Dallas Cowboys left tackle Tyron Smith has been fined $15,000 by the NFL for his horse-collar tackle that prevented a touchdown on an interception return in the season-opening win over the Giants. When asked Wednesday if it was money well spent, Smith said it was, because the play helped his team. He said he wasn't asking for any help from his teammates to pay the fine. Early...
Over the years, there have been a lot of stories coming out about players wasting money. Whether it's Dez Bryant and his exorbitant jewelry bills, or Adam "Pacman" Jones raining down 100 dollar bills at strip clubs, the stories are mind-boggling. Especially to the rest of us who spend our days working hard to earn a mere fraction of the paycheck that professional athletes...
Previously on Outside the Boxscore, we featured a video of Dallas Cowboys owner Jerry Jones getting his glasses cleaned by his son-in-law, Shy Anderson. Well, it looks like that Jerry got the joke and has decided to cash in on the humor of it all. The Cowboys will start selling Jerry Wipes to help clean your glasses, seriously...this is real: After days of ribbing about...
According to Todd Archer of ESPNDallas.com, even though Cowboys tight end Jason Witten played in last week's opener against the Giants, it doesn't mean he's in the clear just yet. "Even though Jason Witten played in last week's regular-season opener at the New York Giants 23 days after suffering a lacerated spleen does not mean the seven-time Pro Bowl tight end is 100 percent...
Tight end Colin Cochart was waived by the Cowboys. Cochart was claimed on waivers from the Bengals on Sept. 1 and kept on the 53-man roster in case tight end Jason Witten couldn't play in the opener at New York. Cochart wasn't needed because Witten played, and he didn't travel with the team to New Jersey. The Cowboys did not make a corresponding move to fill the...
An embarrassing moment on national television for Shy Anderson might end up with him getting the last laugh. After NBC cameras caught the son-in-law of Dallas Cowboys Jerry Jones cleaning Jones' eyeglasses in the owner's suite in New York during the teams games against the Giants, Anderson quickly became a viral joke by the next morning. Everyone wanted to know who Jerry...
Ridge High (Basking Ridge, N.J.) class of 2014 quarterback Connor Hughes camped at Rutgers and Penn State over the summer and was invited to a game in State College, Pa. He is also hearing from several other BCS schools and he spoke to FOXSportsNEXT about his recruitment.
Dallas – Momentum:  No team needs a better start to their season than Dallas, and no player needs a better first few weeks than Cowboys quarterback Tony Romo.  Every week 1 game for Romo is like starting a new diet or fighting adolescent acne…it needs to go well early for him, or it's not going to go at all.  Not to overstate a single win, but that divisional victory over...
NFL News

Delivered to your inbox

You'll also receive Yardbarker's daily Top 10, featuring the best sports stories from around the web. Customize your newsletter to get articles on your favorite sports and teams. And the best part? It's free!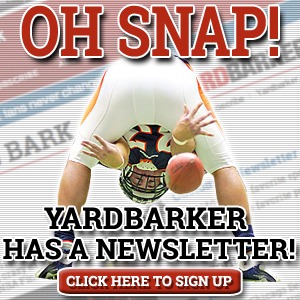 Latest Rumors
The Backyard

Today's Best Stuff

For Bloggers

Join the Yardbarker Network for more promotion, traffic, and money.

Company Info

Help

What is Yardbarker?

Yardbarker is the largest network of sports blogs and pro athlete blogs on the web. This site is the hub of the Yardbarker Network, where our editors and algorithms curate the best sports content from our network and beyond.