Found January 04, 2013 on Grits Blitz:
Asante Samuel is arguably the best cornerback in the NFL when it comes to jumping routes and picking off throws. He notched his 50th career interception this past Sunday against Josh Freeman and the Tampa Bay Buccaneers when he jumped a deep inside route that Tiquan Underwood was running. Underwood is lined up wide right with another Tampa receiver in the slot. The Falcons are showing a blitz package with their linebackers but are actually playing a form of cover two where all but two linebackers will drop back into coverage and both safeties will drop deep. The difference here is that the two outside cornerbacks won't stick directly to the flats instead they'll play zones along the sideline. Underwood is going to run a deep in route to try and find the soft spot in the zone between the linebackers and safeties while the slot receiver is running a basic streak route down the seam. There wasn't a huge blitz coming like Tampa expected as the Falcons only send five men. Meanwhile Tampa has seven men in the backfield to protect which really isn't enough as a Falcons player ends up matched up one on one on the edge with a tackle and gets a step on him and a DT also starts breaking through when Kroy Biermann stunts back into the inside. The other bad part for Tampa is that Josh Freeman is about to throw into an area where there's four defenders and only two receivers. Underwood's route doesn't go as planned as the LB completes his drop right into the middle of the path of the route. Seeing this Freeman tries to throw it behind Underwood in hopes that the WR will turn back towards the ball. Asante reads this like a children's novel and immediately begins to make his move. Asante makes his break on the route as Freeman begins his throw. With pressure coming in from behind and in front of him, Freeman can either throw the ball or pull it down and take a sack. He decides to throw it and by the time he does Asante has the route jumped and grabs the ball for an easy INT which gave him #50 for his career. The next part of this play is Asante trying to make an unsuccessful house call once he has the ball. Asante has a clear path to the end zone if he can make just one defender miss in the open field. Despite putting on his best juke move, the Tampa player manages to bring Asante down. Another aspect of this play to look at is how the Atlanta defenders are setting up a blocking convoy to try and escort Asante to the end-zone. You can see two Atlanta defenders behind Asante and 3 more who are trying to get out in front of him. It's obvious the Falcons have practiced this drill many times as everyone immediately knows what to do when they hear "Oski" called out. Plays like this are a result of veteran instincts, great play-calling, and great coaching. While Mike Smith and his coordinators made several questionable personnel decisions during the game, they also did a great job in game planning so that they could get a call like this that would confuse the Bucs and give Asante an opportunity to get another interception. If you enjoyed this "anatomy of a play" make sure you check out the break down of Matt Ryan's 44 yard pass to Roddy White against the Detroit Lions. Follow Zach on Twitter @GBBZach.
Original Story:
http://www.gritsblitz.com/2013-articl...
THE BACKYARD
BEST OF MAXIM
RELATED ARTICLES
The final three performances of the regular season were enough to convince Buccaneers coach Greg Schiano to pull out the yellow card on his auspicious quarterback. Regardless of his decent statistics (27 touchdowns, 17 interceptions), Josh Freeman mishandled more than his team's playoff chances down the stretch, tossing 9 ducks against the Saints, Rams, and Falcons."What I can...
FLOWERY BRANCH, Ga.-- When the Atlanta Falcons take the field a week from Sunday in search of their first playoff victory in head coach Mike Smiths five seasons, at least one player will be competing with a heavy heart. Smith announced on Friday that four-time Pro-Bowler and two-time Super Bowl champion Asante Samuel was not at practice all week because his mother Christine had...
  In NZ's version of "Come on Man!" We came across this story posted by the Atlanta Journal Constitution. On Tuesday, the mother of Atlanta Falcon's cornerback Asante Samuel passed away. The AJC reported that Samuel had left the team to be with his family this week. Unfortunately, when they posted the story it was [...]
When the Falcons next take the field, they'll be doing so with heavy hearts. According to the Atlanta Journal-Constitution, Asante Samuel's mother, Christine, passed away Tuesday morning. The four-time Pro Bowl cornerback told the paper in October that she had long been battling an illness -- Lou Gehrig's disease. He missed practice this week to be with his family...
Aside from Josh Freeman's struggles, the next most talked about topic regarding the Bucs has been the status of cornerback Eric Wright. From signing a big free agent contract this offseason to being suspended, Wright may have already seen his last game in pewter.  Mark Cook of Pewter Report writes that the Bucs will release him before the start of OTAs in April. In the article...
The 2012 Bucs season was somewhat of an emotional roller coaster. With lots of excitement came as much disappointment. From coaching changes to a streak of bad interceptions, Bucs fans submitted their best and worst moments of 2012 via email and Twitter.  The following moments are ranked in order of the number of emails and Twitter mentions it received. Worst 1. Mike Williams no...
NFL News

Delivered to your inbox

You'll also receive Yardbarker's daily Top 10, featuring the best sports stories from around the web. Customize your newsletter to get articles on your favorite sports and teams. And the best part? It's free!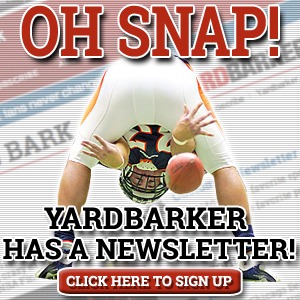 Latest Rumors
Best of Yardbarker

Today's Best Stuff

For Bloggers

Join the Yardbarker Network for more promotion, traffic, and money.

Company Info

Help

What is Yardbarker?

Yardbarker is the largest network of sports blogs and pro athlete blogs on the web. This site is the hub of the Yardbarker Network, where our editors and algorithms curate the best sports content from our network and beyond.