Found December 02, 2011 on Giants Kickoff:
PLAYERS:
Andy Reid
,
Michael Vick
,
Nnamdi Asomugha
,
Vince Young
,
Donovan McNabb
,
Brian Westbrook
,
Terrell Owens
,
Brian Dawkins
,
Duce Staley
,
Jeff Garcia
,
Kevin Kolb
,
Steve Smith
,
DeSean Jackson
TEAMS:
Philadelphia Eagles
,
Seattle Seahawks
,
Minnesota Vikings
,
San Francisco 49ers
,
Cincinnati Bengals
,
Denver Broncos
,
Arizona Cardinals
,
Washington Redskins
,
Atlanta Falcons
,
New England Patriots
Stop the hype time to admit Andy Reid and the Philadelphia Eagles are an over hyped dysfunctional organization. I'm not basing my comments on just the 2011 season either, they have been dysfunctional for years.
Winning seasons have masked many failures for coach Andy Reid and the Eagles. I read and listen to comments about how great an organization Philadelphia has been, how great their coach is and how perfect a place it is for free agents and players in general.
Michael Vick, Nnamdi Asomugha and Vince Young were the latest players to fall into the grasp of the over hyped Eagles. But what has this organization accomplished under Reid's tenure? Since 1999 they have won 1 NFC East Championship which ended in a Super Bowl XXXIX loss to the New England Patriots. The greatness of this team and coach are a myth perpetuated by the media and fanatics.
Coach Andy Reid and Eagles Organization Are Under Achievers
Coach Andy Reid has certainly won a fair share of games and has an impressive regular season record of 122-81. Yet with all this success this team has only had one truly significant win under this coach and it wasn't even a Super Bowl win. The Eagles playoff record under Reid is 10-9 and the so called "Dream Team" will not improve on that record in 2011 as they just lost week 13 against the Seattle Seahawks to bring their current record to 4-8.
Talent has not been an issue for Philadelphia in the last decade. They have always had talented players such as Donovan McNabb, Brian Westbrook, Terrell Owens, Brian Dawkins, Duce Staley just to name a few. The problem has been the lack of chemistry and the decision making of both Andy Reid and the Eagles Organization.
They consistently make mistakes when signing players and seem to disregard team unity and chemistry.
Decisions Which Have Hurt The Philadelphia Eagles
Andy Reid and the Eagles have made many peculiar moves in the last decade, here is a small sampling of the most notable ones.
In 2004 they acquired WR Terrell Owens, a talented player without a doubt who came with a ton of baggage. He played well and seem to get along with McNabb and then he unraveled. As soon as things got tough he threw his QB under the bus just like he had done in San Francisco with Jeff Garcia. Philadelphia knew exactly what they were getting when they traded for him but decided to do it anyway.
In 2007 they draft QB Kevin Kolb, the so called quarterback of the future. Without a doubt Andy Reid knew this would upset Donovan McNabb but apparently they wanted to start preparing for the future and could care less what their current QB thought.
Nothing but positive comments were made by Reid and others in the organization about Kolb. NFL analysts thought he was ready to start in 2009 if need be because he was so talented and grasped the system so well. So what do the Eagles do next?
In 2009 they sign QB and ex con Michael Vick! Now they have 3 quarterbacks on their roster which upsets McNabb even more and creates confusion and rifts within the team.
In 2010 they decide to trade Donovan and put their money on Kevin Kolb who they have been grooming for almost  3 years. They trade McNabb to an NFC East rival Washington Redskins which is a slap in the face to their former loyal quarterback who by the way was a "company man". Classy move on their part.
Kolb starts the 2010 season and gets injured. Vick takes over and plays well so the Eagles decide to get rid of the so called "quarterback of the future" and go with "Mr. Right Now". They give up on a young QB who they have been grooming to their specific system and go with a 30 year old QB who was notoriously lazy with the Atlanta Falcons. To top it off they sign him to a long term contract with just a one year sampling. Now it is evident that Michael Vick is Overrated and not worth $80 Million, too late!
In 2011 the Philadelphia Eagles go crazy signing the most sought after free agents on the market and even some roll players like ex Giants WR Steve Smith. Meanwhile talented WR Desean Jackson is ignored, a player who can provide an instant 6 points every time he touches the ball. They also completely fail to address some of their glaring needs such as linebackers and an offensive line to protect their glorified running back who poses as a quarterback in Michael Vick.
Andy Reid and the Eagles Outsmart Themselves
While other organizations were busy building competitive teams and addressing needs the Eagles were busy outsmarting themselves. They thought acquiring all these free agents and having Michael Vick as their Quarterback would take them to the promise land. Now they find themselves with a record of 4-8, a QB who clearly has reverted to his old ways and a fan base asking for heads to roll.
I'm not sure why everyone is so surprised about the current state of this team, it's not like Andy Reid and the Eagles organization have a track record of greatness, they are a dysfunctional bunch!
Original Story:
http://giantskickoff.com/2011/12/02/a...
THE BACKYARD
BEST OF MAXIM
RELATED ARTICLES
Maybe Andy Reid thinks it is in his best interest to defend his players while he is coaching for his job, but who is he trying to fool? Earlier today we told you about DeSean Jackson's antics after Thursday night's game against the Seahawks. Anyone who was watching the game knows Jackson gave up and [...]
10) It's not as if the owners care about the fans, since the stadium keeps filling9) The national media keeps fluffing him as a great coach, despite an ever-increasing amount of evidence to the contrary8) They, like Reid, hate linebackers, safetys, running plays, and unwasted timeouts7) Knows that the organization only really cares about being competitive in an overrated division6...
After last night's loss to the Seattle Seahawks, its looks like Reid has lost control of the Eagles. He's had his fair share of chances and it tenure has run its course. He has to do a better job yet never does. He hired former Offensive Line Coach Juan Castillo to run his defense. What is he doing? But who will replace the most successful coach in the history of the franchise...
Audio of the always entertaining Andy Reid press conference after the jump.  
Despite this season clearly being Andy Reid's worst as the head coach of the Philadelphia Eagles, he'll almost certainly be back in the city of brotherly love in 2012. According to Dan Pompei of the National Football Post, the only way Reid won't be back in Philadelphia next season, is if he's asked to make [...]
The Philadelphia Eagles have often performed their best in December under Andy Reid. The expected Super Bowl contenders will be hoping that trend continues, as they enter the month with their playoff hopes hanging by a thread heading into a critical Thursday night tussle with the Seattle Seahawks from CenturyLink Field.
To hear Eagles coach Andy Reid tell it, when it comes to DeSean Jackson, the NFL Network is guilty of trick photography. After...
Amidst the multitude of struggles that have defined the 2011 Philadelphia Eagles, the ineptitude at the safety position has emerged as a serious challenger to the linebacker corps for the honor of the biggest weakness on this team. During the Andy Reid tenure, the linebacker corps has been an annual revolving door of incompetent player after incompetent player.  After 13 years...
In case you have been under a rock, a growing issue in the city has been Andy Reid's play calling, especially when it comes to giving carries to LeSean McCoy. People have called radio stations about it. They have written about it. And yes, they have even made t-shirts about it. While their is no question that McCoy needs to see the ball more, an issue that no one has been talking...
On Tuesday, the Jacksonville Jaguars fired longtime coach Jack Del Rio, which really wasn't a surprise around league circles. It will also not be surprising, when the Eagles (with or without Andy Reid) let go the project that was Juan Castillo as Defensive Coordinator. Castillo just has looked bewildered and confused most of the time, [...]
NFL News

Delivered to your inbox

You'll also receive Yardbarker's daily Top 10, featuring the best sports stories from around the web. Customize your newsletter to get articles on your favorite sports and teams. And the best part? It's free!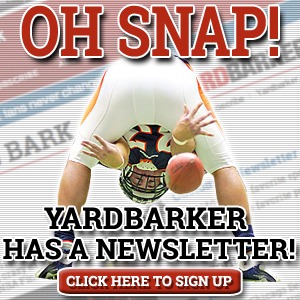 Latest Rumors
Best of Yardbarker

Today's Best Stuff

For Bloggers

Join the Yardbarker Network for more promotion, traffic, and money.

Company Info

Help

What is Yardbarker?

Yardbarker is the largest network of sports blogs and pro athlete blogs on the web. This site is the hub of the Yardbarker Network, where our editors and algorithms curate the best sports content from our network and beyond.