Found June 06, 2013 on Pro Football Zone:
Chiefs head coach Andy Reid told the Kansas City Star that he wants Alex Smith to be more aggressive with his throws this season. "You want to get a feel for the offense now, particularly when you're new at it (and) if there are close throws, challenge it, see what you can get away with," Reid said. "If it ends up being an interception, OK, it's an interception. You learn from it. These are smart guys so they learn from it and once they get into the season, they're not experimenting with it on game day and they know what they can get away with and know what they can't. "It's a new offense. I would tell any quarterback that comes in new that that's what you need to do. I've told them all that. Go ahead and take your shots and see what you can get away with, within reason. But if it's a close throw, there are going to be a few of those in the National Football League on game day so you need to know what you can get away with on each route." Smtih said they threw a lot of deep balls in practice this week to test things out. "We're just kind of continuing to press to see what we can do … finding out what we're capable of," Smith said. "You've got to find that out at some point. This is what the practice field is for." Smith doesn't plan on throwing a large number of deep passes right away. "You want to stay aggressive," Smith said. "But in the end I'm always trying to make the right read and throw where the defense is telling me to throw. You don't come out here and predetermine anything, like 'Oh, I'm going to chuck it deep on this play.' I'm constantly trying to just trust my eyes and what I'm seeing out there, trust my reads and what I've prepared for and then come out here and throw good balls." Need NFL Tickets? The post Andy Reid wants Alex Smith to be more aggressive appeared first on Pro Football Zone.
Original Story:
http://feedproxy.google.com/~r/ProFoo...
THE BACKYARD
BEST OF MAXIM
RELATED ARTICLES
We're all suckers for a steal on fantasy draft day. We scroll through pages of stats, looking for that diamond in the rough everyone else is going to miss. Sometimes we get him and he makes all the difference in the world on our fantasy roster. Sometimes we reach and our guy fails, leading to season-long ridicule from league-mates who are all too quick and happy to remind you of...
OTAs are all about finding out what a player can and can't do and coach Andy Reid wants to know if Alex Smith can air it out. It's no secret that Reid likes the deep passing game, his west coast offense works the short range passes, but it's all about taking shots downfield. Smith was a so called 'game manager' in San Francisco, but in Kansas City it's a whole new...
Being a head coach and general manager is a tough job even the best coaches fail at. Bill Belichick is one of the few who make it look easy, but it's not. Andy Reid while in Philadelphia ran the entire show, but in the end things snowballed to a point where both Reid and the Eagles had to hit the reset button. Personnel decisions are complicated matters; it's not just about...
It's a good thing that Clark Hunt likes the changes that were made with the Kansas City Chiefs this offseason.The owner of the ball club overhauled many management positions, including head coach and has brought in new players to a roster that although boasted a 2-14 record, was represented in the Pro Bowl by five starters.Somehow that seems impossible to fathom.This is a new look...
John Dorsey had a vision for what the Kansas City Chiefs should look like when the longtime Packers personnel man was hired as their general manager in January. After nearly 50 roster moves and a month of offseason workouts under new coach Andy Reid, all designed to change the culture of a 2-14 franchise, that vision is slowly becoming a reality. With a new quarterback in Alex...
KANSAS CITY, Mo. Did you hear the one about the time Dwayne Bowe rolled with Charlie Sheen? Bowe runs with a fast crowd in the offseason. But even he was surprised when he turned up to a commercial set earlier this year to find actors Sheen, Keana Texeria and Tyson Ritter living it up. I thought it was a photo shoot, Bowe said Wednesday after wrapping up his second day at the...
In the 2012 season, the Kansas City Chiefs finished 2-14, which was the worst record in the NFL. Consequently, the Chiefs parted ways with general manager Scott Pioli and replaced him with John Dorsey, while Andy Reid became the new head coach. The Chiefs also made some key offseason acquisitions that will improve their team. The addition of Alex Smith (QB) via free agency and the...
KANSAS CITY, Mo. So he runs. He runs for Joe, wherever the hell he is. Probably under that same tree, in Washington Park, casting aspersions at the skies above. Or inside the gazebo, if it looks like rain. "Every time I get to Cincinnati, I've got to make sure I stop by the park and see if I can catch Joe there," Mardy Gilyard chuckles. "He might be out running...
KANSAS CITY, Mo. And then, just like that, it was over. The Kansas City Chiefs packed up their things Thursday, signed one another's playbooks, and traded tearful hugs. They vowed to write every week, even the slow ones. Andy Reid had somebody pump "(I've Had) The Time Of My Life" over those ginormous loudspeakers outside the University of Kansas Hospital Training...
Kansas City running back Jamaal Charles believes his role will evolve in the Chiefs' offense next season. With Andy Reid at the helm, Charles thinks he will be much more involved in the passing game. "I know my role in my mind will be doing lots of stuff with the offense," Charles said. "I'm like (Brian) Westbrook and (LeSean) McCoy as far as how I fit into (Reid's) offense...
KANSAS CITY, Mo. Rachel Wray won't lie: She's itching for a fight. And this weekend, the former Kansas City Chiefs cheerleader-turned-mixed-martial-artist plans on picking more than a few. "I'm waiting for my fight to get scheduled, still," notes Wray, who says she's registered to compete in Saturday's Mid-America Open, an American Grappling Federation...
Chiefs News

Delivered to your inbox

You'll also receive Yardbarker's daily Top 10, featuring the best sports stories from around the web. Customize your newsletter to get articles on your favorite sports and teams. And the best part? It's free!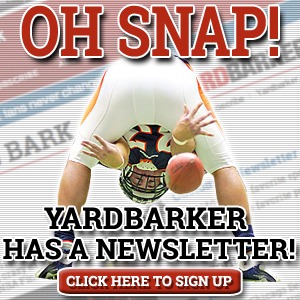 Latest Rumors
Best of Yardbarker

Today's Best Stuff

For Bloggers

Join the Yardbarker Network for more promotion, traffic, and money.

Company Info

Help

What is Yardbarker?

Yardbarker is the largest network of sports blogs and pro athlete blogs on the web. This site is the hub of the Yardbarker Network, where our editors and algorithms curate the best sports content from our network and beyond.