For the 68th straight year -- 73rd overall -- the Detroit Lions will play at home on Thanksgiving Day, this time against the Houston Texans. Here are five storylines to watch for in Thursdays game: Kicker Jason Hanson has been around here for 20 of these Thanksgiving games. His first was in 1992, also against Houston ... but that was the Houston Oilers, not the Texans. The Lions are 7-13 overall during Hansons time. Its worse for center Dominic Raiola. The Lions are 1-10 on Turkey Day during his career. When you lose games on Thanksgiving, theres nothing good you can take from them, Raiola said. Its disheartening. The Lions (33-37-2 overall on Thanksgiving) have lost the last eight by an average margin of 21.5 points. The biggest thing about Thanksgiving is just that its larger than the team were throwing out there each year, Hanson said. Its a tradition of the community. Its special. Its time to win one. With Nate Burleson out for the season with a broken leg and Titus Young inactive for at least one game for disciplinary reasons, the Lions are missing two of their top three receivers. The next men up are Ryan Broyles, Mike Thomas and Brian Robiskie. Broyles was a second-round pick last April. Thomas was acquired in a trade with Jacksonville on Oct. 31. Robiskie was signed on Oct. 24 after being released by Jacksonville in September. Broyles has 15 receptions for 181 yards and two touchdowns. In the last three games, hes caught all nine passes thrown to him. Every time I throw him the ball, he makes a play, quarterback Matthew Stafford said. Maybe I should throw it to him some more. Thomas has no catches and one rushing attempt for six yards in three games since joining the Lions. Robiskie played in one game (no receptions) after coming to Detroit, but hes been inactive the last three. While the Lions keep hoping Young will grow up, defensive tackle Nick Fairley appears to be doing just that right before their eyes. Fairley, a first-round pick in 2011, was arrested twice during the offseason. On the field, no one questions his ability, but he had been terribly inconsistent. That started changing a couple weeks ago and was never more apparent than against Green Bay last Sunday, when Fairley had seven tackles, including two sacks. I dont think theres any doubt it was his best game, coach Jim Schwartz said. Hes maturing as a player. Hes maturing as a person. Hes been a guy that the defense can count on. Veteran defensive end Kyle Vanden Bosch added: "Nicks a great example to younger players, especially going through adversity. "It seems like the light just clicks when they can see they have a good week of preparation ... and then it carries over to Sunday. They see how it all goes hand in hand. "Maybe about three or four weeks ago, he had his best week in practice and then played well. Its carried over every week since then." What remains to be seen is whether this is a short spurt of motivation. Or is this really the new Nick Fairley? Houston defensive lineman J.J. Watt is the first player in the NFL with double-digit sacks and passes defensed in a season since 2007. He has 11 12 sacks and has deflected 11 passes in 10 games. Theres a lot of guys that knock down passes, and generally theyre big slugs, Schwartz said. They cant get a good pass rush, so they just stand there and knock the passes down. Watt, who is 6-foot-5, 295 pounds, certainly doesnt fit that stereotype. He's a freak who can do both. He does it on his way to the quarterback, Schwartz said. Hes got good vision with being able to get his hands up and knock those balls down. Watt spent his first year of college as a tight end at Central Michigan, making eight catches for 77 yards in 2007. But he became disgruntled, left school, started delivering pizzas and eventually walked on the team at Wisconsin. Now, because of all those pass deflections, hes known as J.J. Swat, one of the leading candidates for the NFLs Defensive Player of the Year. Sometimes little things add up to big things. For the Lions, the hidden yardage is leading to poor field position at times, which eventually is catching up to them on the scoreboard. Punter Nick Harris has been getting terrible distance on his punts. He ranks No. 32 in punting average (41.1 yards) and No. 29 in net average (37). Meanwhile, some punts that weren't caught by return specialist Stefan Logan rolled deeper into Detroit territory. For those reasons and others, the Lions have been losing the battle of field position. In the last two games, Green Bay and Minnesota combined to start a drive in Detroit territory seven times, and the Lions never started on the opponent's side. Its forcing the offense to go the length of the field, more often than not, to score. Of their 25 touchdowns this year, 17 have been on drives of at least 80 yards, including 10 of 13 over the last four games. Harris and Logan are two guys who could help flip that and give both the offense and defense consistently better field position to do their jobs.
Original Story:
http://www.foxsportsdetroit.com/11/21...
MORE FROM YARDBARKER
NFL News

Delivered to your inbox

You'll also receive Yardbarker's daily Top 10, featuring the best sports stories from around the web. Customize your newsletter to get articles on your favorite sports and teams. And the best part? It's free!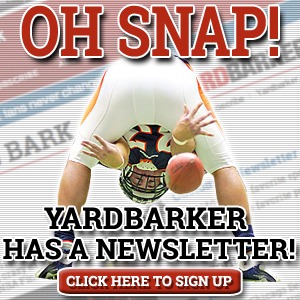 Latest Rumors
Best of Yardbarker

Today's Best Stuff

For Bloggers

Join the Yardbarker Network for more promotion, traffic, and money.

Company Info

Help

What is Yardbarker?

Yardbarker is the largest network of sports blogs and pro athlete blogs on the web. This site is the hub of the Yardbarker Network, where our editors and algorithms curate the best sports content from our network and beyond.