Found June 08, 2013 on NFL Draft Zone:
Usually when you look at college football players, they were major standouts in the game their entire life.  Well my next interviewee didn't play football his entire life; he didn't start playing football until his senior year in high school. Jamaal Johnson-Webb was not really involved in sports, until one day he was approached by the football coach, and asked why he didn't play a sport?  Jamaal Johnson-Webb would have stood out in a high school atmosphere, not because of his dazzling good looks, but because he is a mammoth.  "Dub" stands 6'5 and weighs 300 plus pounds, so it was easy to understand where his coach was coming from. Jamaal is not a slouch by any means and loves a challenge, and because he listened to his coaches he was blessed with a better education. "I remember the coaching staff asking me why I didn't play football.  They would tell me they could use me, I guess I was slacking when it came to sports in high school." – Jamaal Johnson-Webb It was that same coaching staff that made a difference in Jamaal's life, in more than one way.  Jamaal Johnson-Webb was born and raised in Atlanta, Georgia, and played high school for Mundy's Mill High School.  When Jamaal was offered a chance to play for the high school team he couldn't really pass it up. He understood it was going to take a lot of preparation, and was willing to take on any, and all challenges.  As a first year football player at the high school level, he would have to immediately become a student of the game.  It wasn't like he didn't know about football. Jamaal is a big time fan of the Atlanta Falcons aka "The Dirty Birds". "I remember growing up and watching Michael Vick. He was such a great athlete, and was always one of my favorite players.  He was a favorite of mine because of his skills on the field, and how he led the Falcons team to the playoffs. He was a leader for Atlanta."  - Jamaal Johnson-Webb Jamaal Johnson-Webb understood the game but really was still green when it came to the play calling, and assignments part. That is where his coaching staff would play their first major role in his life.  Mundy's Mill coach Charles Bush was given the assignment of working with Jamaal his senior year and creating a monster.  Bush was a very knowledgeable football man, and wanted to ensure that JJW would get the best training. "Coach Bush, taught me almost everything I know, when it comes to the position. He was the O-Line coach who worked with me all offseason. He took the time to assist me in my game and take it to the next level. He taught me how to become a student of the game." – Jamaal Johnson-Webb Well Coach Bush didn't let anybody down, because in just one year at Mundy's Mill High School Jamaal Johnson-Webb was getting noticed by NCAA football teams.  Jamaal couldn't believe how many teams were showing interest, especially knowing that he had only played one year of high school ball. Jamaal was so special his senior year they named him to the All-Regional team in the state of Georgia. "Several teams offered me scholarships to play college football. Tennessee State, Tuskegee, Tennessee-Chattanooga, Alabama A&M, and Jacksonville State all offered me scholarships. I ultimately chose Alabama A&M because I came on my visit, and I loved it. One of the guys from my high school played here as well, and took me under his wing. The coaching staff here was great; I knew it was the place for me." – Jamaal Johnson-Webb Johnson-Webb was given a full scholarship to play at Alabama A&M but was redshirted in his first year. Johnson-Webb hasn't really experienced too many tragic events in his early life, but something would happen in Jamaal's freshman year that would change his outlook on life.  Jamaal would get information that his mentor and coach Charles Bush had died back in Atlanta.  Jamaal began to look back and remember everything coach taught him both on and off the field. Coach Bush was not able to see the success he built in big Jamaal Johnson-Webb because he passed, but Jamaal won't let him down. "Coach taught me a lot when it comes to the offensive line. When I heard the news, I knew I couldn't let him down.  I began playing for both of us." Jamaal Johnson-Webb In 2008, Jamaal was asked to redshirt, but met his new line Coach Cedric Pearl.  Coach Pearl would begin to groom Johnson-Webb into what A&M was expecting him to be, a "MAULER". In 2009, Jamaal started at left guard on the Bulldog offensive line playing in 12 contests for the Maroon & White. He switched between both right and left guard positions because of injuries. Entering his sophomore year, Jamaal would see the field in 10 games as the starting left tackle. Jamaal helped lead the offensive linemen that rushed for 1,883 yards, and finished third in the conference in rushing. Everything for Jamaal was starting to click, and things were starting to go his way.  He was learning more and more about the position, by breaking down film.  He was getting bigger and stronger in the gym, and was starting to become a menace on the field. As a junior Johnson-Webb would began to realize he had a shot at the NFL. In 12 starts Webb anchored an offensive line that gave up only 22 sacks on 399 passing attempts and 1,805 rushing yards. The team finished 5th in SWAC in total offense (334.5/game), 4th in rushing offense (150.4/ game) and 5th in passing offense (184.1/game). "My skill level jumped my junior year; I was told I had a chance to make it to the NFL. When I put it on film, people started noticing me more; I knew I had a shot at that moment." – Jamaal Johnson-Webb This year as the anchor and veteran on the offensive line, "Dub" started all 11 games. He was named to Phil Steele's Football Championship Subdivision second-team All-American squad. It was the third preseason All-American team that Webb has been named to and it's his fifth preseason honor this season. "Webb has done an exceptional job for us throughout his time here, he deserves all the recognition he has received." - Anthony Jones – A&M Head Coach Johnson-Webb and the A&M offensive line only gave up 18 sacks last year, and opened holes for the Bulldog offense that rushed for over 1600 yards. Every NFL team went to the practices to see this mammoth of a lineman, and although he could be forced inside to the guard position, he should definitely get a chance to make an impact for the Cardinals. Jamaal will have to work very hard for the simple fact that he is coming from an HBCU school, but Johnson-Webb believes he can help the Cardinals. "I have finally been given a chance to play at the highest level. The Cardinals are getting someone who is hungry, determined, and works hard. I will stay that extra hour, be humble, and go hard for whoever I play with. That is exactly what I was taught by Coach Bush". – Jamaal Johnson-Webb While Jamaal Johnson-Webb only has 5 years of football experience in his young career, he has steadily improved his game.  He has started for the last 5 years (1 in HS & 4 at A&M) and has led the AAMU team to the SWAC Championship in two of the four years. Maybe Jamaal has a little angel watching over him making sure he makes the correct blocking assignment, but one thing is for sure, if this math major keeps grading out the way he has been on the football field his bank account will keep adding up, as an NFL football player.
Original Story:
http://feedproxy.google.com/~r/nfldra...
THE BACKYARD
BEST OF MAXIM
RELATED ARTICLES
The Arizona Cardinals continue to receive praise from ESPN for their strategy and movement in the offseason, in their attempt to reinvent their football team.
TEMPE, Ariz. When the Cardinals began offseason workouts, Levi Brown was relegated to conditioning and strengthening exercises as he recovered from last seasons surgery to repair a torn triceps tendon. Brown wasnt particularly happy about the limited role, even grumbling about it to local media. I guess they overheard, Brown quipped on Thursday. They got me right back out there...
The great thing about the NFL is that there are so many positions that every year, there is almost always at least one player who has a breakout year on every team, no matter how good or bad the team is. This is one part in a 32 part segment detailing one potential breakout player (rookies don't count) for the 2013 NFL season on each NFL team. For the Arizona Cardinals, that player...
The bar is set pretty high for whomever wins the next Heisman trophy thanks to Jonnny Manziel. Johnny Football has had a heck of year since becoming the first freshman to ever win college football's most prestigious award. I'm talking partying with all sorts of stars, hanging out with the elite that the NBA has to offer, a smoking hot girlfriend, been on every talk...
According to the Florida Times-Union, nothing is imminent between the Jaguars and free agent running back Beanie Wells after Thursday's workout. Visiting with Wells should be viewed more as the Jaguars doing their homework instead of concern over the availability of Maurice Jones-Drew (still rehabilitating from foot surgery) and the lack of experience at the position. The Jaguars...
Being a top ten selection in the NFL draft can be a blessing and a curse. While being honored by the recognition of talent, the player must also be placed on a football team with a clear list of problems. North Carolina offensive guard Jonathan Cooper beat out Alabama offensive guard Chance Warmack for the first guard taken in the draft. Unfortunately for Cooper, he landed on a team...
Cardinals News

Delivered to your inbox

You'll also receive Yardbarker's daily Top 10, featuring the best sports stories from around the web. Customize your newsletter to get articles on your favorite sports and teams. And the best part? It's free!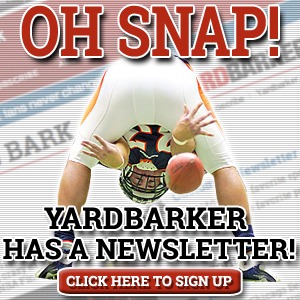 Latest Rumors
The Backyard

Today's Best Stuff

For Bloggers

Join the Yardbarker Network for more promotion, traffic, and money.

Company Info

Help

What is Yardbarker?

Yardbarker is the largest network of sports blogs and pro athlete blogs on the web. This site is the hub of the Yardbarker Network, where our editors and algorithms curate the best sports content from our network and beyond.