Found August 12, 2012 on Rams Herd:
PLAYERS:
Andrew Luck
,
Sam Bradford
,
Tom Brady
,
Joe Montana
,
Jeff Fisher
,
Craig Dahl
,
Jason Smith
,
Kellen Clemens
,
Isaiah Pead
,
Greg Salas
,
Brian Schottenheimer
,
Austin Pettis
,
Lance Kendricks
,
Steven Jackson
,
Harvey Dahl
,
Janoris Jenkins
,
Robert Quinn
,
Chris Givens
,
Johnny Hekker
TEAMS:
Indianapolis Colts
,
St. Louis Rams
,
New England Patriots
I will not make sweeping generalizations after one preseason game. I will not make sweeping generalizations after one preseason game.

— Brandon Bird (@JTPirate) August 12, 2012
Well Rams fans, the good news from today's 38-3 crashdown against Andrew Luck and the Colts was that we aren't going to have another 4-0 preseason to falsely raise our preseason expectations to unsustainable levels. At this point last year, the Rams' fan base was ready to anoint Sam Bradford as the second coming of Tom Brady and Joe Montana, only better. And when the Rams suffered their Icarus plunge back to earth, charred feathers and all, it felt like we had all been kicked in the gut.
This year, the Rams' season begins somewhat in more metaphorically appropriate fashion - at the bottom. Beaten open-handed by the co-worst team in the league. Now Jeff Fisher knows exactly where he stands, and how far this team has yet to go. And if and when he pulls the Rams back into playoff contention, he'll have this yardstick planted in the ground to let him and everyone else know exactly how far they've come.
Aside from the scoreboard, which doesn't count anyway, the game wasn't all bad as an exhibition of some individual players and their skills. Unfortunately, this is an 11-on-11 game, and it's plain to see that the Rams are still playing as a collection of parts, rather than a whole. Most of the game's big breakdowns (even the ones involving my personal punching bag, Craig Dahl) didn't fall on a single player. Breakdowns between players - missed assignments, missed handoffs, etc. - were much more prevalent.
Take, for example, the Colts' first touchdown. Or their second. Or that first-down completion on third-and-forever that the Colts' scrubs had against our scrubs. In each case, Colts' offensive players found their way into creases between the Rams' personnel groups - between the defensive line and the linebackers, or between cornerback and safety. These are coachable mistakes, and with time can be erased.
There were some individual breakdowns as well - Jason Smith on an early pass-protection that led to a sack on Kellen Clemens, Isaiah Pead putting the ball on the ground twice, Greg Salas failing to run a 4th down route to the proper depth. These breakdowns are on the players as much as they are on the coaches, and we need them to be better than that. (For his part, Smith actualy seemed to settle down and play pretty well laster in the game.) 
The things you worry about are the schematic ones, particularly on offense, which seems to be stuck in the Shurmurville. Sam Bradford worked his underneath reads efficiently enough, but rarely went over the top. In our lone red zone drill of the first half, Kellen Clemens and company gained a single yard before summoning our field goal kicker. But it's a start, and we have not seen all the wrinkles of a Brian Schottenheimer offense yet.
There also were some positives of note:
Second year players Austin Pettis and Lance Kendricks, both huge disappointments as rookies, had very strong games. Both players displayed good hands and the ability to make tough, must-have catches for first downs. Pettis in particular corraled a 12-yard pass on a quick slant, ducking just inside the cornerback and accelerating upfield. The ball was thrown well ahead of the receiver, who stretched his full frame while keeping his stride going to bring it in with his hands. Best of all, the ball didn't budge once it hit his fingers.
The first-team running game, with Steven Jackson plowing behind Harvey Dahl, moved the ball effectively at will, helping to set Bradford up with good field position early.
Janoris Jenkins looks like he's capable of handling man coverage against NFL players, nearly picking off Andrew Luck on a perfectly anticipated break and making an outstanding play downfield on a deep ball for a pass breakup.
Robert Quinn was nearly unblockable early, hitting Luck on his first two throws of the game. (Too bad one turned a dump-off into a 60+ yard touchdown.)
Chris Givens showed off his speed in a Donnie Avery-like debut, drawing a pass interference on one deep ball and nearly taking in another at the goal line. (He needed to get that ball, though.)
Johnny Hekker punted well all day, planting one ball inside the three yard line.
Best of all, the injury cart stayed parked on the sideline.
Bradford didn't wow, but he did what was asked of him, which wasn't much in two series of work. We want to see more, and we will. But it seems clear that Fisher isn't overly concerned with getting his almost-veteran QB a heavy preseason workload. (Especially behind an offensive line that is still a work in progress.)
Overall, this isn't a game that we'll look back on fondly. But it isn't meant to be. It's the preseason, after all. If a journey of a thousand miles begins with a single step, the Rams have barely laced up their boots yet.
Original Story:
http://www.ramsherd.com/2012-articles...
THE BACKYARD
BEST OF MAXIM
RELATED ARTICLES
POSITIVE SIGN
Andrew Luck is playing his first preseason game with the Indianapolis Colts against the St. Louis Rams. He already threw a dump off pass for a touchdown. He just now throw for his second touchdown to Austin Collie. The former Stanford Cardinal is really having a breakout first game performance. Luck connected with Austin Collie for the score. Indianapolis is up 14 on the Rams....
Indianapolis -- After a debut lasting four possessions that produced three touchdowns -- including a 63-yarder on his first NFL pass -- Andrew Luck left the distinct impression he was more upset about his lone mistake than pleased by everything else. After Luck connected with Quan Cosby on a 32-yard bomb to the Rams' 1-yard line, the Colts tried some trickery. Offensive lineman...
There's good news, and there's bad news for Colts fans. The good news is that Andrew Luck looked nothing short of impressive in his first start for his new team. The bad news is he looked great against the St. Louis Rams. Luck's numbers were impressive. He started the game by tossing a 63 yard touchdown pass, and he finished 10 of 16 for 188 yards and 2 touchdowns...
Andrew Luck takes the field for the first time. A brand new offense and defense do as well. You know what they say about first impressions... GO COLTS!
Stanford QB Andrew Luck was the first overall selection of the Indianapolis Colts in the 2012 NFL Draft. He came with the highest of expectations with comparisons made to him with Peyton Manning and former Denver Broncos QB John Elway. In this era of social media hype, it's easy to get players expectations highly inflated. After watching the first few series of Luck with his new...
Last year, Curtis Painter was 0-8, while throwing 6 touchdown passes and 9 interceptions. He completed 132 passes and was really, just tremendously unpleasant to endure watching. I went to Purdue, as did Painter, and I thought he was a bad, pity choice by the Colts, drafting a local guy to fill a roster spot that wouldn't be used, necessarily. Dan Orlovsky, he of running out of...
It did not take long for Indianapolis Colts rookie quarterback Andrew Luck to throw his first touchdown pass. The No. 1 overall draft pick hit running back Donald Brown for a 63-yard TD on his first pass attempt of the preseason. Luck took 24 snaps in his debut, completing 10 of 16 passes for 188 yards with two touchdowns in the Colts 38-3 rout over the visiting St. Louis Rams...
No sooner had the NFL debut of his newest franchise quarterback matched - bettered, actually - that of his previous franchise quarterback, the Indianapolis Colts' owner turned to his Twitter account. "The legend has begun!!!!!!!!'' Irsay wrote. Yes, it has. For at least one half, Andrew Luck was the real deal. The successor to Peyton Manning, Luck directed the Colts...
It did not take long for Indianapolis Colts rookie quarterback Andrew Luck to throw his first touchdown pass. The No. 1 overall draft pick hit running back Donald Brown for a 63-yard TD on his first pass attempt of the preseason. But most of the heavy lifting was done by Brown. Luck threw the ball behind the line of scrimmage less than five yards to Brown, who caught it and...
Andrew Luck went nuts in his debut for the Colts. People are saying he is the next Peyton Manning but does he have his own face website? Make your own! Drag this PNG to your desktop and get to work on Photoshop.  
Let's not get ahead of ourselves. The first week of preseason games are over. And the speculation begins. As Marcelllus Wiley of ESPN said on NFL32, "In the first week when it is good it's good, but when it is bad it is not so bad." So here are four games that were good.  And four players that were better and could be the best bet for your fantasy football team...
NFL News

Delivered to your inbox

You'll also receive Yardbarker's daily Top 10, featuring the best sports stories from around the web. Customize your newsletter to get articles on your favorite sports and teams. And the best part? It's free!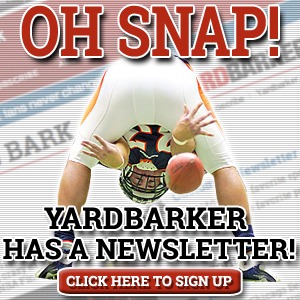 Latest Rumors
The Backyard

Today's Best Stuff

For Bloggers

Join the Yardbarker Network for more promotion, traffic, and money.

Company Info

Help

What is Yardbarker?

Yardbarker is the largest network of sports blogs and pro athlete blogs on the web. This site is the hub of the Yardbarker Network, where our editors and algorithms curate the best sports content from our network and beyond.