Surprisingly, the New England Patriots are first in their division with record of four wins and three losses, after yesterday's defeat of their division rival New York Jets.  Though they originally were expected to have one of the easiest schedules in the NFL, their wins haven't come easy, and their losses were games that they practically gave away.  Here are some early stats:  The Patriots are first in the league with 31 points scored, they are first in total yards with 436.1, they are fifth in passing yards with 286.9 and they are fifth in rushing yards with 149.3.  These statistics should reflect a much better record, but the Pats defense is having trouble coming through when it matters most.  Remember…"It's not how you start, it's how you finish."  Unfortunately the Patriots don't seem to live by this motto.  On more than one occasion they have let the lead slip away in the fourth quarter.  So far this season, every Patriots loss has been by three points or less.  So where does the problem truly lie, in the offense or the defense?  Lets take a look: The Patriots offense is getting off to a good start this year.  Quarter-back Tom Brady seems to be using all his available weapons and getting every receiver involved.  Star Tight End Aaron Hernandez is back from a week 2 high ankle sprain suffered against the Arizona Cardinals.  Tight End Rob Gronkowski, who had been experiencing pain in his right hip, seemed back to form with 2 Touchdown receptions against the Jets. Wes Welker also continued to add to his consecutive games-with-a-reception streak.  With the Patriots top receivers recovering, their running game has also been featured, giving the offense a powerful alternative.  Second year running back Stevan Ridley has been the breakout star for the Pats this year with 590 rushing yards and 4 touchdowns. Undrafted free agent Brandon Bolden has also looked to make a big impact with 234 yards and 2 touchdowns. The Patriots defense this year, on the other hand,  has looked erratic and un-reliable. Rookie defenders Chandler Jones and Dont'a Hightower perform in some games like the league's top defenders, and others like college bowl game cast-offs.  The Pats D has given up 2632 and 19 touchdowns.  These numbers may not look terrible on paper, but remember, it's the fourth quarter that counts.  And the Patriots may have not gotten that memo.  In week 6 against the Seattle Seahawks, the Patriots blew a 13 point lead and lost the game by one point.  In week 7, the Patriots again gave up 13 late points, and barely walked away with a three-point overtime victory.  Against the Jets, the Pats defensive line looked like they didn't show up for most of the game, allowing New York QB Mark Sanchez what seemed like hours to develop plays while providing zero penetration into the pocket.  This continued for 4 quarters, until Jermaine Cunningham and Rob Ninkovich finally forced a huge fumble in overtime that allowed the Patriots to walk away with the victory.  Though the defense has shown some glimpses of hope,  this type of play is totally unacceptable if the Patriots even want a glimpse of the postseason this year. Though currently holding first place in their division, the Patriots will need to greatly improve overall, but especially their defense, if they ever want to see the bright lights of the playoffs once again.
Original Story:
http://110sportztalk.com/at-the-cross...
MORE FROM YARDBARKER
NFL News

Delivered to your inbox

You'll also receive Yardbarker's daily Top 10, featuring the best sports stories from around the web. Customize your newsletter to get articles on your favorite sports and teams. And the best part? It's free!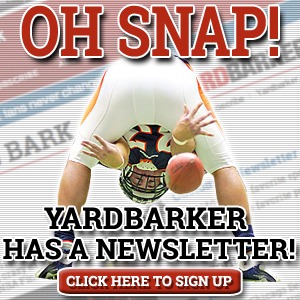 Latest Rumors
Best of Yardbarker

Today's Best Stuff

For Bloggers

Join the Yardbarker Network for more promotion, traffic, and money.

Company Info

Help

What is Yardbarker?

Yardbarker is the largest network of sports blogs and pro athlete blogs on the web. This site is the hub of the Yardbarker Network, where our editors and algorithms curate the best sports content from our network and beyond.