Found August 08, 2012 on The Sports Headquarters:
PLAYERS:
Matt Ryan
,
Michael Turner
,
Jacquizz Rodgers
,
Jason Snelling
,
Dimitri Nance
,
Drew Brees
,
Peter Konz
,
Sam Baker
,
Justin Blalock
,
Tyson Clabo
,
Todd McClure
,
Sean Weatherspoon
,
Akeem Dent
,
Lofa Tatupu
,
Asante Samuel
TEAMS:
Atlanta Falcons
,
Arizona Cardinals
,
New Orleans Saints
How long can you be the sexy sleeper pick before people realize that maybe you aren't going to ever live up to that hype an expectations?
Are we getting close to that with the Atlanta Falcons I guess is my real question?
While they continually show up as a solid team in the league and have made the playoffs in three of Matt Ryan's four seasons since he has come into the league, they have never won a playoff game, and more importantly haven't been close to winning since Ryan's rookie season in a loss to the Arizona Cardinals.
I may be opening myself up to all kinds of criticism with my Atlanta Falcons 2012 Season Preview, but I try to base things off of research, observations and facts, so keep that in mind Falcons fans as we delve into the preview.
What does Michael Turner have left?
The question has been asked constantly for Turner's four seasons in Atlanta, and the carries are going to start showing themselves at some point… right?
What we do know is that Turner has continually been the most important part of the Falcons offense since he came there in 2008. Don't believe me check out my article that, um, "critiques" Matt Ryan and how much of a difference Turner makes in their wins v how little impact he has in their losses.
If you don't want to get revisionist, in 7 games last season Turner had 20+ rushing attempts and the team went 6-1 in those games.
Take that a step further and in their 7 losses, including the playoffs and his 22 carry overtime loss against the Saints Turner rushed averaged only 14.1 carries for 56.6 yards per game.
Can Turner continue to produce at a high rate when given the load to carry?  Is he close to breaking down, and if he is who can step in and help carry the rock?
The backups: Jacquizz Rodgers, Jason Snelling and maybe Dimitri Nance, don't exactly scream work horse and as I have said for a while I don't see Matt Ryan making the leap to becoming a quarterback that can throw the ball 40+ times a game and lead his team to victory.
What is Matt Ryan?
I have lobbed a lot of bombs via Twitter and my site in my crusade against Matt Ryan as the next great quarterback in this league and maybe I have been too harsh.
I like him and would obviously welcome him with open arms onto my team, of course I would welcome Alex Smith with open arms to the Cardinals as a QB upgrade so there is that.
He is a very cerebral player, with an outstanding work ethic and seems to be a genuinely good guy that doesn't quit.
That being said he hasn't shown me he can be the man on a team.
In the 7 losses last year the Falcons let Ryan throw the ball 45.4 times a game, completing 57.1% resulting in 2006 yards (286 yards per game), 7 TDs, 7 INTs, and a 73 QB rating.
That's, well very average numbers for a big time QB when he is throwing the ball all over the field.
In contrast in the 10 Falcons wins he only threw the ball 28.9 times a game, completing 65.4% resulting in 2171 yards (217.1 yards per game), 22 TDs and only 5 INTs for a QB rating of 111.4 (Holy!?!?).
Ryan is without a doubt more than just a game manager, based purely on the numbers anyone can see that, but he isn't a gunslinger.
He actually is a very good quarterback, who can make any throw when necessary, knows how to control and command the offense, and honestly is someone you can win a Super Bowl with… As long as you are asking for the Matt Ryan that hands the ball off 30 times a game and throws it 30 times a game.
When you try to make him compete and air it out with Drew Brees, well you get the results shown above.
Can Peter Konz make the difference?
No he isn't a left tackle, and yes Sam Baker is still the blindside protection for Matt Ryan but the rest of the line isn't that bad if Konz is able to come in and play up to his billing at either right guard or center.
With Justin Blalock and Tyson Clabo at the left guard and right tackle positions respectively you have a strong two fifths of the offensive line and adding in a guy like Konz I believe should make a strong three fifths of the line, and I don't think veteran center Todd McClure was bad at all last season, as he was easily one of the better pass blocking centers in the league, but he isn't nearly as strong in run blocking and with a balky knee.
The question really is can they get Sam Baker enough help to hold up the left side of the line.
Baker has been, well awful, ranking lower than the unbelievably bad combination of Arizona Cardinals tackles as the second worst starting tackle in the NFL last year in pass protection according to the metrics used at Pro Football Focus.
Covering up another hole along the offensive line at RG, and if McClure is as strong in pass blocking situations as he was last year, the Falcons can strategically cover up and help out Baker enough to make him not only passable, but should allow the offensive line to be an actual strength.
Are the linebackers going to be better?
There is no doubt that Sean Weatherspoon is a very good outside linebacker in this league, and will continue to get better and possibly become one of the few elite 43 OLBs left in the NFL.
The question is whether or not the rest of the players in the line backing corps are good enough to help out.
Akeem Dent saw limited time last year and will be expected to start with the off season injury to Lofa Tatupu, and while I see him as a guy who can be a strong option against the run, I don't see him exactly being a great fit in the pass happy NFC South.
With the addition of Asante Samuel to the secondary and the hopeful continued development of the defensive line the real question is can the line backers keep pace?
Overall:
While I may be one of the biggest Matt Ryan critics on the internet, I think I gave a pretty fair assessment of why I feel that way.
The question isn't going to be on Ryan this season, as much as it will lie within the coaching staff and their play selection.  If the Falcons wisely go closer to the 50/50 run pass ratio they had in their wins, they may be able to get off the snide in the playoff victories categories, but if they continue along the lines of the 64/36 ratio then they will continue to see disappointments.
Original Story:
http://feedproxy.google.com/~r/TheSpo...
THE BACKYARD
BEST OF MAXIM
RELATED ARTICLES
Coming off a 10-6 campaign and a 24-2 drubbing at the hands of the Super Bowl champion New York Giants in the first round, the Atlanta Falcons have plenty of questions to answer to their fans and critics. Can they take advantage of a scandal-ridden New Orleans Saints squad and win the division? Can they [...]
Big things are expected of Julio Jones this season, from himself, the fantasy football community, and his WR tandem partner. So far in the preseason, it looks like Jones is set to deliver on expectations. On Atlanta's first series Jones had 4 catches for 58 yards and a score. The touchdown grab was a degree [...]
The Atlanta Falcons are in the best position of NFC South teams to snatch the crown away from the Saints. The Saints have been hit hard this offseason and won't be the same team in 2012. The Saints lost key offensive weapons in free agency. The defense was very poor last year and, to add on, the Saints have had multiple starting players suspended, along with a coaching change....
FLOWERY BRANCH, Ga. With the Falcons' two starting cornerbacks banged up and each sitting out at times in practice this week, head coach Mike Smith said on Tuesday that he had not made a determination yet as to whether they, along with a few others, would play in the team's first preseason game on Thursday at the Georgia Dome against Baltimore. The Falcons did not hold...
First Off - Something I Don"t Want To See Tonight:     Well - that's if it were Matt Ryan, and not Michael Vick. If someone brought Michael Vick out into the middle of the field, slapped his old Falcons uniform on him, and broke his leg again...well...that'd be alright with me. Ultimately, just want to make sure everyone stays good and healthy for the next 21-22...
The Falcons will be kicking off their preseason schedule this Thursday when they go up against the Baltimore Ravens. Even though it's game one we could get a lot of telling information out of the few series the starters will be in and then the subsequent series with the backups. Let's Play Some Football!   Perhaps the most discussed and debated area of the team so far...
Ravens fans are enthusiastic about getting the 2012 NFL season off to its preseason inaugural in Atlanta this Thursday night... especially with a bunch of Ravens rookies and unproven veterans out to solidify a roster spot.But I'm more interested in how the Ravens defense the potentially explosive Falcons--- including QB Matt Ryan and WR Julio Jones---and how their young guys...
Quarterback Matt Ryan showed off his team's wide receiver talent in their brief time on the field during Atlanta's first exhibition game. Ryan hit Julio Jones six times for 109 yards and Roddy White three times for 46 yards.Fantasy Spin:The Falcons have thrown the ball in increasing numbers in each of Ryan's first three seasons from 570 to 577 to 594. In 2012, the Falcons...
Joe Flacco and Matt Ryan had similar stats in their preseason opener. Flacco had the better support for the Baltimore Ravens. Flacco and Ryan each threw one touchdown pass, but backup Curtis Painter threw three second-half touchdown passes to lead the Ravens to a 31-17 preseason win over the Falcons on Thursday night. ''I like the way our young guys competed and executed...
The sloppy play for the Ravens' offense continued throughout the first quarter. They didn't convert a third down and only gained nine yards on nine plays. Way to go, Ravens. The defense picked it up a bit with linebacker Brendon Ayanbadejo intercepting a Matt Ryan pass on the goal line. And the Falcons scored a second touchdown in the second quarter on a Jacquizz Rodgers run...
If you've already had your fantasy draft, I'm sorry. I'm sorry because this advice is a little too late. But I'm more sorry because you had your draft way too early. That was dumb. See last night for the only reason you need not to have a draft so soon. Ryan Mathews, broken clavicle. Michael Vick injured thumb. Or you could even go back a few days and point to Trent Richardson's...
[caption id="" align="alignnone" width="500"] The Falcons project to have the easiest schedule for running backs, does that mean Michael Turner is due for a big season in 2012.[/caption] Strength of schedule is one of the most overlooked factors in fantasy football. Some people discount its value, but do your homework before you shove such data to...
NFL News

Delivered to your inbox

You'll also receive Yardbarker's daily Top 10, featuring the best sports stories from around the web. Customize your newsletter to get articles on your favorite sports and teams. And the best part? It's free!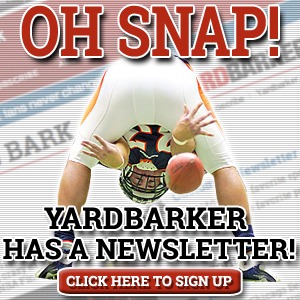 Latest Rumors
The Backyard

Today's Best Stuff

For Bloggers

Join the Yardbarker Network for more promotion, traffic, and money.

Company Info

Help

What is Yardbarker?

Yardbarker is the largest network of sports blogs and pro athlete blogs on the web. This site is the hub of the Yardbarker Network, where our editors and algorithms curate the best sports content from our network and beyond.