Found February 28, 2013 on Fox Sports Ohio:
Some day its the chicken, others the egg. So it goes with the Cleveland Browns' new defensive system, a chicken or egg question if ever there was one. Did the Browns adopt the new system because they hired coaches who believe in it, or did they choose the coaches because they believe in the Browns preferred system? CEO Joe Banner had a plain answer last week when he met the Cleveland media at the NFL Scouting Combine. He said every move made this offseason sprung from a focus on aggression, a focus that will guide the team in the Jimmy Haslam-Banner era. It may be right, it may be wrong, and we still have to prove it, but everything will come from a philosophy, from a plan, Banner said. There will be no whims, no flying by the seat of our pants. The players that we bring in will be aggressive, attacking, competitive, mad-as-hell-when-we lose type of people. That well have an offensive and defensive coordinator who are going to call a game with that kind of aggressiveness. That we want our opponents to be on the defense; we never want to be on the defensive. That were willing to take chances, which by the way will occasionally blow up in our faces. But overall we think over time will prove to be successful. The Browns started their search to replace Pat Shumur with the philosophy that the best teams defensively are ones that disrupt the quarterback. How that is done can vary, but winning depends on pressuring the opposing quarterback and protecting your quarterback, Banner said. Every team that gets to the Super Bowl is high in sacks, Banner said. This season, Baltimore ranked tied for 15th in sacks, San Francisco 11th. The year before, the Giants ranked third, the Patriots 14th. In 2010 the Super Bowl had the top two sack teams in the league Pittsburgh and Green Bay. Carry it forward two more years and the teams ranked 13 (New Orleans), 16 (Indianapolis), 8 (Pittsburgh) and 20 (Arizona). So of the last 10 Super Bowl teams, nine were in the top half of the league in sacks and three were in the top three. Banners thinking also probably evolved a bit from his years in Philadelphia, where the Eagles for years have played a very aggressive, attacking system. Former defensive coordinator Jimmy Johnson was known for his exotic blitzes and pressures, and it helped the Eagles get to five NFC Championship Games and a Super Bowl. Banner also has seen the Steelers consistently lead or be near the lead in defense every season with an attacking zone-blitz scheme led by Dick LeBeau. Of course that scheme also has been at or near the top of the league every season in run defense as well. But the point is clear. Banner and new owner Jimmy Haslam decided they needed an aggressive, attacking defensive approach with the Browns, so when they interviewed coaches they asked their defensive thinking -- which is also interesting because one of the first guys they spent the most time with was Chip Kelly, who is known for his offense. But then so is Rob Chudzinski, and when he talked about liking an aggressive defense, the interest from the Browns grew. It was the philosophy that contributed to us wanting to hire him, Banner said. Defensive coordinator Ray Horton seemed to fall in their lap. When the Cardinals hired Bruce Arians, he wanted Todd Bowles as his defensive coordinator. That made Horton available, and Horton had run LeBeaus system in Arizona. Horton denied it in Cleveland, but on a Phoenix radio station he said the Browns and Steelers defenses would be mirror images. The fit was near perfect. We wanted to hire a coach, Banner said, who would understand philosophically how important it was to get pressure on the quarterback. Then add a coordinator who felt the same way. Carrying out this philosophy mandates an upgrade in the defensive front, both at linebacker and on the line. But Banner said that upgrade was needed even had the Browns kept the four-three. I think we felt like the defense wasnt good enough, just to be very direct about it, Banner said of the unit that ranked 23rd overall, 19th against the run. If you went into some of the more sophisticated breakdowns of the defense this year, some of these systems that eliminate plays, that truly measure success at crucial times in crucial situations and so on and so forth, we were ranked 20 or lower in most of those categories. I think that combined with the belief that we wanted to have a more aggressive, attacking defense because we wanted to bring in more aggressive players. We want to be risk-takers, we want to be attacking, we want the other team to be on the defensive. It doesnt mean it was wrong (last year), but it wasnt the type of scheme we were running. So this felt like it fit more the type of player we want to bring in, the type of mindset we want to create, the way we want our opponents to perceive us. We want them to be worried about where were coming from, what were going to do next. The approach did not mandate a switch to the three-four. Banner said he and Haslam were only slightly biased toward the three-four when they started interviewing. But many of the coaches interviewed echoed what Chudzinski said when he admitted the attacking three-four was the defense that gave him the biggest challenges as a play-caller. Because of the reasons that they show multiple looks that you have to prepare for, Chudzinski said. They create confusion in your blocking schemes and then also in the pass game as well. They really attack the offense and are in position to attack the offense. Yes ... it seems that attack will replace battle as the Browns catch-word. That will be the mentality of the organization, Banner said. Were hiring people that will fit that culture, whether they be players, marketing people or coaches.
Original Story:
http://www.foxsportsohio.com/02/28/13...
THE BACKYARD
BEST OF MAXIM
RELATED ARTICLES
This latest 2013 NFL mock draft takes into account where players could be drafted so far in the process and takes in account the Alex Smith to the Kansas City Chiefs trade. The NFL Scouting Combine is over, and a lot of players shot up the board due to their performance. Eddie Lacy dropped out of the first round due to opting out of the combine. Sharrif Floyd and Sheldon Richardson...
People are always talking about the Browns, it seems. Usually I'm one of the ones talking the most, but I don't really feel like it right now. So to prove it to you, I'll talk Browns just enough to tell you why it's kind of boring to me right now. Brandon Weeden's name has been in the news because nobody can predict the future. Really, that's what it comes down to, right...
According to Matt Miller of Bleacher Report, the Cleveland Browns love former West Virginia quarterback Geno Smith in this year's draft.  They didn't expect him to be available when they go on the board with the sixth pick, but now that the Chiefs traded for Alex Smith, they might be able to snatch him up. I don't think the new Browns regime believes they have their quarterback...
Twenty-two combined seasons in Orange and Brown. Four Pro Bowls. Two fan favorites. Both free agents. Cleveland fans love to hold on to their sports heroes. Josh Cribbs and Phil Dawson have been consistently the best things about Cleveland Browns football since the team returned in 1999. Josh Cribbs walked on the team as an undrafted free agent after playing QB for Kent State in...
Cleveland Browns wide receiver Josh Cribbs was asked by ESPN Radio in Cleveland if he's been talking with other teams. "My agent has been meeting with several different teams. There is a lot of interest. There are already numbers brought to the table. Things are happening. Wheels are turning behind closed doors,: said Cribbs, per ESPNCleveland.com The problem with what Cribbs...
Clevaland Browns quarterback Brandon Weeden joined The Hooligans on WKNR in Cleveland to talk about what he needs to do for the upcoming 2013 season to get his teammates and the new coaching staff behind him.
It's become abundantly clear that NFL players don't quite have an understanding of NFL rules. Free agency start on March 12 and until that date players can't begin negotiating with any other team but their own. If players were to meet with other teams, it would be considered tampering. But that didn't stop Vontae Leach from tweeting that former teammate Sean Smith was negotiating...
There was a really good piece by Joe Crea in the Plain Dealer last week about an influx of new businesses and other development in Cleveland's Collinwood neighborhood ("where Frankie Yankovic first learned to polka") and its center, the Waterloo Road District, home of one of the best concert venues (and brunch spots) in the U.S.A., the Beachland Ballroom. The article contains...
Browns News

Delivered to your inbox

You'll also receive Yardbarker's daily Top 10, featuring the best sports stories from around the web. Customize your newsletter to get articles on your favorite sports and teams. And the best part? It's free!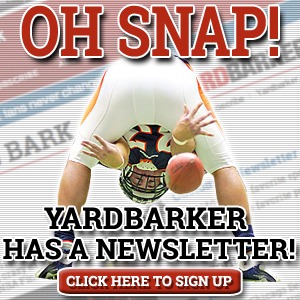 Latest Rumors
The Backyard

Today's Best Stuff

For Bloggers

Join the Yardbarker Network for more promotion, traffic, and money.

Company Info

Help

What is Yardbarker?

Yardbarker is the largest network of sports blogs and pro athlete blogs on the web. This site is the hub of the Yardbarker Network, where our editors and algorithms curate the best sports content from our network and beyond.