Found July 01, 2013 on isportsweb.com:
Following an outstanding playoff run resulting in a Super Bowl victory, Baltimore Ravens quarterback Joe Flacco was rewarded with a six-year, $120.6 million contract. Unfortunately for Flacco, accepting a large sum of money like that will be putting him under a microscope (more so than an NFL quarterback already is subject to).  The Super Bowl XLVII MVP has spent a good part of his NFL career being scrutinized about his "elite" status as a quarterback. But while that debate is still going on, there are a few things to look for from Flacco this upcoming season that could help the discussion. Joe Flacco (Photo credit: Joe Sargent/Getty Images) 1. Consistency In the 2012 postseason, Flacco played four of the best games of his career, one after another.  It started with his performance in the Ravens 24-9 win over the Indianapolis Colts in the AFC Wild Card round of the 2012-2013 season playoffs. In Denver, his 70 yard launch to Jacoby Jones with about thirty seconds left in regulation was another one for the books. After a double-overtime winning field goal in the Mile High City, the Ravens made their way to New England, where Flacco looked relaxed throwing pass after pass for a 28-13 win over the Patriots. Lastly, he lead his team to Super Bowl victory and claimed the title of Super Bowl MVP. But do not expect Flacco's most recent playoff run to carry into the 2013 season right away. The quarterback has been notorious for his inconsistency in the regular season. With a lot of young receivers on offense this year, it may take a little while to adjust. Joe Flacco has always seemed to struggle toward the beginning of the season and always hits his prime right around playoff time, which is great for the Ravens in the postseason. However, without a great regular season record, the road to the Super Bowl becomes a little more difficult. 2. Another playoff opportunity Like every other NFL team, the Ravens would love to have a first round bye in the playoffs. Even with the odds already stacked against Flacco in the season opener against the Denver Broncos, he has to focus on one game at a time if he wants to lead his team to the playoffs with a first round bye. Flacco only trails seven other quarterbacks in NFL history with the most playoff wins. Notching nine postseason wins in only five seasons, it is no mystery that Flacco has his sights set on more playoff wins. If his last playoff run was no indication, Flacco has the potential to lead his team to the playoffs again. He just has to pick up where he left off back in February. 3. More of a leadership role It's no secret that Ray Lewis was the Ravens leader for quite some time. But don't be surprised when Flacco steps up as a leader this season. Of course, "Joe Cool" is not as enthusiastic as Lewis, but he will be a leader for the team. Look for Flacco to run the no-huddle more this season. Jim Caldwell will be starting his first full season as the Ravens offensive coordinator and will be looking to Flacco to step up and help him run the offense as fluently as possible. The Ravens have players like Terrell Suggs and Ray Rice to lead them emotionally. Flacco will be the go-to guy when it comes to leading the players out on the field during the game. 4. Better Numbers Joe Flacco's numbers have never been all that impressive on paper. But with the installment of Jim Caldwell, here's to hoping that changes. Watch for Flacco to throw for more touchdowns this season with all of the eligible receivers on the Ravens' roster. That is not to say that Ray Rice won't be getting as many carries, but the "Flacco handoff to Rice in the middle" is getting a bit routine. If Flacco can throw for 25 touchdowns this season, file that under a great success for the quarterback. Flacco's quarterback rating this past season was very low, especially for a Super Bowl winning quarterback. He received a 46.8 rating last season, ranking 25th in the league. It appears that Flacco's numbers can only go up next season. But it all goes back to consistency in order to bring up his total QBR. (Photo credit: Chris Graythen/Getty Images) Expect Flacco to lead the Baltimore Ravens to the playoffs for the sixth consecutive year as well as bringing up his numbers. But don't expect the route to the postseason to be smooth sailing. Flacco will most likely find a way to make it, as he always does. Just hold onto hope that the quarterback will bring the same fire he brought to the postseason in the first half of the 2013 season. Related Articles Baltimore Ravens: Replacing Boldin Baltimore Ravens: Rehabilitating the defense Major offseason adjustments for the Baltimore Ravens
Original Story:
http://feedproxy.google.com/~r/isport...
THE BACKYARD
BEST OF MAXIM
RELATED ARTICLES
QB Joe Flacco (Baltimore) Throughout his 5 year career, he's been a very inconsistent week to week quarterback, but an incredibly consistent year to year quarterback, proving himself to be a slightly above average quarterback and nothing more. His completion percentages have always fallen between 57.6% and 63.1%. His YPAs have always fallen between 6.7 and 7.4. His touchdowns have...
Baltimore Ravens cornerback Lardarius Webb is expected to be back in time for training camp. He tore his ACL last October and had been sidelined ever since, but all signs point to a healthy Webb, who should be ready to participate in training camp later this month. Webb injured his kneee during his rookie season, but came back strong to develop a reputation as a formidable corner...
According to BaltimoreRavens.com, Ravens head coach John Harbaugh expects cornerback Lardarius Webb to be ready for training camp. Webb hasn't fully returned to action after tearing his anterior cruciate ligament (ACL) in Week 6 of last season. The Ravens' top cornerback, who received a contract extension before last year, came back strong after an ACL tear in his other knee...
Pitchers have speed guns. Runners have stopwatches. But how do you measure who has the strongest arm in the NFL? How about two pieces of anatomy? Specifically, fingers and Jaws. For Ravens tight end Ed Dickson, there's no doubt who has the strongest arm in football -- and he has to be ready for it on every throw. "You've always got to make sure you have your hands...
Interesting debate over at NFLN the other night... The two defensive faces of the Ravens franchise – Ray Lewis and Ed Reed – are gone. So which one is more difficult to replace? Former New York Giants lineman Shawn O'Hara and analyst Brian Baldinger of the NFL Network debated the question as part of their 32 teams in 32 days segment. O'Hara picked Reed...
Following the departure of Ray Lewis to retirement and Ed Reed to free agency, the Baltimore Ravens were due some good news on the defensive front.  They got it on Monday, when it was announced that cornerback Ladarius Webb will be back for training camp in late July following his anterior cruciate ligament injury in late October. Defensive co-ordinator Dean Pees, speaking to Comcast...
Introduction Going into the 2012 playoffs, many people believed that the Baltimore Ravens were one of the weakest playoff teams and one of the most unlikely to go all the way. Some people even thought they were the worst playoff team and they had good reason to believe so. No playoff team had fewer than the Ravens' 10 wins. They were coming from the weaker conference (the AFC was...
Ravens News

Delivered to your inbox

You'll also receive Yardbarker's daily Top 10, featuring the best sports stories from around the web. Customize your newsletter to get articles on your favorite sports and teams. And the best part? It's free!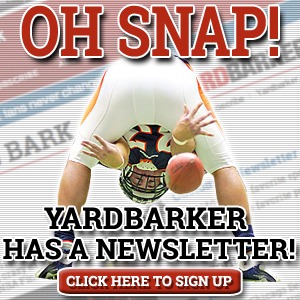 Latest Rumors
Best of Yardbarker

Today's Best Stuff

For Bloggers

Join the Yardbarker Network for more promotion, traffic, and money.

Company Info

Help

What is Yardbarker?

Yardbarker is the largest network of sports blogs and pro athlete blogs on the web. This site is the hub of the Yardbarker Network, where our editors and algorithms curate the best sports content from our network and beyond.