Found October 25, 2011 on isportsweb.com:
PLAYERS:
Vinny Testaverde
,
Ray Rice
,
Edwin Mulitalo
,
Jamal Lewis
,
Derrick Mason
,
Matt Stover
,
Todd Heap
,
Jonathan Ogden
TEAMS:
Baltimore Ravens
,
Houston Texans
,
Indianapolis Colts
,
Arizona Cardinals
,
Michigan State Spartans
Last week I compiled a list that consisted of the 10 best defensive players in Baltimore history. That was not an easy task, as there were probably five other players that could have easily been somewhere in that list as well. This week I compiled a list of the 10 best non-defensive (offense and special teams) players in Baltimore history. This list was just as hard to make, not because they have had a lot of great offensive players in the team's history, but because they haven't had many great offensive players. Check out the list below starting at number 10:   10. QB Vinny Testaverde (1996-1997) If you looked up journeyman in the dictionary there would be a picture of Vinny Testaverde. One of Vinny's stops during his 21 year career was a two year stint with the Ravens. In 1996 Testaverde threw for a career high 4,177 yards and 33 touchdowns. Testaverde made his first Pro Bowl in 1996, and had one of the best season a quarterback has had wearing the black and purple.   9. WR/KR/PR Jermaine Lewis (1996-2001)   Jermaine Lewis was one of the premier returners in the NFL while he was in his prime. He was exciting to watch every time he touched the ball. Lewis had a 84-yard kick return in Super Bowl XXXV.  Jermaine Lewis never set any records as a wide receiver, never scoring more than 6 touchdowns in a season, but he is the Ravens all-time leader in punt return yards with 2,730.   8. RB Ray Rice (2008-Present) Right now Ray Rice is the face of the Baltimore offense. In 2009, his first year as a starter, Ray Rice rushed for over 1,339 yards and caught 78 passes for 702 yards. In 2010, Ray Rice was just a few yards short of 2,000 total yards once again. Ray Rice is the do-it-all back and his career is just getting started.   7. G Edwin Mulitalo (1996-2006) Mulitalo was the guard on the dominant left-side of the Ravens offensive line. Mulitalo was one of the main reasons why the Baltimore Ravens were known as a ground and pound team. He is responsible for a lot of the yards that Jamal Lewis was able to accumulate in Baltimore.   6. WR Derrick Mason (2005-2010) The former Michigan State University wide out has been a consistent wide receiver in the NFL since entering in 1997. In six seasons with the Ravens, Derrick Mason racked up at least 1,000 yards four times. Mason racked in 103 grabs in 2007 and is one of the best possession wide receivers that this league has seen in a while.   5. TE Shannon Sharpe (2000-2001) Arguably the greatest tight end of all-time, Shannon Sharpe played one season for the Baltimore Ravens in his 14 year career. The year Sharpe played in Baltimore they won the Super Bowl, and he was a key factor. In that season he caught 73 passes for 811 yards. Without him it is safe to say that the Ravens would not have won the Super Bowl that season.   4. K Matt Stover (1996-2008) Matt Stover was one of the best kickers in NFL history. Stover is the Baltimore Ravens all-time leading scorer. The year that the Ravens won the Super Bowl Stover knocked in 30 field goals. He is 4th all-time in NFL history in with 471 field goals and 4th all-time in points with 2,004.   3. TE Todd Heap (2001-2010) Todd Heap, or The Stormin' Mormon, was a pivotal piece in the Ravens offense for many years. Even though he is a tight end, he was looked at as the number one option at times. Heap would give defenses tough times because not many linebackers could guard him, and he was too big for safeties. Todd Heap is the Ravens all-time leader in receiving touchdowns with 41.   2. RB Jamal Lewis (2000-2006) While in Baltimore Jamal Lewis was one of the hardest runners in the NFL. In 2003, Lewis nearly set the single season rushing record with 2,066 yards. In six seasons with the Ravens Jamal Lewis rushed for over 1,000 yards five times. He was a beast, and even though teams knew the Ravens were going to hand him the ball there was nothing that they could do.   1.  T Jonathan Ogden (1996-2007) Ogden was the Ravens first-ever draft pick in 1996, and I guarantee looking back at it they wouldn't have drafted anyone else. Ogden was a BIG man, 6ft. 9 in. and 345 pounds, and is the main reason why the Ravens were able to run the ball so successful. He changed the tackle position and there may never be a player as dominant as Ogden again.  
Original Story:
http://isportsweb.com/2011/10/25/balt...
THE BACKYARD
BEST OF MAXIM
RELATED ARTICLES
Baltimore Ravens linebacker Terrell Suggs questioned the team's offensive game plan following Monday night's 12-7 road loss to Jacksonville. The Ravens did not have a first down until deep into the third quarter and did not score until 2:02 remained in the game. They managed 11 first downs and 146 total yards. While Joe Flacco threw 38 passes - and averaged less than...
After the Ravens were upset by the hapless Jaguars on Monday Night Football, linebacker Terrell Suggs was none too pleased, and voiced his displeasure with the team for its lack of usual approach. Following the game, CSN Baltimore reports that Suggs called out the coaching staff for not utilizing running back Ray Rice more often throughout the contest. "They kept it simple. Jones...
When the Ravens stumbled against Tennessee, it was almost understandable, but what is happening in Jacksonville is -- quite frankly -- an embarrassment. They've delivered one of the worst offensive performances in the history of the team and they've made every mistake known to a football team to get in position for what is shaping up to be a very damaging and discouraging...
Ravens linebacker Terrell Suggs saw a team without a plan in Monday's 12-7 loss to the Jaguars, and Baltimore's fans agree.
It's the kind of recurring nightmare that Edgar Allen Poe would have appreciated for sheer horror. When at their best over the past decade, the Baltimore Ravens were good enough defensively to win Super Bowls. Offenses ranging from dreadful to inconsistent were largely the reason they fell short. The same book may be getting written again this season. Falling to a 10-point...
On Friday night, I dislocated my knee while swinging a bat during a coed softball game. I ended up on the ground in the fetal position literally screaming at the top of my lungs in pain while waiting to be carted off the field on a stretcher. That's how my weekend started. What a fitting end to the weekend, then, that the Ravens would have me figuratively screaming at the top of...
That was one ugly football game between the Baltimore Ravens (4-2) and Jacksonville Jaguars (2-5). The Ravens didn't get their first first down until the third quarter and the Jaguars beat Baltimore 12-7 Monday night. This was a game that didn't see the Ravens score until there was 2:02 left on the clock and, going in to the scoring drive, Baltimore had 56 net yards on...
Includes Head Coach John Harbaugh, QB Joe Flacco and LB Ray Lewis.
If the loss in Tennessee was a letdown, this one was a meltdown. The Ravens couldn't move the ball for the first 55 minutes. The defense played well, but helped the Jaguars put points on the board with key penalties. And it was Joe Flacco, not Jaguars rookie Blaine Gabbert, who made the final fatal mistake in crunch time.
Maurice Jones-Drew ran for 105 yards against the NFL's best run defense, Josh Scobee kicked four field goals and the Jacksonville Jaguars snapped a five-game slide with a 12-7 victory over the Baltimore Ravens on Monday night.
NFL News

Delivered to your inbox

You'll also receive Yardbarker's daily Top 10, featuring the best sports stories from around the web. Customize your newsletter to get articles on your favorite sports and teams. And the best part? It's free!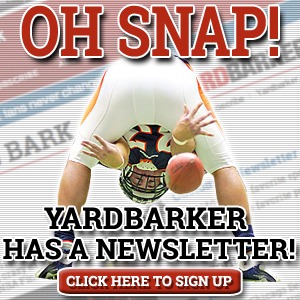 Latest Rumors
Best of Yardbarker

Today's Best Stuff

For Bloggers

Join the Yardbarker Network for more promotion, traffic, and money.

Company Info

Help

What is Yardbarker?

Yardbarker is the largest network of sports blogs and pro athlete blogs on the web. This site is the hub of the Yardbarker Network, where our editors and algorithms curate the best sports content from our network and beyond.