Found September 06, 2012 on Fox Sports Florida:
PLAYERS:
Ronde Barber
,
Tiki Barber
,
Derrick Brooks
,
Dick Lebeau
,
Mark Barron
,
Aqib Talib
,
Eric Wright
,
Cam Newton
,
DeAngelo Williams
,
Angelo Williams
,
Jonathan Stewart
,
Michael Vick
TEAMS:
Carolina Panthers
,
Tampa Bay Buccaneers
,
Minnesota Vikings
,
Philadelphia Eagles
,
New York Giants
TAMPA, Fla. The massive red-and-black digital clock hanging inside the Tampa Bay Buccaneers locker room has been counting down the days, minutes and seconds to the teams first regular-season game under new head coach Greg Schiano. But theres another important count in progress beyond the one ticking toward the 1 p.m. Sunday contest against the visiting Carolina Panthers. Its one that continues to climb, defying time itself, steadily taking measure of a rare player in the NFL and a noteworthy career accomplishment that continues to unfold. When defensive back Ronde Barber steps onto the field in Raymond James Stadium on Sunday, the magic number in the progression will be 200 the almost unfathomable number of consecutive starts Barber has made in his illustrious 16-year tenure with Tampa Bay, and an ongoing NFL record for defensive backs, at that. In a sport known for the physical toll it takes on players at every position especially players not known for their size its hard to comprehend how the 5-10, 184-pounder from the University of Virginia has never been knocked out of the starting lineup by injury. But season after season, game after game, the chiseled 37-year-old and twin brother of long-since retired New York Giants tailback Tiki Barber has been a constant fixture for the franchise and its fans. Ive been fortunate not to be hurt, certainly, No. 20 said this week at One Buc Place. But I dont believe in luck. Im a guy who takes care of the things I need to take care of and prepare myself every week. The Bucs plan to commemorate Barbers remarkable streak Sunday with free parking and half-price concessions (other than alcohol), along with a custom Barber gym bag for all fans in attendance. For the record, Barber has played in 225 games as a pro (a Buc record) and started in 216, just five behind Tampa Bays all-time mark set by linebacker Derrick Brooks. Two years ago he surpassed the previous NFL mark for defensive backs 171 set by Dick LeBeau. But 200 straight is a special milestone for more than the enormity of the number. It will feature Barber, a cornerback his entire career, playing free safety in Schianos defensive scheme for the first time in a regular-season game. From the start of offseason workouts, Barber embraced the challenge of learning a new position in the twilight of his career, mentoring first-round pick and strong safety Mark Barron and allowing the Bucs to man the corners with young standouts: Aqib Talib on the left and free agent acquisition Eric Wright on the right. I think its going to be hard for another corner to get 199 straight starts, so I dont mind going to safety, he quipped. Barber had given serious consideration to retiring after last years 4-12 season, but the Bucs front office coaxed him into returning in 2012, a year that could well be his last. Whatever happens, he insists that Sunday isnt different from any other season opener, other than all the ticket requests hes getting from friends and family who want to be on hand for the big day. To me, its another start. Ive been fortunate to be able to do this for a long time, he said. Ive got an organization thats believed in me for 14 years, or however many years the streak covers. So its a little bit of an honor, but Im preparing for it like any other week. Meanwhile, here are some of Barbers thoughts on his 16th season, the Panthers team that routed the Bucs twice last year (38-19 and 48-16) and the new defense hes still a key part of after all these years: On how different the Buc defensive under Schiano and coordinator Bill Sheridan will be compared with 2011, and how it will handle Carolina quarterback sensation Cam Newton: Its completely different, a completely different scheme. Theres some elements that everybody does across the league that well see just like last year. But this is a whole new preparation for this team. We have different ways were going to play Cam, different ways were going to play every situation that they beat us with last year. So were looking forward to it. We studied that film from last year and theres some crossover but I think well be prepared. On how important it is to establish a defensive identity quickly, even against an explosive Panther offense: For me, and everybody on this defense, it starts with the run. I dont remember or care to remember what that yardage was last year. We (need to) stop all facets of the run game. Youve got two great backs (DeAngelo Williams and Jonathan Stewart) and the most dynamic running quarterback in the league right now. But we take care of (the run) first, and the rest will take care of itself, I think. On whether he still gets excited to play the game: Absolutely. I get excited for every game. As coach likes to say, this is one of 16 opportunities we have. So if you put it in context, its a very minimal number of chances you get to strap up and go play. You never know when youll get another opportunity. On whether hes ever faced a multi-threat in his career like Newton: There arent many. There have obviously been some guys. Michael Vick back in the day was almost equally impossible to deal with. But (Newton) brings another element, just with his size and his speed. His attributes and ratios are off the charts. It showed itself in college; it showed itself last year in his rookie year. I only expect him to be better this year. Its a big, big start for us. We judge ourselves on how we play this football game against them, and weve got them twice every year. On his feelings that the game may be blacked out locally: Thats something we have absolutely no control over. Obviously, were in the entertainment business. You dont ever want to let that escape you. And Ive been here when teams were on the field and everybody was hankering to get into the stadium, and I was also here when they werent. So I think we all know what needs to happen and for that to replicate itself. If its not a sellout, its not a sellout. People who are there will definitely enjoy the show. If nothing else, they can catch the longest-running act for defensive backs in pro football history.
Original Story:
http://www.foxsportsflorida.com/09/06...
THE BACKYARD
BEST OF MAXIM
RELATED ARTICLES
Changes abound on the Gulf Coast this year, as first-year head coach Greg Schiano takes over from the underwhelming Raheem Morris (who was last seen doing his paper route).Schiano, who comes to Tampa via Rutgers University, has instilled a no-nonsense disciplinarian regime during his first training camp and it seems to be paying off.One of the players hoping to benefit most from...
Growing up, the Bucs never sold out a game. Well, I take that back, there was that occasional game when the Cowboys would roll into town. However, the majority of my youth contained visions of empty metal bleachers reflecting the sun, while 30,000 or fans where scalding while watching the Bucs get rolled at Tampa [...]
I've been saying this for three years now and I'm gonna say it again.  The Tampa Bay Buccaneers cheerleaders are day in and day out a top 5 cheerleading squad in the NFL.   Not in any order but I think I dig the Dolphins Girls, Bucs Girls, Texans Girls as my top 3 right now.   If I had to pick something I like best, it's definitely the black boots that the Bucs girls...
At the start of his post-practice press conference, Bucs head coach Greg Schiano announced that the team has selected captains to represent them. Voted on by players, the names show the value and importance they have to the team. Offensive Captains Josh Freeman Vincent Jackson Defensive Captains Gerald McCoy Ronder Barber Special Teams Captains Adam Hayward Andrew Economos For...
Relaxed NFL blackout restrictions didn't help in Tampa. The Buccaneers accepted reduced requirements for game tickets sold from the NFL, which afforded all teams the opportunity to drop capacity requirement as low as 85 percent of the stadium's general seating. The Week 1 home game against the Carolina Panthers, the debut of first-year coach Greg Schiano and multiple...
Carolina Panthers (0-0) at Tampa Bay Buccaneers (0-0) Buy tickets for this game Tampa Bay is one of my underrated teams. In case you haven't been following throughout the offseason, what I attempted to do this year was identify 5 underrated and 5 overrated teams going into the season and then bet them pretty much blindly for the first few weeks of the season until the odds makers...
Two teams from the NFC South made the playoffs last season.  The two teams that did not, Carolina and Tampa Bay, will square off in Week 1 with hopes of joining the playoff picture in 2012.  What's going to happen on Sunday?  Here are my Three Bold Predictions.Bold Prediction Number One: Doug Martin officially introduces himself to Tampa BayThe Tampa Bay Buccaneers saw something...
Bucs fans that can't make it out to the season opener (for whatever reason) had hoped the week one matchup between the Buccaneers and Panthers would be televised. Unfortunately, the game will be blacked out locally due to lack of ticket sales. The Buccaneers elected to take advantage of the new NFL policy for lifting blackouts back in July. Each team in the NFL can pick a percentage...
The Tampa Bay Buccaneers are hoping new coach Greg Schiano can help revive a team that ended 2011 on a 10-game losing streak. The Carolina Panthers are sensing they may be able to reach the playoffs after Cam Newton's record-setting rookie season. These NFC South rivals have finished in the division's bottom two spots each of the last three years, and they hope to change...
NFL News

Delivered to your inbox

You'll also receive Yardbarker's daily Top 10, featuring the best sports stories from around the web. Customize your newsletter to get articles on your favorite sports and teams. And the best part? It's free!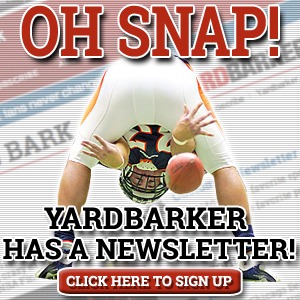 Latest Rumors
The Backyard

Today's Best Stuff

For Bloggers

Join the Yardbarker Network for more promotion, traffic, and money.

Company Info

Help

What is Yardbarker?

Yardbarker is the largest network of sports blogs and pro athlete blogs on the web. This site is the hub of the Yardbarker Network, where our editors and algorithms curate the best sports content from our network and beyond.