Found October 24, 2013 on isportsweb.com:
Really, Chicago Bears. Not all this fantastic news at once. The more-fragile-than monsters of the midway limp into their bye week, figuratively and literally, with an uninspiring 4-3 record. Jay Cutler has a groin, Lance Briggs a shoulder and Charles Tillman just appears sore and old in general. In reality, he has a knee. But these are troubling times for our Bears, so a bit of hyperbole is expected in these dire of circumstances. The good news? For starters, Marc Trestman proved on Sunday that he can coach the hell out of offensive football. In former years… well, you've seen it before. Rex Grossman injuries a knee or an ankle on an ill-advised, Rudy-esque scramble. Insert quarterback B. In this case, we'll refer to him as Jonathan Quinn. Quinn is utterly confused; he believes the Bears are playing basketball and fires precise bounce passes at the likes of Marty Booker and Bernard Berrian. Unfortunately for JQ, this is football, and all bounce passes get you are boos from the rancid Chicago crowd and a plane ticket for John Schoop to coordinate some mediocre college offense. It's hard not to be feisty these days as a Bears fan. It's just, you see the potential there. Perhaps we're naïve, in a way. We've never seen offensive football this competent, and are as naïve about our offense as we are spoiled by the Bears' stout defense we've seen in the last 50 years. It's human nature. The offense is at a championship level. So where is that defense that's been Chicago/Ditka/anyone with a meatball sub's pride and joy for years? I'll tell you where it is. The ancient side of 30, depleted by poor drafts and desperately on their way to the trainer's table. Briggs, once again, was playing at a pro-bowl level for the Bears. Tillman may have looked like a shell of his formal self even when healthy, but he's still a turnover machine. And without turnovers, this Bears unit is about as effective as an intramural flag football defense. A top heavy unit lost its top heavy players. It's that simple. Use the "next man up" cliché all you want, but clichés are as stupid as the phrase "next man up." If he was better than the current man, he would have been playing. And if you paid attention to Jerry Angelo's drafts and Shea McClelin's pure awkwardness on the football field, you'd realize "next man up"  might as well mean "45 points to the lousy Redkins" each week. Why am I so angry? Yes, I have the Bears defense in fantasy. But perhaps anger isn't the right emotion. It's just sadness, at this point. For Chicago White Sox fans, it's almost like watching the 2005 World Series gang be depleted piece by piece. Aaron Rowand left, Joe Crede left, A.J. Pierzynski became too costly and the rest of those fun, cheesy characters slowly drifted into oblivion. This Bears defense is sort of the same way. Brian Urlacher was the first domino to fall of a defensive core we've all had so much fun rooting for over the years. Julius Peppers has clearly lost five steps, Briggs and Tillman appear to be breaking down. Like I said, just sad. Phil Emery rebuilt a dwindling offense in two years. By all accounts, that's awfully impressive. Re-constructing this defense may be an even more difficult task.
Original Story:
http://feedproxy.google.com/~r/isport...
THE BACKYARD
BEST OF MAXIM
RELATED ARTICLES
Per the Chicago-Tribune, the Chicago Bears will not sign Tony Scheffler, a close friend of quarterback Jay Cutler, despite an open spot on the 53-man roster. The Lions released Scheffler on Tuesday after he was cleared to return from a concussion suffered earlier this season. The Tribune also reported that 11 players worked out besides […]
Jay Cutler's contract is up at the end of the year, leaving the Chicago Bears with a decision that will impact the franchise for a long time. Do...
Bears QB Jay Cutler is expected to miss at least four games with a groin tear he suffered last weekend. While this is not only disappointing setback to the Chicago Bears season, Cutler's injury could end up having an impact on his market this offseason. "He's got some durability concerns," an NFL executive said, via USA Today. Cutler suffered a sprained knee in during...
It has been three days since the Chicago Bears announced the diagnosis of the injury Jay Cutler suffered Sunday. Cutler it was revealed has a torn muscle in his groin with a prognosis officially revealed by coach Marc Trestman that the quarterback will be out of action for at least four weeks. "I'm going to tell you it's a minimum of four weeks" Trestman declared. "And...
By Jeff Heck, Bears Claws Contributor Disclaimer: "He who gambles, lives in shambles." Week seven is over and the Old Man feels like he's the subject of a country music song. The Bears lost, my picks were mostly off, and my fantasy team is in shambles. I have both Jay Cutler and Sam Bradford at QB, and my RB Trent Richardson [...]
Week 7 had some notable injuries as fantasy football stars such as Reggie Wayne, Jermichael Finley, Jay Cutler, Doug Martin and Arian Foster all went down with injury. These injuries could hurt or help your fantasy team but if you have these players here is some advice. Jay Cutler Injury: Torn groin muscle, out 4 Weeks Require Surgery: No Fantasy Impact: Cutler began the year as...
Washington Redskins Over 58 at Denver Broncos This almost seems like it should be a weekly bet without even looking at the matchup. The Broncos have gone over in every single game this year. On average Denver's offense has covered 80% of the total over. When Jay Cutler was knocked out of last weeks game, the Bears had only scored ten points. The Redskins defense gave up 31 offensive...
Last week: 13 (-2) Record: 4-3 The Bears' defense continues to be terrible and is only getting worse after allowing 5 touchdowns in Washington this week. They are allowing opponents to move the chains at a 77% rate. Now Jay Cutler is out for at least 4 weeks with a torn groin. The Bears are 4-3, but they have a negative rate of moving the chains differential and face Green Bay...
Mercifully, the Chicago Bears don't have to play a game this week. After a hot 3-0 start, the Bears are now falling into the bye week looking beat up and downtrodden losing three of their last four games. The Bears were in it until the end of Sunday's back-and-forth shoot out with the Washington Redskins. Not only did they fly home to Chicago with a notch in the loss...
Can Bears QB Josh McCown keep the offense afloat until Jay Cutler returns from injury? History isn't on the Chicago's side, yet there are plenty of reasons to believe McCown can get the job done.
Bears News

Delivered to your inbox

You'll also receive Yardbarker's daily Top 10, featuring the best sports stories from around the web. Customize your newsletter to get articles on your favorite sports and teams. And the best part? It's free!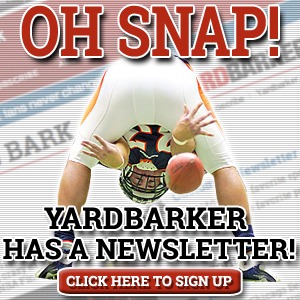 Latest Rumors
Best of Yardbarker

Today's Best Stuff

For Bloggers

Join the Yardbarker Network for more promotion, traffic, and money.

Company Info

Help

What is Yardbarker?

Yardbarker is the largest network of sports blogs and pro athlete blogs on the web. This site is the hub of the Yardbarker Network, where our editors and algorithms curate the best sports content from our network and beyond.