Found September 12, 2012 on Fox Sports Wisconsin:
PLAYERS:
Aaron Rodgers
,
Julius Peppers
,
Matt Forte
,
Michael Bush
,
Brandon Marshall
,
Jay Cutler
,
Alshon Jeffery
,
Tramon Williams
,
Marshall Williams
,
Greg Jennings
,
Cedric Benson
TEAMS:
Green Bay Packers
,
Chicago Bears
GREEN BAY, Wis. -- The oldest rivalry in the NFL has become quite one-sided in recent seasons with the Packers winning four consecutive games, but a Week 2 matchup on Thursday night at Lambeau Field against the Bears could create early separation between the two teams in the NFC North.Green Bay lost at home to the 49ers in Week 1 while Chicago easily took care of the Colts, setting the stage for the Packers -- who were 15-1 last season -- to potentially fall to 0-2. History has not been kind to teams who lose their first two games, especially in Green Bay. Since the NFL's current playoff format began in 1990, not one of the five Packers teams that started 0-2 made it to the postseason.With Aaron Rodgers, the NFL's reigning Most Valuable Player, throwing the ball to one of the league's best collection of wide receivers, it seems inconceivable that the 2010 Super Bowl champions could even possibly be in danger of not qualifying for the playoffs this season. But if the Bears can put together another well-rounded performance like they did this past weekend, Chicago could, at the very least, take early control of the division with a win and force Green Bay to play catch-up in the standings.Considering that, just last year, it took 364 days for the Packers to lose (from Dec. 2010 through Dec. 2011), it was a noticeably different week than usual inside the team's locker room. But Rodgers and coach Mike McCarthy both tried to keep it in perspective."We're going to let (the media) blow it out of proportion, and inside the locker room we're going to realize it's one game," Rodgers said.Though Green Bay has spent the past few days sitting alone in last place in the NFC North, the Bears aren't overreacting to one game either. Last season, no team had much of a chance to match the Packers' win total, so, at the moment, Chicago defensive end Julius Peppers still views Green Bay as the favorites to win the division."Until we beat them or until somebody else wins the division, I would have to say so," Peppers said this week in a conference call. "They won it last year, so until somebody else wins it, they are the team to beat."In Week 1, the Bears looked liked they have the talent to be a serious threat to the Packers this season. The running back duo of Matt Forte and new acquisition Michael Bush racked up 122 yards and three rushing touchdowns. Stopping the run was a significant problem for Green Bay in its first game of the season, allowing San Francisco to rush for 186 yards with a 5.8 yards-per-carry average.After that performance, Packers defensive coordinator Dom Capers faced a lot of questions about whether they'll have any chance at stopping Forte and Bush, especially on just 96 hours of rest between games."Since I've been here, I've had a lot of respect for Forte," Capers said. "I've always felt he's been the real threat of their offense not only as a runner, but as a receiver. He's a good all-around back. Now Bush gives them a big back to put in there. They had those two guys in the game together a little bit against the Colts."Chicago has also upgraded its passing game, trading for wide receiver Brandon Marshall this offseason to reunite him with his former Broncos teammate, quarterback Jay Cutler. Plus, the Bears used their second-round pick on receiver Alshon Jeffery, who had 80 yards and one touchdown in his NFL debut.Marshall, a three-time Pro-Bowl selection, is the first elite receiver that Cutler's had to work with since, well, since Cutler and Marshall last played together in 2008 in Denver.Cutler was feeling so confident in Chicago's passing game that he fired a bit of a verbal shot at the Packers this week. In an interview with the local media, Cutler reportedly wished Green Bay's secondary "good luck" if cornerbacks like Tramon Williams plan to play physical against Marshall. Williams, who's at his best in press coverage, was on the receiving end of one of Marshall's best-ever games in 2010, when the then-Dolphins receiver had 10 catches for 127 yards."We've got some dudes that, if you're gonna get up in their face, even our speed guys are gonna get around them, and our big guys are gonna throw and go," Cutler said, according to reports out of Chicago. "So we invite press coverage."If the Bears' new seemingly high-powered offense scores anywhere near the 41 points that they put up against Indianapolis, it does play somewhat into the type of game that the Packers typically win. Green Bay led the league in scoring last season in large part due to Rodgers setting the NFL's all-time passer rating record with 45 touchdowns and just six interceptions. This past weekend, the 49ers played at a slower pace and kept Rodgers off the field, which worked to their advantage. So if Cutler wants to try to light up the scoreboard, Rodgers prefers that style."I kind of welcome a team that doesn't hold onto the football as long as San Francisco does," Rodgers said. "We like an up-tempo game like that. If we have to play a high-scoring game, hopefully we'll be ready for that."Rodgers could be without one of his top receiving targets though, as two-time Pro-Bowler Greg Jennings is doubtful to play in the game due to a groin injury.It would certainly help the Packers if they're able to run the ball with any success. Midway through training camp, Green Bay signed veteran running back Cedric Benson, whose NFL career began in 2005 when the Bears drafted him fourth overall. Benson, in his Packers debut, carried the ball just nine times for 18 yards, an average of just 2.0 yards that McCarthy called "not acceptable."Benson said this week that his time in Chicago "was so long ago" and that he doesn't "have any personal grudge or anything like that against them," despite the Bears releasing him less than three seasons after drafting him.However, Benson did feel a lot of responsibility for Green Bay's ineffectiveness on the ground in Week 1 and wants to correct it against his former team."I'm a running back and I pride myself on running the football," Benson said. "We weren't very productive in the few attempts we did have. There's no magic word or one thing in particular, it just takes everybody working together. But I think there's success to be found."If the Bears are able to knock off Green Bay in this game, it would not only be their first win against their rival in nearly two years, it would also give the Packers a third consecutive loss at home. Rodgers and company had won 19 of their last 20 games at Lambeau Field prior to this past weekend, so it would be quite the losing streak by comparison. For Chicago, it would also be a nice early cushion atop the division and a great start to the Bears' season.Follow Paul Imig on Twitter
Original Story:
http://www.foxsportswisconsin.com/09/...
THE BACKYARD
BEST OF MAXIM
RELATED ARTICLES
Another day, another player unhappy with the replacement officials for the way they called a game over the weekend. While I'm sure many of you have already grown tired of hearing the whining, Aaron Rodgers at least kept it unique with his complaints during an interview Jason Wilde on ESPN Radio in Wisconsin. Unlike some players who have blamed the officials for their lack of production...
By all indications, Green Bay Packers quarterback Aaron Rodgers appears to be an affable fellow with a pretty good sense of humor. In fact, I imagine much like Mitt Romey, Rodgers lives for laughter, but that's another story altogether. During his Tuesday appearance with Jason Wilde on ESPN Radio Milwaukee, Rodgers discussed a multitude of topics, including Green [...]
GREEN BAY, Wis. -- If Packers quarterback Aaron Rodgers did lose a bet with the members of Boyz II Men, the NFL's Most Valuable Player isn't ready to make it public or pay up quite yet. According to a report by TMZ, Rodgers was able to convince the legendary R&B group to sing the National Anthem before Green Bay's season-opening game against the San Francisco 49ers...
TELLIN' IT LIKE IT IS
Packers QB Aaron Rodgers, commenting on the replacement refs working the game against the 49ers, noted that there were "some bizarre calls on both sides."
Packers In Search Of First Win As Bears Visit By SBRForum.com The Green Bay Packers explosive offense was muzzled in their season-opener and that's exactly what the Chicago Bears want to hear. The two division rivals will meet up on Thursday night at Lambeau Field. People making their NFL picks were surprised to see the Packers score just 22 points their Week 1 loss to San Francisco...
GREEN BAY, Wis. -- Aaron Rodgers met with the media Tuesday, moving up his weekly appearance by one day as the Packers adjust to a very shortened time frame in between games.For only the second time in the past year, Rodgers is coming off a regular-season loss and answered more questions about areas of improvement than the NFL's Most Valuable Player is used to.With the Chicago...
It's one of the best rivalries in the NFL, and it will take center stage on Thursday night in Green Bay. That's where the defending NFC North champion Green Bay Packers will welcome the hated Chicago Bears to Lambeau. While it is only Week 2, this one is important for both teams. It's important for the Packers given their Week 1 loss to the 49ers. Meanwhile, the Bears...
For all the times that we've talked about how likable Green Bay Packers quarterback Aaron Rodgers seems, this sure hasn't been his best week. It started off playfully enough, with Rodgers and Nathan Morris of Boyz II Men making a bet that if the Packers lost to the San Francisco 49ers last weekend, Rodgers would have to wear an Alex Smith jersey. The Packers, of course, lost...
Where to Put 'em is the Fantasy Football Nerd's look at the best and worst matchups for Week 2 of the NFL season. Decisions are based upon the FFN rankings and matchup analysis. Given the known conditions, these matchups are the ones to watch and/or avoid. This list does not generally include the elite players that you are going to start regardless of matchup. You don...
It's Thursday Night Football in the NFL where the Chicago Bears traveled to Lambeau Field where Aaron Rodgers and Jay Cutler had a contest to see who could be the worst quarterback on the field. Cutler was visibly frustrated with his offensive lineman after a play and followed him to yell at him and give him a little shove. We all know Cutler keeps calm under pressure… Also...
Chicago Bears (1-0) at Green Bay Packers (0-1) This is the game of the week right here. I've been high on the Bears all offseason, naming them as one of my underrated teams. In fact, I thought they were the 2nd best team in the NFC, but couldn't have them winning the division because the Packers were just so good. Well, the Packers aren't looking so good anymore. Aaron Rodgers...
It was not a pretty night for quarterbacks in the football universe, unless your name happens to be Aaron Rodgers of course. While the Green Bay Packers were humiliating Jay Cutler and the Chicago Bears up in Lambeau Field, there was college football to soak in. Rutgers 23, South Florida 13 (AP recap) - It was far from pretty, but Rutgers improved to 3-0 with a strong...
NFL News

Delivered to your inbox

You'll also receive Yardbarker's daily Top 10, featuring the best sports stories from around the web. Customize your newsletter to get articles on your favorite sports and teams. And the best part? It's free!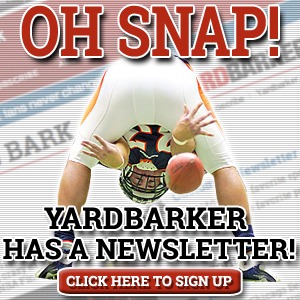 Latest Rumors
The Backyard

Today's Best Stuff

For Bloggers

Join the Yardbarker Network for more promotion, traffic, and money.

Company Info

Help

What is Yardbarker?

Yardbarker is the largest network of sports blogs and pro athlete blogs on the web. This site is the hub of the Yardbarker Network, where our editors and algorithms curate the best sports content from our network and beyond.