Found September 24, 2012 on Fox Sports:
The moralizing and pontificating began as soon as Football Night In America cameras captured New England coach Bill Belichick running and grabbing a member of the officiating crew's arm in the chaotic aftermath of Sunday's Patriots-Ravens game. Media giddily tweeted: Get ready for a FedEx envelope, Billy. Tony Dungy lectured from his bully pulpit. Merits of a fine and, somewhat idiotically, a suspension have been debated. And at some point this week, Belichick or a press release purporting to reflect his thinking will be trotted out to say how sorry he is, how wrong he was, that no matter how emotional he was he should never lay a hand on an official, that replacement refs are doing the best they can and that the league is right to vehemently defend them. It will be a lie, and Belichick should decline to be a party to it. No apologies, no shucking for NFL commissioner Roger Goodell, no more excuses for the travesty that has become replacement officials this season. Her...
Original Story:
http://msn.foxsports.com/nfl/story/bi...
THE BACKYARD
BEST OF MAXIM
RELATED ARTICLES
Bill Belichick lost his composure after Sunday's Patriots-Ravens game. It looked like Belichick wanted to confront the replacement officials about the lack of a challenge after Ravens kicker Justin Tucker just barely kicked the ball above the uprights. The rule, which Belichick surely knows by now, is that a ball through the uprights is challenge-able, a ball above the uprights...
Bill Belichick will undoubtedly hear from the NFL offices this week after he grabbed a replacement referee after the Patriots' 31-30 loss to the Ravens. On Friday, we told you the league sent a memo to each team warning them that they would no longer tolerate anyone being anything other than nice to the replacement refs. And we'll go out on a limb and say that grabbing a referee...
QUOTH THE RAVEN FANS
Sunday Night Football has brought us some crazy plays and some God awful officiating. We've seen Bill Belichick mouth visual expletives and also the crowd in Baltimore gave the loudest expletive chant I've ever heard in all of my years watching sports. The Baltimore Raven faithful are not happy with the calls that the New England Patriots are getting and they have good reason...
The NFL has fined Bill Belichick $50,000 for "impermissible physical contact with an official." The incident occurred when Belichick grabbed the arm of an official as they were leaving the field after Baltimore kicked a winning field goal at the end of Sunday's game. The kick has become one of the many instances of confusion [...]
Everyone's favorite Napoleon complex-stricken NFL coach, Bill Belichick, was at it again on Sunday night as his mounting frustration toward the NFL replacement officials finally boiled over in a pathetic post-game display of misguided anger. In a heated battle that was chippy from the opening whistle, the Patriots found themselves winning by two scores for most of the...
This weekend can be described as a comedy of errors with the NFL's replacement refs. The controversial ending to the Ravens vs. Patriots featured a Justin Tucker game-winning field goal that many Pats players thought was out. Patriots coach Bill Belichick was so incensed, that he attempted to run down the officiating crew after the [...]
As was to be expected sports radio was all about the Patriots and their second straight loss Sunday night. There were a bunch of different story lines that dominated the airwaves. Obviously the referees and how poorly the game was called was the lead story, but then there was also the Bill Belichick pushing an official following the game side of things, which got a lot more attention...
For Bill Belichick, Ed Reed may be "the one that got away." Back in April of 2002, Belichick and Scott Pioli chose to take tight end Daniel Graham with the 21st overall pick in the NFL draft. Reed went just three picks later, and after eight pro bowl appearances and eight all-pro teams, the Patriots head coach may still be kicking himself. But after eleven seasons in the...
Washington Redskins Offensive Coordinator Kyle Shanahan isn't as fast at Bill Belichick. Shanahan wasn't able to grab a scab ref -- he simply chased him out of the tunnel while verbally assaulting... Full story at Bob's Blitz ~ http://www.bobsblitz.com
Tomorrow night at M & T Bank Stadium the Ravens will host the Patriots for Week 3 of this early NFL season.  Most of the "experts" had this labeled as an early AFC Championship rematch, then during Week 2 both teams lost and set up a scenario in which the loser of this highly anticipated Sunday night tilt would drop below .500 and move to 1-2. Just to give you perspective...
Patriots News

Delivered to your inbox

You'll also receive Yardbarker's daily Top 10, featuring the best sports stories from around the web. Customize your newsletter to get articles on your favorite sports and teams. And the best part? It's free!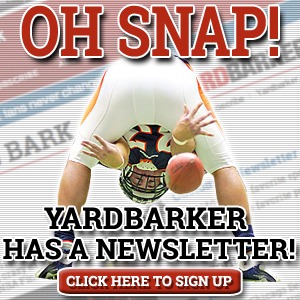 Latest Rumors
Best of Yardbarker

Today's Best Stuff

For Bloggers

Join the Yardbarker Network for more promotion, traffic, and money.

Company Info

Help

What is Yardbarker?

Yardbarker is the largest network of sports blogs and pro athlete blogs on the web. This site is the hub of the Yardbarker Network, where our editors and algorithms curate the best sports content from our network and beyond.