Found June 10, 2013 on Pro Football Zone:
Ben Roethlisberger is the greatest quarterback in Steelers' history. Yes, Ben's career is far from over, but he's already proven to be the best QB that's ever played in a black and gold uniform. Terry Bradshaw is the No.1 QB in many of Steelers fans' hearts. Bradshaw dazzled fans in the Steelers' greatest era, that being the 1970′s. Big Ben took the NFL by storm in his rookie season. Roethlisberger, arguably put together the best rookie season of all-time in 2004. The Steelers were 6-10 in 2003. Ben Roethlisberger started 13 games in his rookie year, and won every single game. Roethlisberger broke several rookie QB records. He was the start of the rookie QB craze that still continues to this date. More and more teams are willing to place rookie QBs in starting roles all thanks to Roethlisberger. Ben, then went on to win a Super Bowl in his second season, making him the youngest QB to capture a Super Bowl ring. There isn't another QB that had better rookie and sophomore years than Big Ben. Bradshaw certainly did not have the same impact in his early years. Bradshaw lost the starting job many of times in his first few seasons. Bradshaw didn't lead the Steelers to the playoffs until his third season. He even lost his starting job a couple of times in 1974; his first Super Bowl year. When comparing the two quarterbacks' stats, an uneducated fan will say "Roethlisberger is definitely the better QB." You can NOT compare passing stats from two separate eras. For most of his career, Bradshaw played in a defense-ruled league. Defenders were allowed to jam receivers all the way up and down the field. Since the Mel Blount rule was put in place in 1978, passing stats have risen more and more. Ben is the better QB based off of his ability. Ben is a way more accurate passer. Terry may have been able to throw a better deep ball, but that's about it. Ben and Bradshaw both have had their share of big game wins. Although, I'd definitely rather have Roethlisberger on my side if I'm down late in the fourth quarter. Terry Bradshaw played with a countless number of hall of famers. Roethlisberger has been the heart and soul on offense on most of his teams, and on defense there weren't many hall of famers on those teams. Simply put: Bradshaw played with a significantly better supporting cast. The Steelers of Roethlisberger's era need him more than the 70′s Steelers needed Bradshaw. Accomplishments Terry Bradshaw: Super Bowl Appearances – 4 Super Bowl Wins – 4 Super Bowl MVP Awards – 2 Pro Bowl Selections – 3 League MVP – 1 Ben Roethlisberger: Super Bowl Appearances – 3 Super Bowl Wins – 2 Super Bowl MVP Awards – 0 Pro Bowl Selections – 2 League MVP – 0 Need NFL Tickets? The post Ben Roethlisberger is better than Terry Bradshaw appeared first on Pro Football Zone.
Original Story:
http://feedproxy.google.com/~r/ProFoo...
THE BACKYARD
BEST OF MAXIM
RELATED ARTICLES
While researching the career sack numbers of Pittsburgh Steelers quarterback Ben Roethlisberger, I wanted to try to determine a perfect recipe for him winning games as it relates to sacks taken and yards per carry produced by everyone except for him and what I found was pretty astonishing. While it might be hard to believe, the Steelers are 40-4 (91%) in games that Roethlisberger...
It certainly isn't a revelation that a quarterback has more of a chance to be successful the better his pass protection is, but I wanted to run the career numbers for Pittsburgh Steelers quarterback Ben Roethlisberger in games that he was sacked less than three times in a game and the study evolved from there. While it hasn't happened much over the course of his career...
The Pittsburgh Steelers began their mandatory minicamp today along with many other teams in the NFL. And with the beginning of their minicamp the Steelers have many questions to answer. Will the offense get better or worse in the second year under Todd Haley? Will the old defense finally break under Dick Lebeau? And the most important question will the Steelers be able to bounce...
The Pittsburgh Steelers wrapped up their first mandatory mini camp practice on Tuesday and starting quarterback Ben Roethlisberger met the media afterwards to talk about the minor surgical procedure he had performed last week on his right knee. "It feels great," Roethlisberger said, when asked how his knee is currently feeling. "I saw Dr. Bradley this morning, and...
Steelers QB Ben Roethlisberger had minor knee surgery on Wednesday. Roethlisberger told reporters today that he could play on Sunday if he could. "It feels great," Roethlisberger said. "I saw Doc Bradley this morning. He was pleasantly surprised with the range of motion and where we're at with the swelling. It feels great. I've been off crutches for a couple days now...
PITTSBURGH – Ben Roethlisberger could play Sunday, less than two weeks after minor knee surgery ...
Since his release by the New York Jets in April, Tim Tebow hasn't drawn any interest from NFL teams.  But that doesn't mean players in the league still don't believe in the quarterback. "Why not?" said Pittsburgh 
Pittsburgh Steelers quarterback Ben Roethlisberger says his right knee is great and he could practice next week if he needed to. Roethlisberger underwent minor surgery last week to address some lingering discomfort in the knee. He expects to be 100 percent when training camp opens in late July. When Roethlisberger does return, he'll be working with a new-look offense of sorts...
As Bob Labriola described in his comments after today's first mini-camp session came to a end, these three days are often analogous to the last three days of school. For the players, many of whom have been through rookie camp and then OTA's, this is the end before the real fun begins on July 27th. I think it's a fair assessment by Labriola because many of the players are anxious...
Steelers wide receiver Plaxico Burress, unsure of what his role will be, is thankful to be back in Pittsburgh and plans to teach his young teammates the game. "I'm blessed to be here," said Burress to Ed 
I have forever been a fan of the work of Pat Kirwan, who once served in the front office for the New York Jets and as an NFL scout prior to that, but even I was a little shocked to read that his early 2013 NFL season predictions include the Pittsburgh Steelers squaring off against the Denver Broncos in the 2013 AFC Championship Game. Kirwan wrote on CBS Sports Monday: "Pittsburgh...
Pittsburgh Steelers quaterback Ben Roethlisberger, who had minor knee surgery last Wednesday, said he feels great and could play in a game on Sunday if there was one. Roethlisberger watched the first day of Steelers minicamp from the sideline
Steelers News

Delivered to your inbox

You'll also receive Yardbarker's daily Top 10, featuring the best sports stories from around the web. Customize your newsletter to get articles on your favorite sports and teams. And the best part? It's free!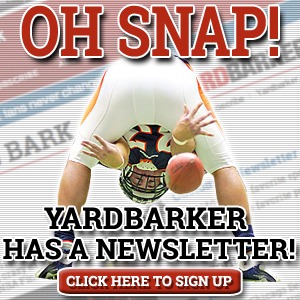 Latest Rumors
Best of Yardbarker

Today's Best Stuff

For Bloggers

Join the Yardbarker Network for more promotion, traffic, and money.

Company Info

Help

What is Yardbarker?

Yardbarker is the largest network of sports blogs and pro athlete blogs on the web. This site is the hub of the Yardbarker Network, where our editors and algorithms curate the best sports content from our network and beyond.