The Bengals' secondary has been adjusting to the loss of Leon Hall for the past two games. They might be in bigger trouble on Sunday for the rematch in Pittsburgh. Cornerback Nate Clements tweaked his hamstring during Thursday's practice and was limited. Adam Jones just got back to 100 percent after being hampered by hamstring and groin injuries. Depending on Clements' health, Brandon Ghee could see playing time at corner. Since being signed to the 53-man roster after Hall's season-ending Achilles injury, Ghee has been used on special teams but was also limited in practice due to a groin injury. If Clements would be ruled inactive or was limited in the game, that would give a big advantage to the Steelers, who can stretch the field with Mike Wallace and Antonio Brown. If the Bengals are low on corners, safeties Chris Crocker and Gibril Wilson could play slot corner in nickel packages. The Bengals enter the game ranked fifth in the league in total defense but have dropped to 11th in pass defense. They went into the bye week giving up just 189 passing yards per game but in the five games since then have given up 246.2. One of the big reasons for the huge jump is the Bengals have allowed 18 pass plays of 20 yards or more during that span compared to just 13 in the first six games. --When his defense was ranked first in the league after four weeks, Bengals defensive coordinator Mike Zimmer said he did not want to talk about rankings or evaluate his unit until after Thanksgiving. With the last five weeks of the season upon us and the Bengals in contention for a playoff spot, Zimmer's assessment of his unit is good but not great yet. "I think we're pretty good," Zimmer said. "I think we're a little inconsistent right now. It's almost we hit a little dip maybe from where we were and we have to climb back out of it. I don't think we're great, but we're solid. We typically play hard and smart." If the Bengals are going to improve, they have to do it on pass defense. After being ranked fifth going into the bye week, they have struggled over the past five games, giving up an average of 246.2 yards per game (it was 189 yards before the bye). One of the big reasons for the decline is the Bengals have allowed 18 pass plays of 20 yards or more compared to just 13 in the first six games. In the two games since Leon Hall was lost for the year with a torn Achilles, the Bengals have continued to struggle on pass defense. Considering the deep threats that the Steelers possess, this week's key AFC North matchup in Pittsburgh could come down to if the Bengals are able to play tighter coverage. "We've got to cover better than we have the last couple of weeks. They have weapons, so we have to play better," Zimmer said. "They've got more weapons now than they did. You've got to pick your spots with (Ben) Roethlisberger and make sure he's not extending plays, which is hard to do." When asked if his unit is different without Hall, Zimmer said there are some differences because Hall helped solidify things back there but that the biggest thing has been leadership. Nate Clements is in his first year with the team but has become even more of the go-to guy due to his experience. Clements struggled in the first half last week against Cleveland but came up with a big pass breakup late in the fourth quarter that forced the Browns to try a long field goal that they missed. Even though the Bengals did sack Roethlisberger five times, they couldn't prevent him from making the big pass plays. Roethlisberger, who is 12-4 against the Bengals, had three completions over 20 yards in the Week 10 24-17 win at Paul Brown Stadium. While everyone was concentrating on Mike Wallace in the last game as the receiver who could hurt the Bengals, it was Brown who did the most damage. Wallace led the Steelers in receptions (six for 54 yards) but it was Antonio Brown who had three receptions over 17 yards as he finished with five catches for 86 yards. He also had two big third-down receptions to prolong Pittsburgh scoring drives. "In that game, Brown seemed to be the go-to guy and he's developing into that guy Roethlisberger loves to go to in times when he's in trouble," cornerback Kelly Jennings said. "Wallace and Brown are fast and that always poses a problem." Adam Jones did not play in the first meeting but will start at right corner on Sunday. After being a little limited against Baltimore, Jones was quicker in the win over Cleveland and more consistent. Jones said when he returned to the lineup the biggest thing he wanted to do was play faster since he had a better knowledge of Zimmer's defense. He felt like he has done that in the past two games but also that he has to improve his technique. Jones and Clements will get the start but Jennings will also see a significant amount of playing time. When the Bengals go into the nickel, Chris Crocker and Clements could play the slot depending on the Steelers' personnel. SERIES HISTORY: 83rd regular-season meeting. Steelers lead series, 50-32. Steelers have won three straight overall in the series including a 24-17 victory over the Bengals on Nov. 13 at Paul Brown Stadium. The Steelers lead 27-14 in games played at Pittsburgh and are 6-4 at Heinz Field. NOTES, QUOTES --In the Bengals' last trip to Pittsburgh, offensive tackle Andrew Whitworth made what remains the only reception of his NFL career, which was for a touchdown on a 1-yard pass from Carson Palmer. Whitworth became the first Bengals offensive lineman to score a touchdown in 15 years on the play. It was also the only offensive touchdown as the Bengals lost 23-7. --Head coach Marvin Lewis is 5-12 in regular-season games against the Steelers, but during his tenure he's had good success in winning at Pittsburgh. The Bengals have won four of their last eight visits there, with the last one coming in 2009. --Coming into the week, the Bengals hold the sixth seed in the AFC, but among the remaining wild-card contenders, they have the toughest remaining schedule. The combined opponents' records are 30-25. --The Bengals have three comebacks from double-digit halftime deficits this season, which ties an NFL record shared by four teams, including the Lions this season. The last team to accomplish that before this year was the 1986 Colts, who won just three games that season. --With two sacks against Cleveland, the Bengals are on pace for 41, which would be the most since 2003, when they had 40 in Marvin Lewis' first season as head coach. Defensive tackle Geno Atkins leads the team with 6.5, which also leads all NFL interior linemen. The team record for most sacks by a D-tackle is 8.0, which was set by Dan Wilkinson in 1995. The last time an interior lineman led the team in sacks was Wilkinson with 6.5 in 1996. --While the Bengals have gotten good pressure on the quarterback, they've also been very good in not allowing sacks. They rank fourth in fewest sacks allowed (17) and have not allowed more than two in the last 10 games. --Cedric Benson has 16 100-yard games in 48 starts as a Bengal, which is the fourth-most in team history. His chances of getting one against the Steelers though is pretty slim. The Bengals have not had a 100-yard rusher against Pittsburgh in 14 games, since Rudi Johnson went for 123 in a Week 4 game in 2004. Against the Steelers, Benson has 94 carries for 315 yards. --With Jack Del Rio fired as the Jaguars head coach on Tuesday, there have been some early names who have surfaced as candidates including Bengals offensive coordinator Jay Gruden. With Gruden's longtime ties in North Florida -- he lived in Orlando for over 13 years and coached the Arena Football and UFL teams there -- along with the success of the Bengals offense this season, it's not surprising to see his name being mentioned. When asked by reporters though on Wednesday about any future coaching aspirations, Gruden tried to dismiss them. "It doesn't even cross my mind really. I haven't even thought about it, nor will I," Gruden said. "I'm happy where I am at right now and I have a job to do here. It's flattering, whoever wrote it. It's a million-to-one shot." If the Bengals would make the playoffs, both Gruden and defensive coordinator Mike Zimmer could be in line for interviews for openings throughout the league. BY THE NUMBERS: 0 - Touchdowns allowed by the Bengals defense in their last two trips to Pittsburgh. QUOTE TO NOTE: "We gave up a big play against Cleveland in the first game; we gave up a big play against Jacksonville. So we've given up some big plays. When you don't win, then those big plays become, in your mind, bigger. But I know they are there all the time." - Head coach Marvin Lewis on the Bengals giving up big plays. STRATEGY AND PERSONNEL The Bengals officially made two changes to the depth chart this week as Frostee Rucker moved ahead of Michael Johnson at right defensive end and Adam Jones moved past Kelly Jennings at right cornerback. Rucker has started the last six games and is having his best season with 42 tackles and four sacks. Jones has started the last two games since returning from a hamstring and groin injury and played better in last week's win over Cleveland. There is also a possibility that Jones could return punts this week. PLAYER NOTES --RB Cedric Benson did not practice for a second straight day due to a foot injury but he is expected to play against the Steelers. --DT Domata Peko did not practice due to a foot injury but he is expected to start. Peko also did not practice two days last week and ended up playing. --DT Pat Sims was limited for a second straight day due to a foot injury but is expected to be active on Sunday. --DE Carlos Dunlap is not expected to play for the third time in the last four games due to a nagging hamstring injury. --CB Adam Jones could return punts against the Steelers but a lot of it depends on the health of the secondary. GAME PLAN: Offensively and with the zone blitz scheme that Pittsburgh employs, offensive coordinator Jay Gruden could go with the same plan he used against Indianapolis earlier this season - plenty of three-step drops and play action, but also add in a steady dose of the run game to keep the Steelers honest. Defensively, the secondary needs to do a better job of taking away the vertical game, which is something they have not done the past couple weeks. They also have to continue to keep pressure on Ben Roethlisberger but keep him in the pocket. MATCHUPS TO WATCH: Bengals CB Nate Clements vs. Steelers WR Mike Wallace: Wallace has six touchdowns this season and is getting tremendous separation off the line. The Bengals' secondary has a tendency to give up the deep ball and get confused in coverage with miscues between the corners and safeties. Bengals WR Andre Caldwell vs. Steelers CB William Gay: Caldwell will be the Bengals' slot receiver but struggled against Gay in the first meeting. It was Gay who figured in on both of Dalton's interceptions with a pass deflection and then reading Jerome Simpson's route and jumping it.
Original Story:
http://www.foxsportsohio.com/12/02/11...
PLAYERS:
Leon Hall
,
Nate Clements
,
Brandon Ghee
,
Mike Wallace
,
Antonio Brown
,
Chris Crocker
,
Gibril Wilson
,
Kelly Jennings
,
Andrew Whitworth
,
Carson Palmer
,
Marvin Lewis
,
Geno Atkins
,
Dan Wilkinson
,
Cedric Benson
,
Rudi Johnson
,
Frostee Rucker
,
Michael Johnson
,
Domata Peko
,
Pat Sims
,
Carlos Dunlap
,
Ben Roethlisberger
,
Andre Caldwell
,
William Gay
,
Jerome Simpson
,
Jack Del Rio
TEAMS:
Cincinnati Bengals
,
Pittsburgh Steelers
,
Oakland Raiders
,
Jacksonville Jaguars
MORE FROM YARDBARKER
NFL News

Delivered to your inbox

You'll also receive Yardbarker's daily Top 10, featuring the best sports stories from around the web. Customize your newsletter to get articles on your favorite sports and teams. And the best part? It's free!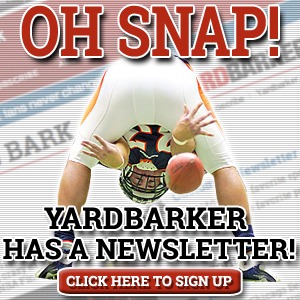 Latest Rumors
Best of Yardbarker

Today's Best Stuff

For Bloggers

Join the Yardbarker Network for more promotion, traffic, and money.

Company Info

Help

What is Yardbarker?

Yardbarker is the largest network of sports blogs and pro athlete blogs on the web. This site is the hub of the Yardbarker Network, where our editors and algorithms curate the best sports content from our network and beyond.