Posted January 02, 2013 on AP on Fox
PLAYERS:
Matt Schaub
,
T.J. Yates
,
Matt Leinart
,
Gary Kubiak
,
Andy Dalton
,
J.J. Watt
,
A.J. Green
,
Andre Johnson
,
Arian Foster
,
Leon Hall
,
Geno Atkins
,
Michael Johnson
,
Duane Brown
,
Brooks Reed
,
Alan Ball
,
Terence Newman
,
BenJarvus Green-Ellis
TEAMS:
Houston Texans
,
Cincinnati Bengals
,
Oakland Raiders
The Houston Texans are hosting the Cincinnati Bengals on Saturday to begin the NFL playoffs for the second straight year. This time, Matt Schaub will be in the spotlight. Schaub will make his first postseason start as the stumbling Texans try to eliminate Cincinnati in the wild-card round, a year after they did so with a third-string quarterback. Houston's first playoff game in franchise history was a 31-10 victory over Cincinnati last year to open wild-card weekend. T.J. Yates was the Texans' quarterback since Schaub was lost for the season after 10 games due to a foot injury and former backup Matt Leinart also was sidelined. "It is exciting," Schaub said. "It's an exciting time of year to be a part of this to get ready to play in a playoff game, especially here at home in front of our home fans." How excited the third-seeded Texans (12-4) truly are for Saturday is debatable. Houston lost its final two regular-season games when a victory in either would have given it a first-round bye and home-field advantage throughout the AFC playoffs. "We didn't handle the end of the season the way we wanted to handle it, but that doesn't mean that we can't handle these playoffs the way we want to handle it," coach Gary Kubiak said. "We understand how we have to play." Schaub had 21 touchdown passes to nine interceptions during the Texans' 11-1 start, but had one TD and three picks over their 1-3 finish. "I've just got to play a little more consistent," said Schaub, who has not thrown a pass in a playoff game in nine NFL seasons. "I definitely know when things aren't going well to look at myself first because I'm the one that's putting everyone in position and trying to make the plays." Andy Dalton, meanwhile, has guided Cincinnati (10-6) to its first consecutive playoff berths since 1981-82. He's looking to make amends after he threw three interceptions and was sacked four times while finishing with the second-worst passer rating of his career at 51.4 in last year's defeat. "Personally, I'm a lot more confident," said Dalton, who threw for 27 touchdowns and 3,669 yards this season. "I've experienced it. I know the atmosphere I'm going in to. This team as a whole has gotten better from the experience we have now." Dalton will have to again be wary of star defensive end J.J. Watt, whose 29-yard interception return for the go-ahead score before halftime was the most memorable moment of last season's playoff matchup. "That was last year and this is this year," he said. "I have things to focus on this year. It was a great play, a huge moment in my life, but I'm looking forward to making bigger moments this year." Watt turned in an amazing second season in 2012 with an NFL-high 20 1/2 sacks, two shy of the league record. The Defensive Player of the Year candidate also had 39 tackles for loss, 16 passes defended, 107 tackles and four forced fumbles. If Watt can harass Dalton, it may be difficult for the Bengals signal-caller to get the ball to A.J. Green. Green was held below 60 yards in both meetings with Houston last season, including 47 in the playoff game. The second-year pro went over 1,000 yards again this season (1,350), and his 11 touchdown receptions tied for fourth in the league. Schaub, meanwhile, will primarily want to target Andre Johnson, who led the AFC with a career-high 1,598 receiving yards although he had only four TD catches. Johnson caught five passes for 90 yards and a TD from Yates last season in the playoffs versus Cincinnati. The Bengals sound more concerned about slowing down a running attack that features Arian Foster, second in the AFC with 1,424 rushing yards and a league-best 15 TDs on the ground. Houston was 7-0 this season when he ran for more than 100 yards. Foster carried 24 times for 153 yards and two scores in last year's playoff win. "It really starts with the Texans run game," Cincinnati defensive back Leon Hall said. "That opens up their playbook. It sets up a lot of the play-action passes that they have." While Watt was the linchpin behind Houston's 44 sacks, defensive tackle Geno Atkins had 12 1/2 and defensive end Michael Johnson 11 1/2 as Cincinnati produced 51 for the NFL's third-highest total. Atkins and Johnson are major concerns for Houston since Schaub has been sacked 12 times over the last four games, compared to 15 through the first 12. "They have a very talented front four, one of the best that we'll face all year," Texans left tackle Duane Brown said. "I'm very familiar with them. Most of them are the same guys they had last year. They're relentless guys, very strong." Houston linebacker Brooks Reed could return after sitting out last Sunday's 28-16 loss at Indianapolis with a groin injury. Cornerback Alan Ball also may be back after missing five straight games with a foot injury. Bengals cornerback Terence Newman (groin) and 1,000-yard running back BenJarvus Green-Ellis (hamstring) both returned to practice this week after sitting out last Sunday's 23-17 win over Baltimore.
Original Story:
http://msn.foxsports.com/nfl/story/Be...
THE BACKYARD
BEST OF MAXIM
RELATED ARTICLES
The Houston Texans placed linebacker Darryl Sharpton on injured reserve because of a hip injury, the Houston Chronicle reported on Tuesday. Houston takes on the Cincinnati Bengals in the first round of the AFC playoffs on Saturday. Sharpton was injured during Sunday's loss to the Indianapolis Colts. He began the season on the physically-unable-to-perform list because of...
Bengals at Texans-4.5 For the second year in a row, the NFL playoffs kickoff with the Cincinnati Bengals traveling to Houston to face a Texans team favored slightly in the point spread. This year's wildcard match-up has a completely different feel from a year ago. The Houston Texans were excited just to make the postseason this time last year, but after a complete meltdown in December...
Between now and the Houston Texans' 3:30 p.m. kickoff Saturday against the Cincinnati Bengals, you will see reams of analysis and scouting objectives. But that's for the lamestream. This is the alternative Texans scouting report. Offense Matt Schaub, Quarterback Middle name is Rutledge, meaning he was one step away from being a lacrosse player who wears deck shoes...
CINCINNATI (AP) -- BenJarvus Green-Ellis didn't suit up for the Cincinnati Bengals' practice on Tuesday. He wore black sweatpants and a gray hooded sweatshirt, running by himself at one end of the University of Cincinnati's covered football field while everyone else ran plays. It's another challenge for an offense that's hit the wall. Green-Ellis had a sore hamstring...
Michael Johnson towers over blockers at 6-foot-7. At 6-foot-1, Geno Atkins often gets dwarfed on the line. Domata Peko is gregarious. Carlos Dunlap tends to cut off interviews after a few questions. The Bengals' defensive line is an eclectic mix of players from far different backgrounds with very different personalities and body types. Together, they formed one of the NFL'...
Cincinnati Bengals running back BenJarvus Green-Ellis returned to the practice field on Wednesday after missing Sunday's matchup against the Baltimore Ravens due to a hamstring injury, reports Josh Alper of Pro Football Talk. Bengals running back BenJarvus Green-Ellis didn't play in Week 17 after tweaking his hamstring in warmups for Cincinnati's game against the Ravens...
The Cincinnati Bengals finished 2012 strong.  After starting off with a 3-5 record, the Bengals went on a 7-1 run to end the season.  With an improved defense and a tough-at-times offense, this year's squad certainly gives fans hope of a bright future.  Although the team made the playoffs as a wild card, fans would still like to see their team raise the bar a bit. The time...
A year ago this weekend, in the same line on the AFC bracket and in the same made-for-television time slot, the Cincinnati Bengals went to Houston and were promptly eliminated from the playoffs. Take Two can be different. That's not to say it will be, or that the still young and still very much unproven Bengals are ready to win a road playoff game against a talented Texans team...
(Updates. With AP Photos.) By JOE KAY AP Sports Writer BenJarvus Green-Ellis didn't suit up for the Cincinnati Bengals' practice on Tuesday. He wore black sweatpants and a gray hooded sweatshirt, running by himself at one end of the University of Cincinnati's covered football field while everyone else ran plays. It's another challenge for an offense that's hit...
The four are back together in a reunion episode that isn't very happy aside from that fact. Mike, Pat, Aaron and Cleaver all dive into the questions of if the offense is broken, how much Gary Kubiak is to blame and if it's okay to declare that Wade Phillips no longer walks on water. The boys also talk about the Texans playoff chances in wild card weekend as well as the field...
Saturday Cincinnati Bengals at Houston Texans Bengals RB BenJarvus Green-Ellis (hamstring): Green-Ellis practiced in a limited fashion both Wednesday and Thursday, the Bengals' official website reports. He did not play in Cincinnati's season finale because the Bengals had already locked up the AFC's sixth seed, but we expect that Green-Ellis will be present this weekend...
The Race for Steak continues. Only 11 games to go…  CURRENT STANDINGS 1. Rob Celletti (137-112-7) 2. Chris Gross (129-120-7) 3. Mike Donnelly (129-122-5) 4. Chris Celletti (126-124-6) 5. Joe Caporoso (114-135-7) Joe Caporoso Last Week (12-4) Cincinnati (+4) at Houston - This is a popular pick…almost popular enough to make me want to change it. However, Matt Schaub has never...
NFL News

Delivered to your inbox

You'll also receive Yardbarker's daily Top 10, featuring the best sports stories from around the web. Customize your newsletter to get articles on your favorite sports and teams. And the best part? It's free!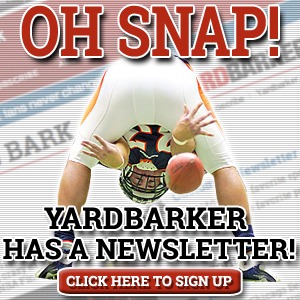 Latest Rumors
The Backyard

Today's Best Stuff

For Bloggers

Join the Yardbarker Network for more promotion, traffic, and money.

Company Info

Help

What is Yardbarker?

Yardbarker is the largest network of sports blogs and pro athlete blogs on the web. This site is the hub of the Yardbarker Network, where our editors and algorithms curate the best sports content from our network and beyond.