Found November 16, 2012 on Fox Sports Wisconsin:
GREEN BAY, Wis. -- Packers running back Cedric Benson is sure of one thing: He's going to play again this season. Benson suffered a Lisfranc foot sprain in Week 5 and was placed on injured reserve. However, Green Bay took advantage of the NFL's new rule that allows each team to designate one injured-reserve player for return. That rule keeps Benson from practicing for six weeks and from playing in a game for eight weeks, but the first of those two deadlines expires next week. "I think we're still a little bit out from practicing, from putting on a cleat and pounding on it like that," Benson said Friday at his locker. "I think we're still a couple of weeks away from that, but very close, very close. "The way the doctor puts it to me all the time is, regardless of anything, whether you could play tomorrow, you've still got three weeks where you can't play (in a game)." Even if Benson had recovered by this point, he'd be ineligible to play this Sunday in Detroit, on the road Nov. 25 against the New York Giants and Dec. 2 at home when the division-rival Minnesota Vikings are in Green Bay. But on Dec. 9, when the Lions and Packers have their rematch at Lambeau Field, Benson, if healthy, he could be back. Benson, however, just wants to make sure he's ready by Dec. 16 when the Packers travel to Chicago to face the team that drafted him fourth overall in 2005 and released him three years later. "I'm kind of looking and thinking the Bears game," Benson said with a smile. Green Bay signed Benson midway through training camp in August when projected starter James Starks suffered a turf toe injury in the first preseason game. The typically run-averse offense of Packers coach Mike McCarthy only handed Benson the ball nine times in Week 1, but over the next three games, had started upping his carries significantly. Benson's success in two of those games (20 rushes for 81 yards vs. Chicago and 18 carries for 84 yards vs. New Orleans) had opposing defenses just starting to respect Green Bay's ground attack. But when Benson was carted off the field in Week 5, a lot of that momentum was halted. "It's tough, and considering where we were progressing to and where we were when things did happen and sidelined us for a while, it's tough to deal with," Benson said. "I was going up and down with, should we have surgery? Let's wait and see what the foot tells us, what the X-rays we take several X-rays as we go about this process and I was struggling a little bit with it, because naturally when any player gets hurt he wants to come back as fast as he can. "Always at home doing little tests, regardless of what the doctors are telling (me), it's just natural that you want to see where you're at, and you want to get back out there fast. So I was struggling with, is what I'm doing hurting it or helping it? And just trying to look for a definitive answer." Five weeks into his recovery, Benson appears to have made many of the right decisions along the way. He isn't really running yet, but he has been using the team's new weightless anti-gravity treadmill. "I think if I come back early, if I try to rush it, it can really affect me," Benson said. "So I think it's in my best interest, and the team's, as well, and my contribution to the team to come back when it's ready to come back." McCarthy was also encouraged by what he's seen of Benson recently. "Cedric had the opportunity to have some testing done and everything's positive," McCarthy said. "His rehab has picked up. We'll see where we are next week. We don't have a startup date exactly when he's going to be ready. We had some good news in the past seven days." One concern, though, is Benson's overall level of play if he doesn't return until the Bears game in Week 15. That would leave just three weeks for him to get back to form before the Packers presumably begin postseason action. "You know, I've thought about that," Benson said. "Naturally, to get (up to) game speed, you need a game or two just to get the feel and the flow and the rhythm. That's kind of what I ran into when I first got here with Week 1 and a couple preseason games. But I don't want that to be a factor, and I'm going to try my best for it not to be. "It's almost one of those deals that is inevitable. You need a game or two, but I'm going to try my best to already be up to speed." This foot injury will keep Benson from reaching his goal of 1,000 yards rushing this season, ending his streak of three consecutive seasons -- all with the Cincinnati Bengals -- above that total. But Benson is determined that he's not going to finish the season with the 248 rushing yards that he currently has. "I'm very confident about saying I'll be back before the season's over," Benson said. Follow Paul Imig onTwitter.
Original Story:
http://www.foxsportswisconsin.com/11/...
THE BACKYARD
BEST OF MAXIM
RELATED ARTICLES
Packers RB Cedric Benson is aiming to return to the team around December 16, according to Jason Wilde of ESPN Wisconsin. "Cedric had the opportunity to have some testing done (recently) and everything's positive. His rehab has picked up," said head coach Mike McCarthy. "We'll see where we are next week. We don't have a startup date exactly when he's going to be ready...
DOESN'T PACK IT IN
Aaron Rodgers isn't a fan of how 60 Minutes portrayed him in a profile piece last week, but a producer says that shows how the Packers QB "tends to be overly sensitive."
Apparently "60 Minutes" isn't going to sit back and let Green Bay Packers quarterback Aaron Rodgers take shots at it without a response.After Rodgers told the Detroit media in a conference call on Wednesday that his feature story on "60 Minutes" was "cut for their purposes, their agenda," the CBS news magazine fired back at the NFL's Most Valuable...
Ahhhs and boos. Those are the two distinct and opposite reactions the home crowd rains down on the same missed opportunity. Popular Green Bay Packers named Jennings, Jordy and James hear the former. The latter may seem reserved solely for embattled tight end Jermichael Finley when he does the same thing . . . drop the rock. Hostile home I first noticed the hostility toward Finley...
Injured running back Cedric Benson is eligible to return to practice next week, but that seems unlikely. Plus, much more from a busy Friday at Lambeau Field.
The Green Bay Packers are sticking with struggling kicker Mason Crosby. Coach Mike McCarthy told reporters after the Packers' 24-20 victory over the Detroit Lions on Sunday that the team won't ''blink'' in its commitment to Crosby. Crosby has missed seven of the 18 field goals he's attempted so far this season. His 61 percent accuracy rate is second...
We tried to warn Wisconsin media types last week that BC was about to dominate their asses on salacious sports/entertainment news. Then we broke the news that Ryan Braun was engaged to Larisa Fraser. A few outlets blew us off as just being some annoying, disgraceful blog that investigates stupid athlete relationship stories for pageviews. Then, on Monday, we took two screencaps...
Healthy and on his game, cornerback Tramon Williams will square off against wide receiver Calvin Johnson on Sunday. "Everyone around the league knows Calvin is one of the best in the game," Williams said.
Green Bay Packers cornerback Tramon Williams is apparently not very original. Earlier this week, Williams dubbed himself "Optimus Prime" in anticipation of his upcoming matchup against Detroit Lions wide receiver Calvin Johnson, a.k.a. Megatron. That sounds awfully familiar. A few weeks ago, Seattle Seahawks corner Richard Sherman changed his Twitter name to Optimus Prime for...
Green Bay Packers (6-3) at Detroit Lions (4-5) I don't think it's possible to talk about the Packers without first talking about how bad their injury situation has gotten. Already missing stud middle linebacker Desmond Bishop and replacement DJ Smith for the season, the Packers have also put starting right tackle Bryan Bulaga and starting rush linebacker Nick Perry on injured...
Week 11 is here, and so are we with another round of sleepers for your Week 11 fantasy football lineups. You still have plenty of time to set your rosters for Sunday. Take a few minutes and see if any of these guys are available. James Starks, Green Bay Packers In the Packers last game, Starks was handed the ball more times than starter Alex Green and is now reportedly the Packers'...
The Detroit Lions have watched Aaron Rodgers and the Green Bay Packers rise to league stardom on the field -- and off the field, with the endless "Discount Double Check" commercials. Although they have respect for their NFC counterparts, as one Lions defender stated, "there's no love lost between the two of us."
NFL News

Delivered to your inbox

You'll also receive Yardbarker's daily Top 10, featuring the best sports stories from around the web. Customize your newsletter to get articles on your favorite sports and teams. And the best part? It's free!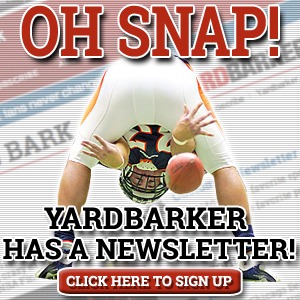 Latest Rumors
The Backyard

Today's Best Stuff

For Bloggers

Join the Yardbarker Network for more promotion, traffic, and money.

Company Info

Help

What is Yardbarker?

Yardbarker is the largest network of sports blogs and pro athlete blogs on the web. This site is the hub of the Yardbarker Network, where our editors and algorithms curate the best sports content from our network and beyond.